Toyota's upgraded LandCruiser 70 Series has two new Toyota Genuine bull bars – engineered and tested for precise integration with the vehicle's airbag sensors.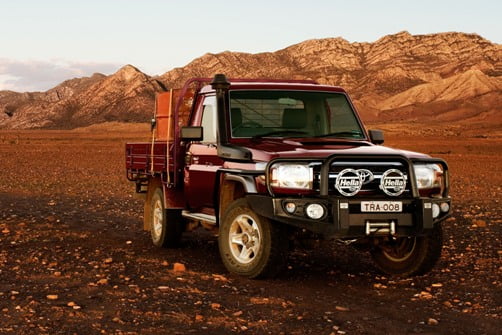 The upgraded LandCruiser 70 Series now benefits from front airbags and the new Toyota Genuine bull bars, available in steel and alloy, are fully airbag compatible.
The Toyota Genuine bull bar is designed with 'crush cans' that deform upon impact. A calculated and controlled response to the deformation then triggers airbag sensors to activate airbag deployment at exactly the right moment.
Safety and durability testing techniques – including graphic computer simulation, strain gauging and off-roading in Australian conditions – helped Toyota engineers achieve optimum strength-to-weight ratio for the bull bar.
This resulted in a Toyota Genuine bull bar that is strong, yet light, and is fully integrated into the vehicle structure and design.
The Toyota Genuine bull bar integrates perfectly with LandCruiser 70 Series; for example, specially designed vents allow sufficient air-flow into the grille to accommodate engine cooling.
Airbag-compatible side rails are available for the steel Toyota Genuine bull bar, providing greater vehicle body protection, and further enhancing occupant safety.
Both steel and alloy bull bars are purpose-built to accommodate the Toyota Genuine Superwinch, CB antennae, and RALLYE FF1000 or RALLYE FF4000 driving lights in chrome or black (all sold separately).
The new airbag-compatible bull bar comes with a minimum 100,000 kilometre/12 month warranty.*
For more information on the full range of Genuine Accessories, speak to your Toyota dealer or visit accessories.toyota.com.au.
*Toyota Genuine Accessories are covered by our Toyota warranty. All Toyota Genuine Accessories purchased and fitted to a Toyota are warranted for the remainder of the New Vehicle Warranty or 12 months, whichever is greater. Toyota Genuine Accessories purchased from an authorised Toyota Dealer over the counter are warranted from the date of purchase for one year (unlimited kilometres). Conditions apply. All warranties are additional to the implied warranties under the Trade Practices Act 1974.