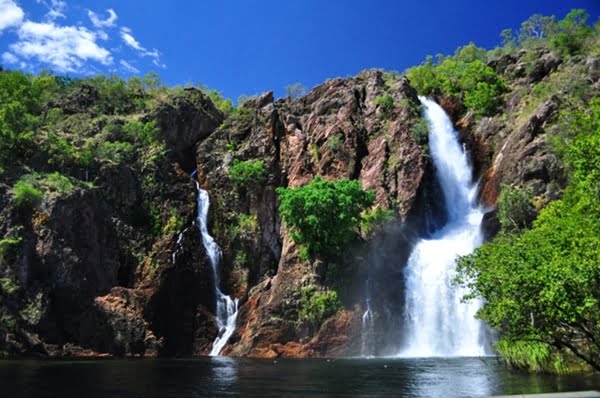 Litchfield National Park is one of Northern Territory's most picturesque parks. Situated about 120kms southwest of Darwin, Litchfield National Park is home to many dramatic tropical waterfalls and yes somewhat safer swimming holes Litchfield National Park was established in 1986 and being so close to Darwin it has become a very popular destination for a getaway for both locals and tourists. The Park was named after Frederick Henry Litchfield who was a member of the Finniss Expedition from South Australia that began in 1864 in a bid to set up a settlement at the mouth of the Adelaide River.
I first came across Litchfield in 1987 when it was just in its infancy and was overjoyed to swim at the bottom of one of the waterfalls. Being a water baby I was suffering badly travelling for a few months in the centre, so the park made a strong impact on me from the start. (but please check with the National park headquarters in Bachelor re crocodiles before you swim and for goodness sake take notice of ANY signs). Combine the swimming with some relatively easy walks from the stunning falls and you have all the ingredients for an ideal escape.
Here's my top 10 Things to do and see
1 Wangi Falls


2 Florence Falls


3 Magnetic Termite Mounds


4 Bamboo Tin Creek Mine


5 Tabletop Track is a 39 km circuit bushwalk. Track access at Florence Falls, Greenant Creek, Wangi Falls and Walker Creek. You must camp in designated campgrounds. It is generally open during the dry season and by permit (phone (08) 8999 4486)


6 The Lost City


7 Blythe Homestead


8 Rum Jungle Lake


9 Buley Rockhole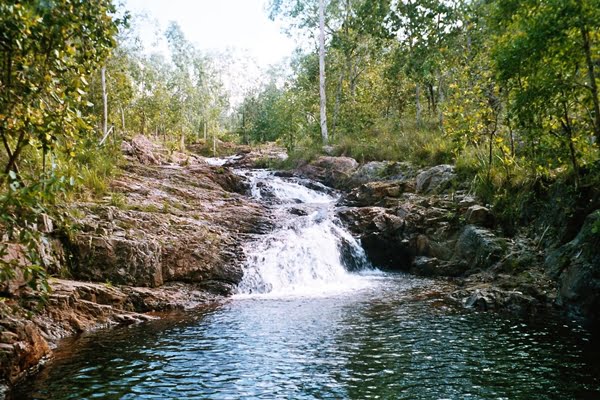 10 Tolmer Falls

Still Got Time? Then Check out
11 Surprise Creek Falls
12 Tiaeteba Falls
13 Walker Creek
14 Greenant Creek
15 Tiaynera Falls Sandy Creek
How to Get There
Litchfield National Park is assessible on sealed roads via Batchelor. In the dry season it is also possible to get to the Park via Cox Peninsula Road (some unsealed sections) and the Daly River Road (4WD).
When to Visit
The Falls are great because they run year round. (Nothing worse then going to see a dried up trickle of a waterfall). However in the wet there is obviously more water.
Where to Stay in the Park
Caravans Permitted
Caravan camping is restricted to Wangi Falls and no powered sites are provided.
Camping Permitted
You can camp at Wangi Falls, Buley Rockhole and Florence Falls. Dry Season 4WD camping areas at Tjaynera Falls (Sandy Creek), Surprise Creek Falls and downstream from Florence Falls. Walk-in camping sites are available along Walker Creek (dry season only). Camping Fees Apply
Where to Swim
Florence Falls, Buley Rockhole, Wangi Falls, Walker Creek, Cascades, Tjaynera Falls and Surprise Creek Falls are designated swimming areas. Note: some waterways can become unsafe after heavy rain and are closed for swimming – heed warnings. Please heed any signs even if YOU think it is OK. I think the rangers know best on this one.
Check out the National Parks website for further information
http://www.parksandwildlife.nt.gov.au/manage/plans/litchfield