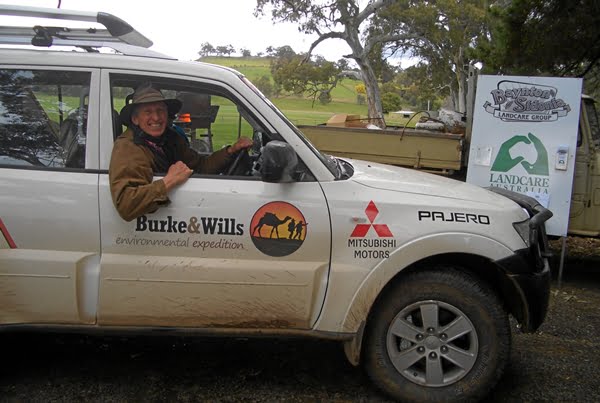 Two Mitsubishi Pajero's are retracing the route of Bourke & Wills from Melbourne to the Gulf of Carpentaria. The support vehicles are two Mitsubishi Pajero GLX.
Instead of horses and camels, the 2010 Burke and Wills Environmental Expedition is utilising two Mitsubishi Pajeros, affectionately renamed after Burke's horse "Billy" and camel "Raja", to travel from Melbourne to the Gulf of Carpentaria to commemorate the 150th anniversary of the journey.
One hundred and fifty years ago, two intrepid explorers, Robert O'Hara Burke and William John Wills, set off on foot into the unforgiving Australian Outback searching for an inland sea. They did it the hard way with a huge contingent of men, horses and camels for support.
Two more 'modern' but no less adventurous explorers will be re-enacting this epic journey. Jack Thompson, multi award-winning actor and environmentalist will join the trek's creator Jonathan King, historian and author, on this marking of the 150th anniversary. This team has a few distinct advantages over their 1860's counterparts, namely two Mitsubishi Pajero GLX support vehicles.
In 1861, with little known about the centre of Australia, the race was on to be the first to open up a trade route across this wide brown land. Burke and Wills set off with 19 men including five Englishmen, four Indian sepoys, three Germans and an American with the intention of crossing Australia from Melbourne in the south to the Gulf of Carpentaria in the north, a distance of around 3,250 kilometres. They also seemed to be a little overloaded with cargo, including rum, dried meats, fire wood and even a cedar topped oak table – altogether they took 20 tonnes of equipment! To lug all of this gear, they had 23 horses, six wagons and 27 camels imported from India especially for the mission.
Although the group was ultimately 'successful' in reaching the Gulf of Carpentaria, only one man, John King, actually survived the return journey.
This year, in honour of his ancestor, Jonathan King will trek the track with a team that includes actor Jack Thompson, artists John Howland and Ben Beeton, and cinematographer Michael Dillon. They aim to achieve a more modern outcome as they compare today's environment with the one documented in the comprehensive Burke and Wills notes. The team will be undertaking a two-stage expedition, with specialist environmentalists using detailed maps, to follow the infamous 1860 route.
With the backing of the Royal Society of Victoria, which organised the original 1960 trek, they intend to assess the damage to the land that has been caused over the 150 years of exploitation, and find ways to repair it.
Rather than 26 horses, six wagons and 23 camels, John, Jack and the team will be more ably backed up by two Mitsubishi Turbo Diesel Pajero four-wheel drives. Jonathan was especially keen to engage Mitsubishi for his recreation and is a long time lover of Pajeros with fond childhood memories of outback adventures.
The team is utilising the award-winning Mitsubishi Pajero GLX with a 3.2-litre turbo diesel engine, producing 147kW of power at 3,800 rpm and 441Nm of torque at 2000 rpm at the same time delivering superior fuel economy. Life on the dirt will be a little more comfortable for the team with the Pajero offering Super Select 4WD, with its four driving modes, including high and low range options; not to mention the power steering and cruise control that will make things a lot easier for the longer sections of the trip. The vehicles will also have 'Multi-function Display,' which will be a big help to keep the team on track, with a trip computer, compass, altimeter, barometer, outside temperature, date and time display.
The team departed Melbourne in late August, 2010 and throughout the journey they will keep us up to date with diaries from the road, local stories, video, blogs and their environmental findings as they retrace the notorious 3000km route north.
To gain a greater understanding of their journey and to read an account of their travels, log into http://www.4wd4life.com.au/burkeandwills.