The Jeep Wrangler Overland is perfect for those craving travel and adventure. The Mopar design team took a 2009 Jeep Wrangler Unlimited Rubicon and turned it into a mobile "on-the-go" self-contained campsite.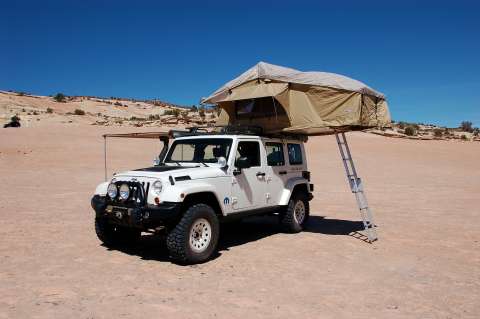 To increase cargo capacity for hauling gear, the Jeep Wrangler Overland's rear seats are replaced with a large, flat, rubberised utility floor. Mounted to the cargo rack is an all-new ARB two-person Simpson II rooftop-mounted tent and touring awning. The interior of the Jeep Wrangler Overland features water-resistant Mopar front-seat covers, rugged Mopar slush mats, a Daystar dash bin and lower switch panel that powers added accessories.
Enhancing off-road travel is an American Expedition Vehicles' (AEV), Nth Degree, 3-inch suspension lift and a Full Traction rear sway bar. The lift allows aggressive 35-inch tyres mounted on 17-inch steel Mopar winter/off-road wheels to fit under the Jeep. Additional off-road protection at the front and rear is provided by AEV steel bumpers and for added security, a Warn 9.5ti winch.
In order to prepare the Jeep Wrangler Overland for desert duty, an AEV Jeep Wrangler heat-reduction hood and snorkel kit is fitted to the vehicle. Mopar windshield-mounted off-road lights and Daystar bumper-mounted lights provide additional lighting for night and off-road driving.
Mopar Jeep Lower Forty Image Vehicle: An Extreme Trail Rig with 40-inch Tyres
The Jeep "Lower Forty" takes the Jeep Wrangler platform to a new extreme. The vehicle is equipped with massive 40-inch x 13.5-inch tyres mounted on Mopar's 20-inch forged-aluminium wheels. Mopar added aggressive wheels and tyres to a stock, two-door Jeep Wrangler Rubicon without the use of a suspension lift. The team's goal was to achieve added ground clearance without dramatically altering the vehicle's centre of gravity. The team removed copious amounts of body metal in order to provide room for 40-inch meats. Three inches are chopped from the windshield frame and a 10-degree rake is added.
Custom front and rear fender flares are 1-inch wider and are located 4 inches higher than a stock Jeep Wrangler. A new one-piece carbon-fibre hood with a Jeep CJ-like power dome and an all-new drop-down tailgate stamped with the "Jeep" logo are added to complete the exterior design.
On the interior, an all-new roll cage is neatly integrated into the body tub and tied directly into the frame rails. The spare tyre is relocated to the cargo floor and a custom cargo rack, supplied by Poly Performance, holds extra gear. Once all body modifications were completed, the exterior received a fresh coat of Red Eye No. 3 paint, a custom colour developed by Mopar.
Custom touches throughout the interior include a colour-matched centre console and instrument panel. Seats are re-covered with Mopar's Katzkin leather package in a two-tone scheme. Replacing the carpet is a durable, spray-in truck-bed liner. Rugged Mopar floor mats complete the theme.
Mechanical upgrades came directly out of the Mopar catalogue. The Jeep "Lower Forty" features an all-new 5.7-liter HEMI® V-8 engine and a Getrag 238 six-speed manual transmission. Powertrain installations were handled by Burnsville Off-Road using an AEV 5.7-liter HEMI V-8 conversion kit.
The Mopar-supplied Dana 44 front axle and a Dana 60 rear axle, fitted with 5.38 gears and ARB air lockers, were assembled by Dynatrac.