A re-design of the popular Narva flat 7 pin trailer plug and socket is a major step forward in simplifying trailer wiring and assembly.
The new design utilises a threaded cap that can be simply unscrewed by hand allowing the top and bottom outer casings to separate to provide ease of access for wiring up. Also assisting the wiring process for both the plug and socket are clear convenient circuit identification markings found within each unit.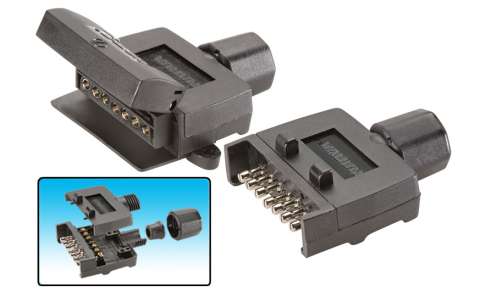 Excellent sealing against the ingress of dust, grime and moisture is provided by a rubber grommet between the upper and lower casings which is held in place by the threaded end cap.
The new 'Quickfit' trailer connectors are manufactured to the highest standard using quality ABS housings and nickel plated brass terminals. Suitable for all trailers running a 7 pin wiring system, both the plug and socket comply with all relevant ADR's.
Available from leading automotive, boating, trailer and transport outlets the new 7 pin Narva Quickfit trailer plugs and sockets come in attractive clam shell blisters or 20 piece bulk packs. The part numbers for the individual blister packs are – Socket – Part No. 82141BL and the Plug – Part No. 82042BL. For bulk pack part numbers simply substitute BL with /20