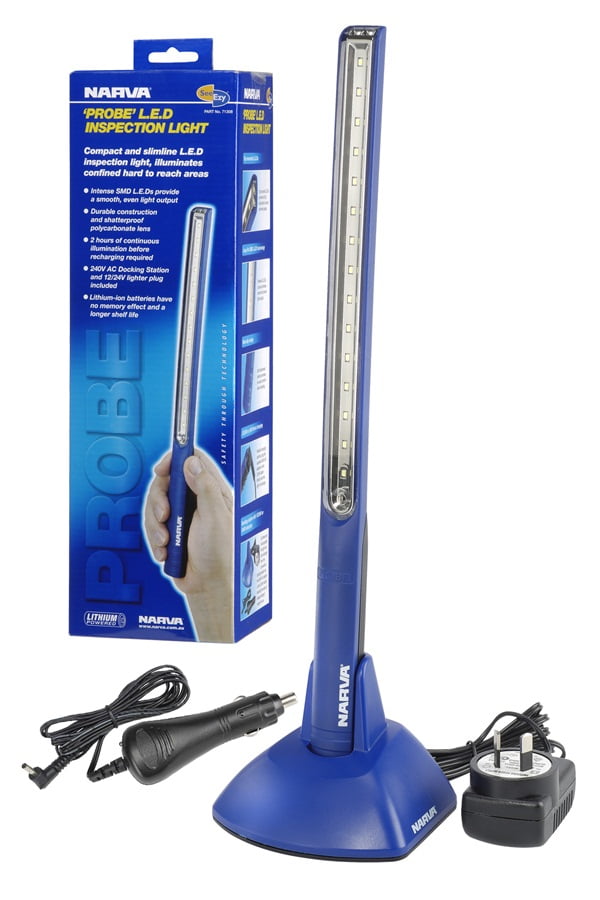 Narva's latest advanced and unique lighting development, the 'Probe' L.E.D Inspection Lamp produces a powerful light, is compact, slim and provides access and illumination into the most confined spaces.
Stylish in its design and using the latest high intensity SMD L.E.D's, the 'Probe' produces an intense even spread of light from its long slim lens and has the unique feature of L.E.D illumination from the tip to penetrate the darkest of small spaces.
The lamp is constructed from a soft rubberised material for non-slip comfortable handling, the lens is shatterproof polycarbonate and the power pack is a lithium-ion battery capable of providing two hours continuous use before recharging is required. The lithium-ion battery contains no memory effect when charging and has a longer shelf life.
For storage and recharging, the lamp fits neatly into the supplied 240V docking station. Also included for convenience and flexibility is a 12/24V recharging plug and socket which fits directly into the light making it ideal for all trades persons.
Whether it's a motor mechanic checking the brake pads on a vehicle without removing the wheel, an electrician working on a complex switchboard or an auto electrician working under a dash, the Narva L.E.D Slimline 'Probe' is like no other in getting light into the darkest confined work space.
Available from leading automotive and hardware outlets the Narva Slimline L.E.D 'Probe' Part No. 71308 comes with a recommended selling price of $129.00.