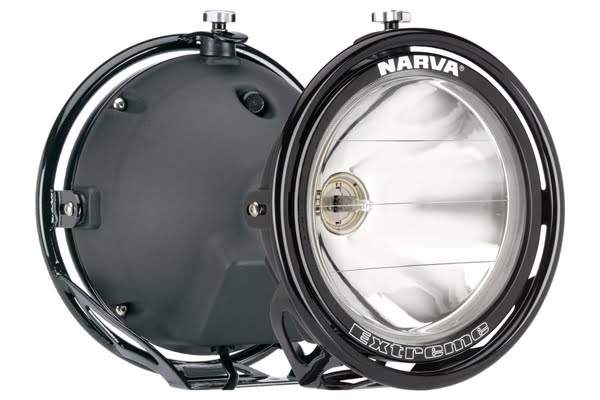 Regarded as one of the most rugged and robust auxiliary driving lamps on the world market, Narva 'Extreme' has been further enhanced with the latest 45W H.I.D Ballast and 5000°K globe making its light output performance truly outstanding.
The introduction of the new internally mounted Gen 5 – 45W H.I.D Ballast and D1 Globe into the Narva 'Extreme' has resulted in more than 10% more light, setting a new benchmark in driving light performance. It produces a brighter whiter light with increased colour temperature whilst retaining lower power consumption expected of H.I.D technology.
New D1 Globes dramatically improve initial ignition time to just 2-3 seconds with instantaneous re-ignition. When coupled with the increased virtual daylight performance colour temperature of 5,000°K, it makes 'Extreme' ideal for any driving conditions, improving night vision and driver safety.
The overall construction of the Narva 'Extreme' is like no other with its three bolt mounting system; triple point Tig welded Chromoly steel frame and Glass Reinforced Nylon Housing. These combine to ensure the lamp is stabilised and won't move even on the harshest of corrugated roads and extreme conditions over long distances. Quick and easy adjustments can be made to the beam when necessary via an ergonomic knob and slider rail and the keyed hex head screws (tool provided) reduce the risk of theft of these valuable lamps.
For those venturing into deep water crossings, the new 'Extreme' has a water tight (IP67 rated) internal chamber with a GORE-TEX® breather plus a potted cable exit, completely sealing out water, dust and grime. Additional protection for the lamps is enhanced by secure fitting clear protective covers supplied with the lamps.
Narva 'Extreme' Xenon H.I.D lamps come in a number of options with Chrome or Black Mounts; Broad Beam; Pencil Beam; Combination Broad and Pencil Beam kits in both12 and 24 volt.
Considered to be the ultimate driving lamps for Trucks, 4WD, Rally Motor Sport and Off-Road competition, the new generation Narva 'Extreme' Driving Lamps come in high profile blister/box packs attractively presenting the lamps and their host of features.
Narva 'Extreme' lamps are available from leading automotive, transport and 4WD outlets throughout Australia.