Narva's on-going product improvement program is evident with the latest updates to the popular Titan Xenon H.I.D work lamps. To further advance the lamps ability to meet extreme demands of the working environment in mining, earth moving, forestry and contracting applications Titan's heavy duty mounting system is fitted with a specially designed double acting shock absorber mechanism to dampen sudden shock and absorb vibration. The stainless steel supporting plate and hardware in the mounting system, including nyloc nuts, also provide extra resilience and enhance the shock absorber system in these extreme conditions.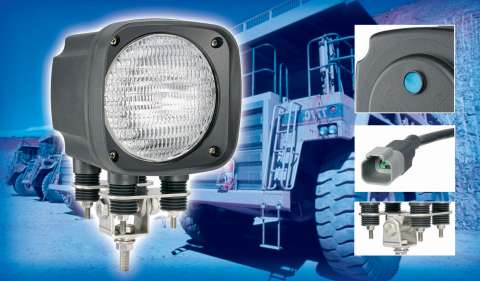 Titan lamps are constructed of one piece of reinforced nylon for impact resistance and the glass lens is especially hardened to withstand sudden changes in temperature often occurring during pressure washing after prolonged periods of use. A potted cable exit plus a recessed GOR-TEX breather are incorporated into the one piece housing preventing water ingress due to changes in air pressure and the lamp is now rated to IP67. Deutsch plugs, double insulated cable and improved seals are fitted as standard.
The brilliant white light is produced by the latest Gen 5 ballast and D1S globe providing faster ignition and warm up times for convenience and safety. The use of H.I.D not only means brilliant illumination but increased safety, reliability and longer life (3,000 hrs) reducing downtime and maintenance costs to a minimum.
These comprehensive improvements now enhance the Narva Titan lamps without any change to the current competitive pricing.
The new and improved Narva Titan H.I.D work lamps are now available from leading automotive and transport outlets in 12 and 24Volt with options of Flood and Spot beam patterns