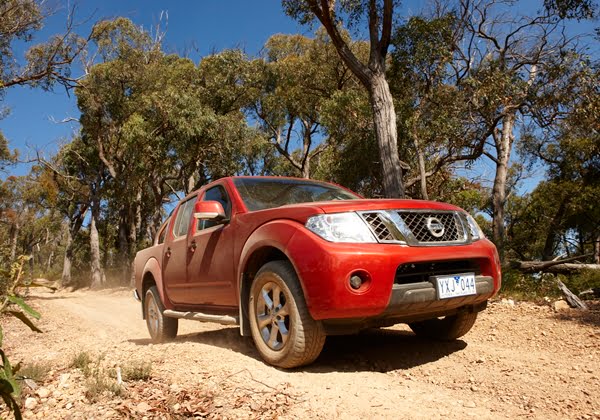 Nissan revised its Navara D40 model line up in February 2012 to keep up with the new model launches in the Ute segment. The Navara D40 is well into its model life cycle now, but has the advantage of the most powerful engine in the segment.
The Navara D40 range now starts at around $34,126 RDAP for the RX 4X2 Dual cab pickup through to a staggering $67,882 (approx) RDAP for the STX 550 Dual Cab 4×4.
There are 4 model variants, two different driveline versions, three cab styles and two body styles. The Navara has a choice two different engines that have different power offerings depending on what model they are in. There are also 4 different transmissions on offer.
The pick of the engines is the Class-leading 550Nm@1,750rpm / 170kW@3,750rpm 3.0-litre V6 turbo-diesel engine mated to a 7 speed auto transmission. While this is powerful it is also thirsty with fuel consumption at 9.3L/100Km
There is also a more powerful 2.5-litre four-cylinder turbo diesel engine producing 450Nm @ 2,000rpm and 140kW @ 4,000rpm. This engine also has a variant that produces 106Kw in the entry level models.
Internally the Navara D40 seems a little dated and there doesn't seem to be as much room for the rear passengers. However that is all forgiven when driving on road with that beautiful powerful V6 diesel.
Nissan increased the spec levels for 2012 including standard kit upgrades on the 4WD ST dual cab include 17-inch alloy wheels, six airbags, 60/40 split-fold seats, three child-seat anchor points, dual-zone air conditioning, choice of six-speed manual or five-speed automatic and USB connectivity.
Additional features on the V6 ST-X include seven-speed auto with manual mode, alloy sports bar, fog lights, rear under-seat storage and privacy glass (second row). The higher spec ST-X 550 adds leather trim, heated front seats, premium Bose audio with hard drive, satellite navigation, reversing camera, satin black sports bar with integrated LED stop light.
Safety features include Driver and front passenger front and side-impact SRS airbags, Front to rear SRS curtain airbags, Anti-lock braking system (ABS) and Electric Brake Distribution (EBD), Vehicle Dynamic Control (VDC) with Active Brake Limited Slip Differential (ABLS) and Turn-back safety power window (driver)
The Navara D40 can tow up to 3,000kg with a towball rating of 300kg. However the powerful engine doesn't always mate perfectly with the 7 speed transmission and while you really don't feel the weight of what you are towing the transmission can hunt between the gears on occasions. The other important thing to note is that the towball rating is dependent on what load the ute has on board.
The Nissan Navara D40 is a worthy competitor in the congested dual cab market segment. While it is a little dated now compared to the latest releases, it still has a lot going for it, not the least a sterling reputation for robustness off road and while towing. If power and torque are your thing then there is not many choices better than the STX 550.
What is Good
• On Road Handling
• Power and Torque
• Tray size
What is Not so Good
• Dated interior
• Interior space
• Price
Model Nissan Navara STX
Model Price $61,750 RDAP
Engine 3.0 V6 Diesel
Drivetrain 7sp Auto
Power 170Kw @ 3,750 rpm
Torque 550 Nm @ 1,750 rpm
Safety 4 Star ANCAP
CO2 Emissions g/km 246
Green Vehicle Rating 2.5 Star
Fuel (ADR comb) 9.3 L/100Km
Tow Capacity – Max 3000 kg
Tow Ball Rating 300 kg
Warranty 3yr/ 100,000km with full roadside assist
Overall OzRoamer Rating 75/100
Behind the Wheel 7
Comfort 7
Equipment 8
Performance 9
Ride & Handling 8
Practicality 7
Fit for Purpose 8
Towing Ability 8
Off Road Ability 7
Value for Money 6