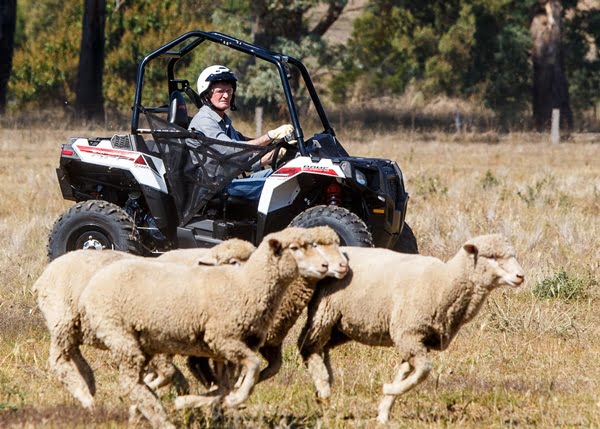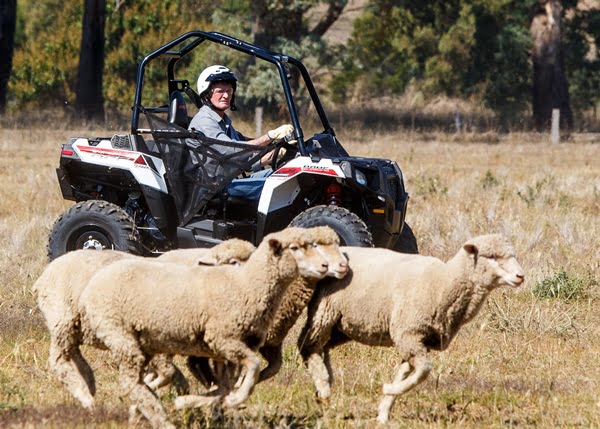 A sheep and cattle farmer from Victoria has improved his knowledge and awareness of the importance of ATV and Side-x-Side safety and now owns the latest Polaris utility vehicle on the market, simply by logging on to www.farmsafetyfirst.com.au and completing a worthwhile safety training program.
Robert Reid successfully completed the short, online video training series launched by Elders Insurance nationally last year, designed to improve farm safety by raising awareness of the importance of operating utility vehicles correctly. Robert was presented with his new Polaris ACE valued at $9,995 at his Swifts Creek VIC property and quickly discovered the versatility of this ingenious utility vehicle which is fitted standard with a certified rollover protection structure (ROPS).
Elders Insurance General Manager Jon Fox said: "While training alone does not ensure people's safety when operating a vehicle on-farm, every initiative like this one helps in some way when it comes to raising awareness and improving understanding of the importance of using these vehicles correctly".
"Polaris has again taken the lead in the vehicle safety arena with this innovative vehicle", said Cameron Cuthill from Polaris. "Rather than just bolting a bar on to the back of an ATV, which could be potentially hazardous, the ACE has been designed for safety from the ground up with an integrated ROPS including a seat belt and the supplementary restraints necessary for any rollover protection to work effectively.
Of course ATVs remain an important option for use on farms and operators are encouraged to visit the Elders Insurance initiative on safety by visiting www.farmsafetyfirst.com.au"
Polaris now feature 20 models in their range with ROPS. The Polaris ACE range comprises three models; the ACE 325, ACE 325 HD and the larger engined ACE 570 HD. All of the range includes a Certified Roll Over Protection Structure (ROPS), 680kg towing capacity, 110kg tub load, seat belt and car-like controls and seating position. The HD (Heavy Duty) variants includes additional heavy duty features such as sealed drives and grease nipples on suspensions bushes for operating in extreme environments.