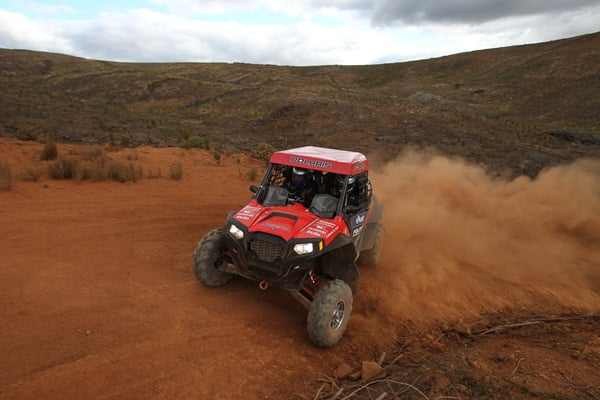 Polaris' Cody Crocker has just completed a clean sweep of round two of the ARC Side By Side Challenge in W. A. Crocker and fellow Subaru Australian Rally Champion Co-Driver Greg Foletta remain undefeated, following on from their top podium finish at Rally Calder in March.
Initial helicopter footage from the Quit Forest Rally WA can be seen at:
Cody Crocker – Polaris Racing

James Shipp – Polaris Sidchrome Racing

Hotlap – Cody Crocker and Channel 10's Greg Rust

"What a dream weekend. Our Polaris flew through the stages. It's great to see Polaris 1,2,3 on the podium," said Crocker.
Polaris' second driver combination of James and Warren Shipp, pulled off a stunning driving performance, giving Polaris Sidchrome Racing the runner up trophy in only its second rally. "I'm still on my L plates! I can't believe we just did that this weekend," said 17 year old driver James Shipp.
"The success of Polaris Sidchrome Racing proves how accessible this new form of motorsport is. Amateur drivers on a very modest budget can get on the podium in an elite level national event," said Polaris Marketing Manager Neil Anderson.
Taking the third step on the podium was Nathan and Les Chivers from NSW Privateer team, Snake Racing. The Chivers have earned their stripes in RZR Racing for years at Kharnacross and CCDA events. Now that experience is bearing fruit at a national level, with Snake Racing taking a tight grip on third place for the year.
Right from the beginning, Polaris has stated its opposition to cheque-book racing. CAMS are enforcing the rules, and as a result, all three Polaris RZR teams that hold the podium positions have race ready vehicles that cost under $30,000. This factor is starting to help attract the interest of enthusiasts from motorsports as diverse as Rally, V8 Supercars, V8 Brutes, 4X4, Quad Bike and Motorcycle Racing.
This new racing option is the result of passionate involvement of Polaris RZR owners in other motorsport classes, such as the Australian Off Road Championship, Karnacross, Navrun and Cross Country Drivers Association events.
Interested in SxS racing? Call your local Polaris dealer.