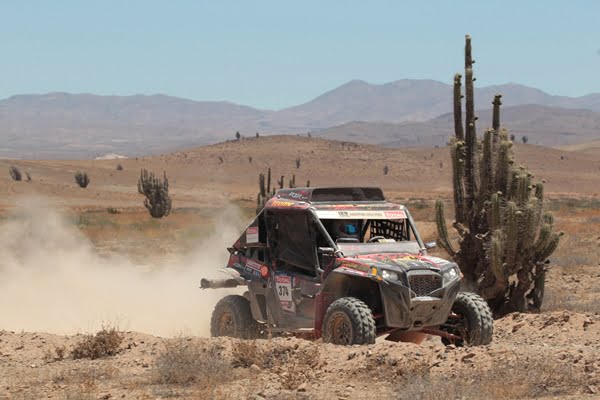 The Polaris RZR XP 900 has created history, winning two classes at Dakar 2012, the world's toughest off road race. Dakar was definitely an amazing test for the RZR XP 900, with more than 400 competitors attempting 9000 kilometers of racing, spread across the unbelievably rugged landscape of three South American countries. ASO, the promoter, reported that the 2012 race featured the hardest terrain and extreme weather for many years.
After 2 weeks of racing, the Polaris RZR XP 900 proved it is one of a kind, as the team reached the initial goal by crossing the finish line in Lima without any technical issues, claiming the win in 2 different classes! The RZR XP 900 also managed to finish some of the longest and hardest stages in the top 30, finishing 42 overall in the car class. No doubt, this was a unique and historic performance.
"In Puerto Plata, at the start of the race, everybody was amazed to see the Polaris. Some of them were even laughing! But day after day, many of them were not smiling when the RZR XP overtook them in the desert" said Polaris Australia Country Manager, Peter Harvey. "We showed everybody the RZR XP 900 is the best SxS, in a dedicated class race. It is awesome to drive and it can blow away its competitors when the terrain becomes technical."
"No doubt that teams with more expensive cars and buggies will start looking at Polaris RZR as a more affordable extreme performance vehicle. This is a trend we're starting to see in Australia also."
Polaris Australia will be racing the RZR XP 900 in 2012 in a special class developed for Side x Side vehicles and will be competing in four rounds of the Australian Rally Championship. The Side x Side class is open to all people wishing to compete and race in the ARC.