Some of the most powerful compact L.E.D flood and spot beam work lamps have been added to the Narva range, further emphasising the strength and diversity of this respected brand.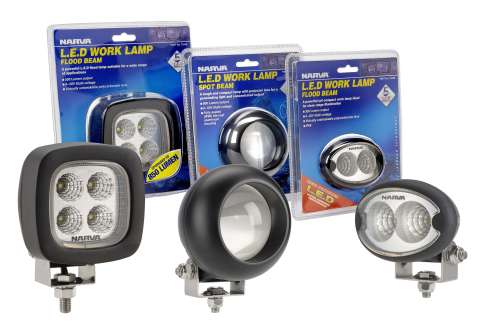 Utilising the latest in high intensity L.E.D's, a powerful white light is instantly produced without any warm up period. This whiter, crisper light output is responsible for reducing eye strain and fatigue during long hours of night work making it perfect for worksite applications. Their compact size allows them to be easily mounted in confined spaces to avoid damage making them ideally suited to the widest range of applications in agriculture, transport, 4WD and workman's vans.
The 72249 lamp is just 110 x 110mm in size, yet it produces an amazingly powerful white flood beam light output of 850 lumens.
A slightly smaller 72447 round lamp is just 93mm diameter and has an excellent spot beam with an output of 900 Lumen.
Even smaller, the attractively styled oval work lamp Part No. 72446 with dimensions of 93mm wide and 81mm high from the base mount, delivers a powerful flood beam with a light output of 300 Lumen with two L.E.D's.
Boasting multi-voltage 9 – 50V technology, pre-wired and with die cast powder coated aluminium housings the two flood beam lamps have virtually unbreakable polycarbonate lens whilst the spot beam lamp has a special robust projector style glass lens.
Their rugged construction guarantees a long service life especially with no filament to break and each is fully supported by Narva's 5 year L.E.D warranty. An added benefit is the low current draw ranging from 0.30A to 0.80A at 12V and just 0.15A to 0.30A at 24V. Mounting hardware is stainless steel and each lamp is sealed to IP66 rating.
Compact Narva multi-voltage L.E.D Flood and Spot Beam Work Lamps are attractively packed in hang-sell or free standing blisters and are now available from leading automotive, 4WD and transport outlets. Recommended retail pricing commences at around $129.00.