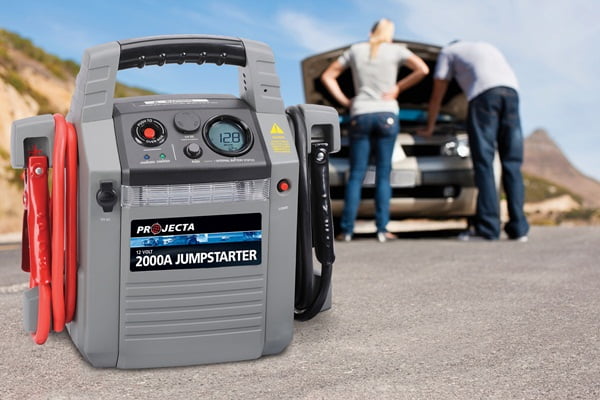 A new range of high performance Jump Starters has been released by leading battery maintenance and power equipment supplier, Projecta.
Robust and compact in design the new range features high quality AGM batteries, intelligent microprocessor controlled safeguard protection and convenient 12 Volt accessory sockets. The program includes a 12V 900A, 12V 1200A, 12V 2000A and a 12/24V 2200A Jump Starter catering for cars, SUV's, 4WD and the ultimate unit capable of starting large petrol engines and 24V diesel engines up to 7 litres.
The complete high performance range features automatic 240V and 12V in-car charging to ensure optimum battery performance and long service life. The premium 2000A and 2200A models offer built-in 5 stage charging electronics for fast and comprehensive charging, ideal for performance batteries. These two models also feature advanced microprocessor controlled protection preventing the Jump Starter from misuse through over discharge or cranking which would otherwise damage the high performance AGM battery. In this situation the Jump Starter will shut down until recharged or reset by use of the override button.
Polarity and surge protection are standard throughout the range providing important protection for the user and the Jump Starter itself by preventing expensive and irreversible damage. A convenient override button enables the unit to start a vehicle with a flat battery or with no battery at all.
L.E.D indicators are provided in the two smaller models displaying the battery state of charge, correct connection and recharging status whilst the two larger models have LCD Volt displays showing the battery status at the push of a button.
The use of high performance premium AGM batteries with high cranking capabilities coupled with heavy duty leads and clamps provide outstanding jump starting. They can also be used as a portable power supply for running camp lighting and the larger models for powering fridges.
Projecta high performance jump starters are available from leading automotive, 4WD and camping and caravanning outlets at pricing starting from approximately $1,495