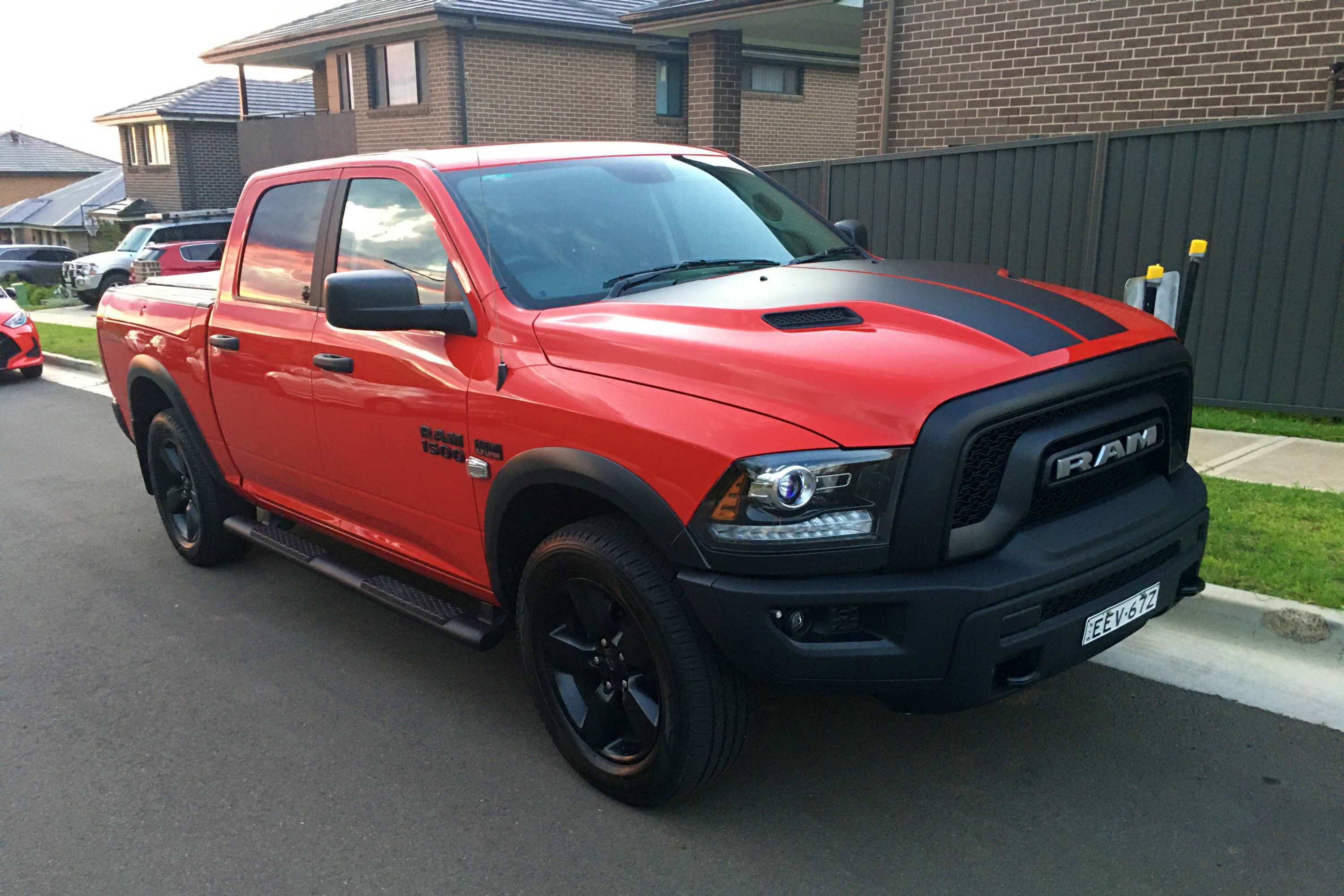 RAM 1500 Warlock is part of the continuation of RAM Trucks successful introduction into Australia. Launched in July 2020, the Warlock, based on the new crew cab, adds a layer of bling and accessories to present an impressive looking truck.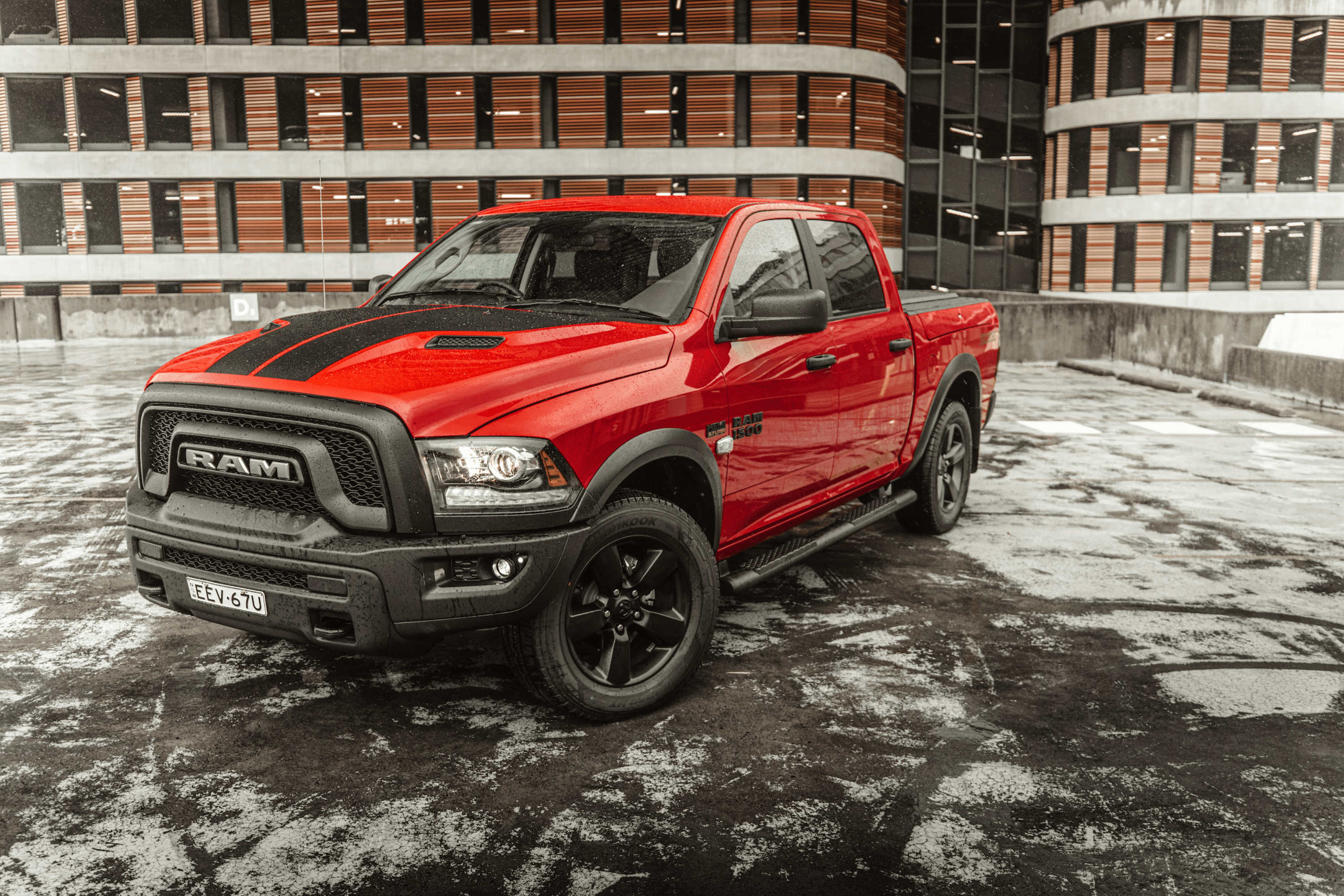 What does the RAM 1500 Warlock look like?
Imposing and noticeable. In the week I had it plenty of people stopped me to comment on it. People walking by would take a couple of looks at it. The combination of Flame Red, with black decals stands out.
Warlock in full uniform includes the Rebel-look front grille with unique sports hood, black powder-coated front and rear bumpers and fender flares, 20-inch semi-gloss black alloys, suspension lift, black-smoked headlamps, accent badging and unique Warlock decals. Initial colours include Flame Red, Bright White, and Patriot Blue, while further colours coming soon.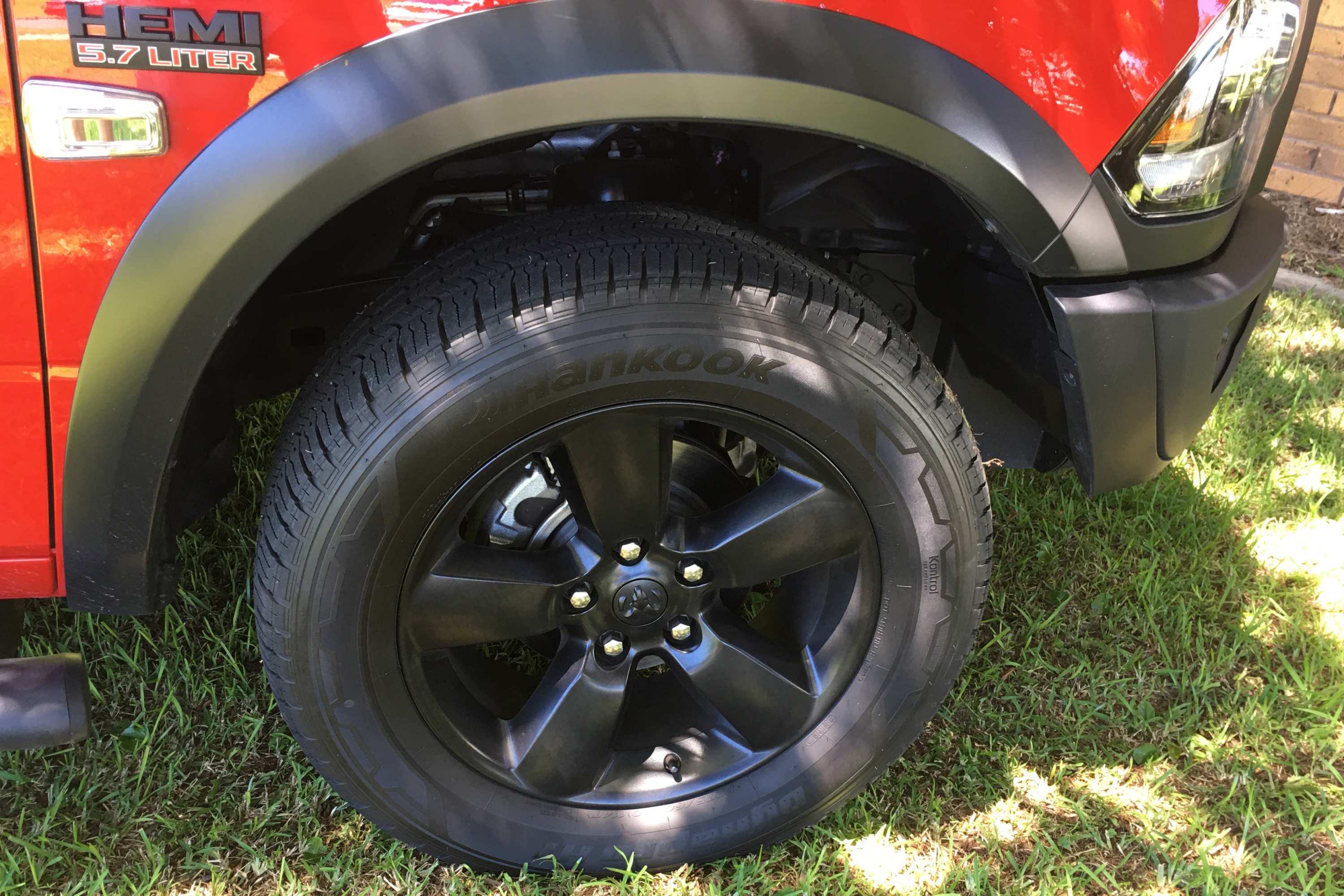 The 20 inch alloys look cool and house tyres that are 275/60 R20 114 LT with road biased tread.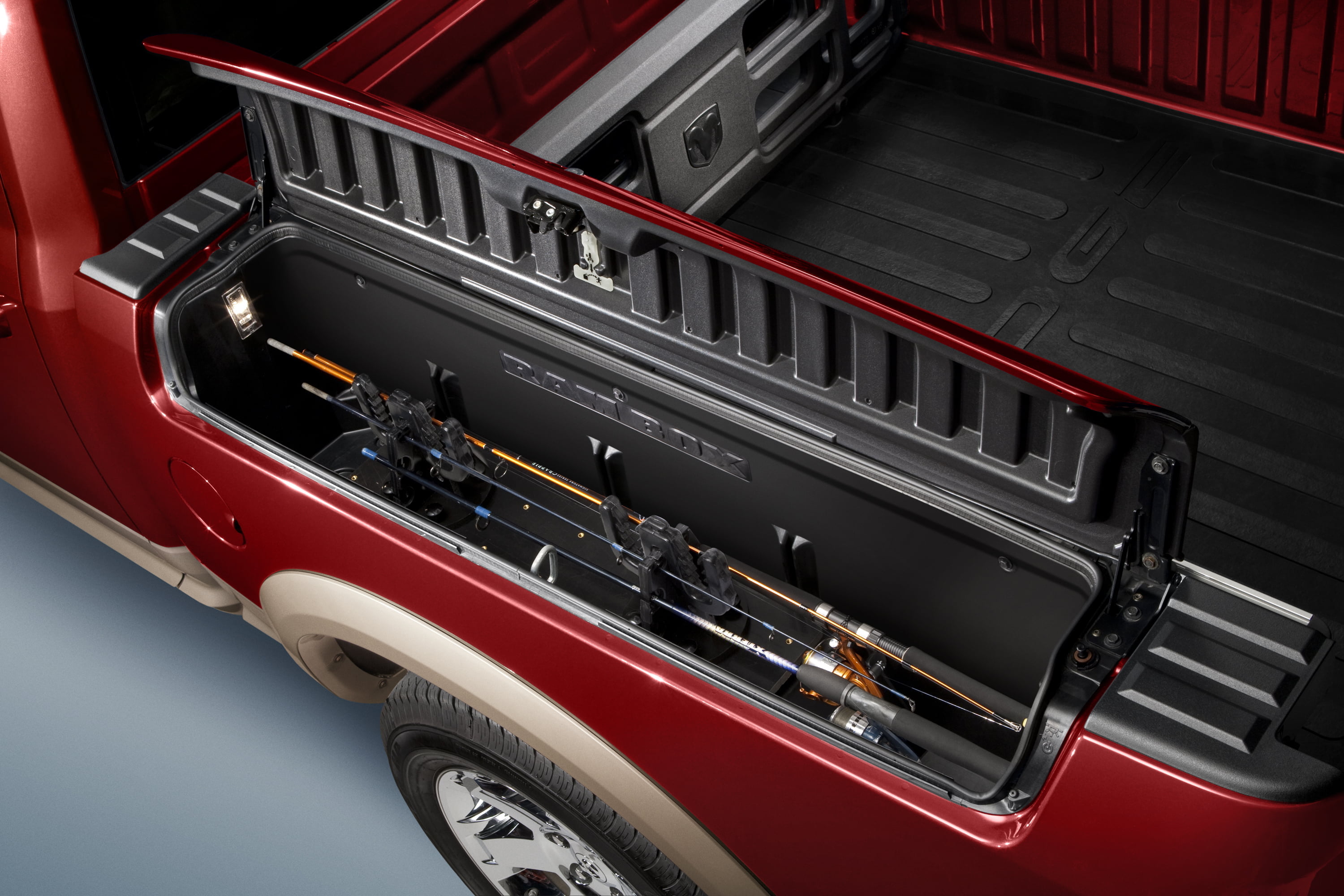 The Warlock also comes standard with the RAM Box®Cargo Management System. More than a toolbox, these lockable storage units are built into the side rails of the tub and feature lighting and drainage – ideal to keep drinks cool on camping trips, or wet towels out of the cabin after a day at the beach.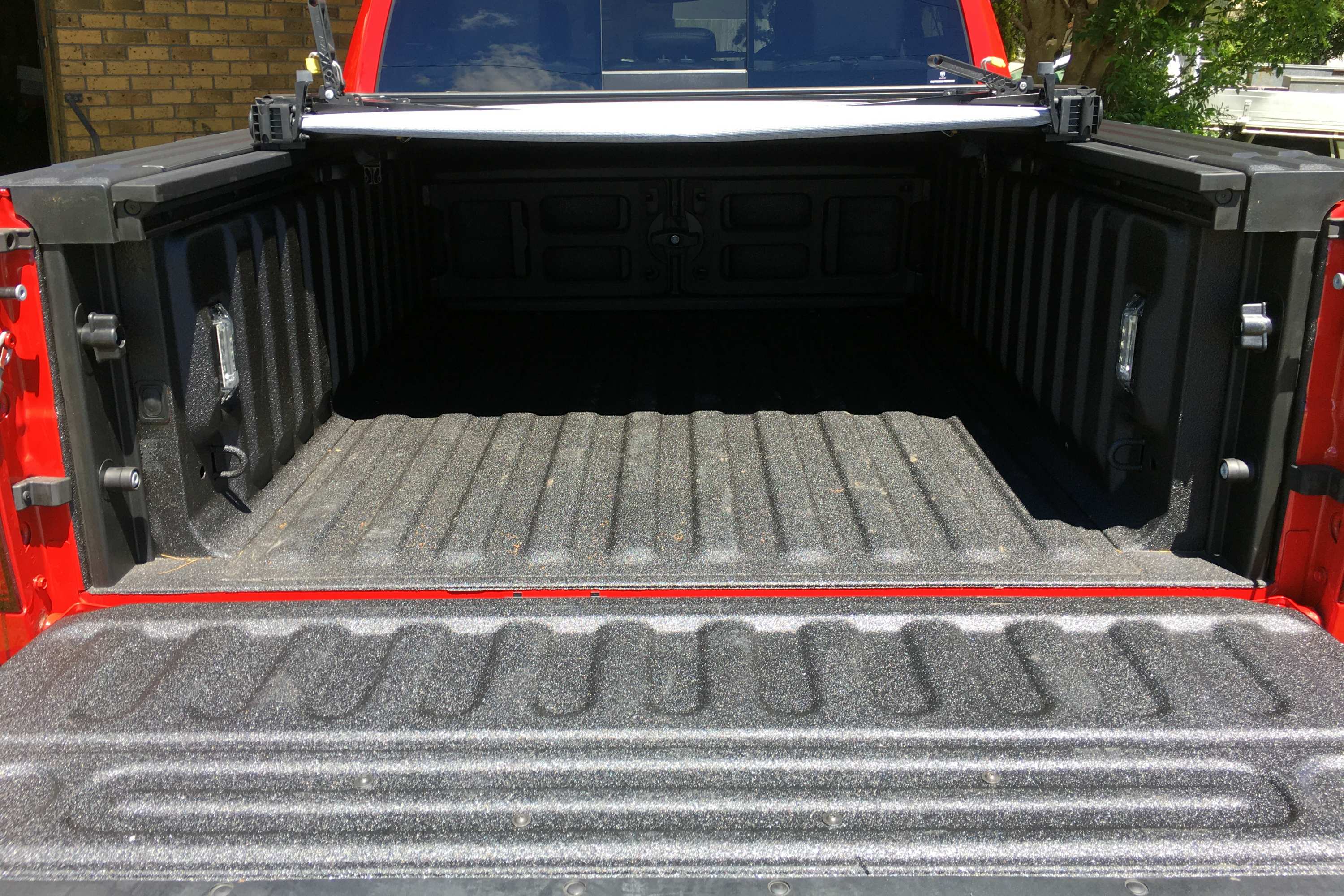 The tub also has twin rear lights, a rear upper light on the cabin that shines down on the tub and the divider system that allows smaller items to be held near the tailgate without spreading everywhere in the tub.
There is a ribbed tonneau cover on the tub that is relatively easy to use, the only problem that the tub has is that it's huge and sometimes items that are at the front in the middle are difficult to reach.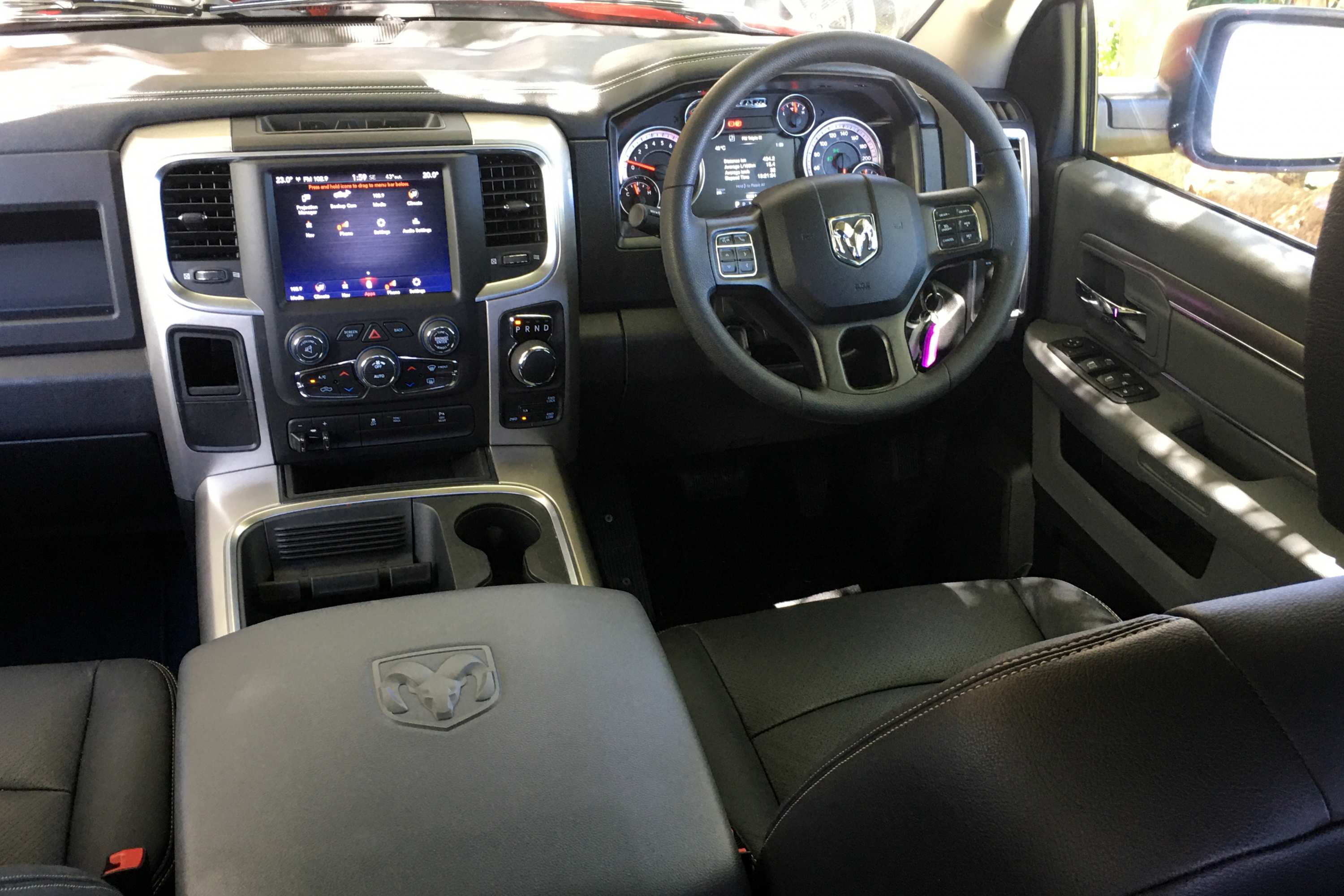 How comfortable is the RAM 1500 Warlock inside?
Well once you step up into the cabin, you are met with space. The driver's seat is comfortable in the American way, like a lounge chair. The steering wheel is thick and sits nicely in the hands but only adjusts for height. There is only one left hand stalk for both washer/wiper and indicator as well as high beam. Automatic headlights are operated by a dial to the right of the steering wheel on the fascia.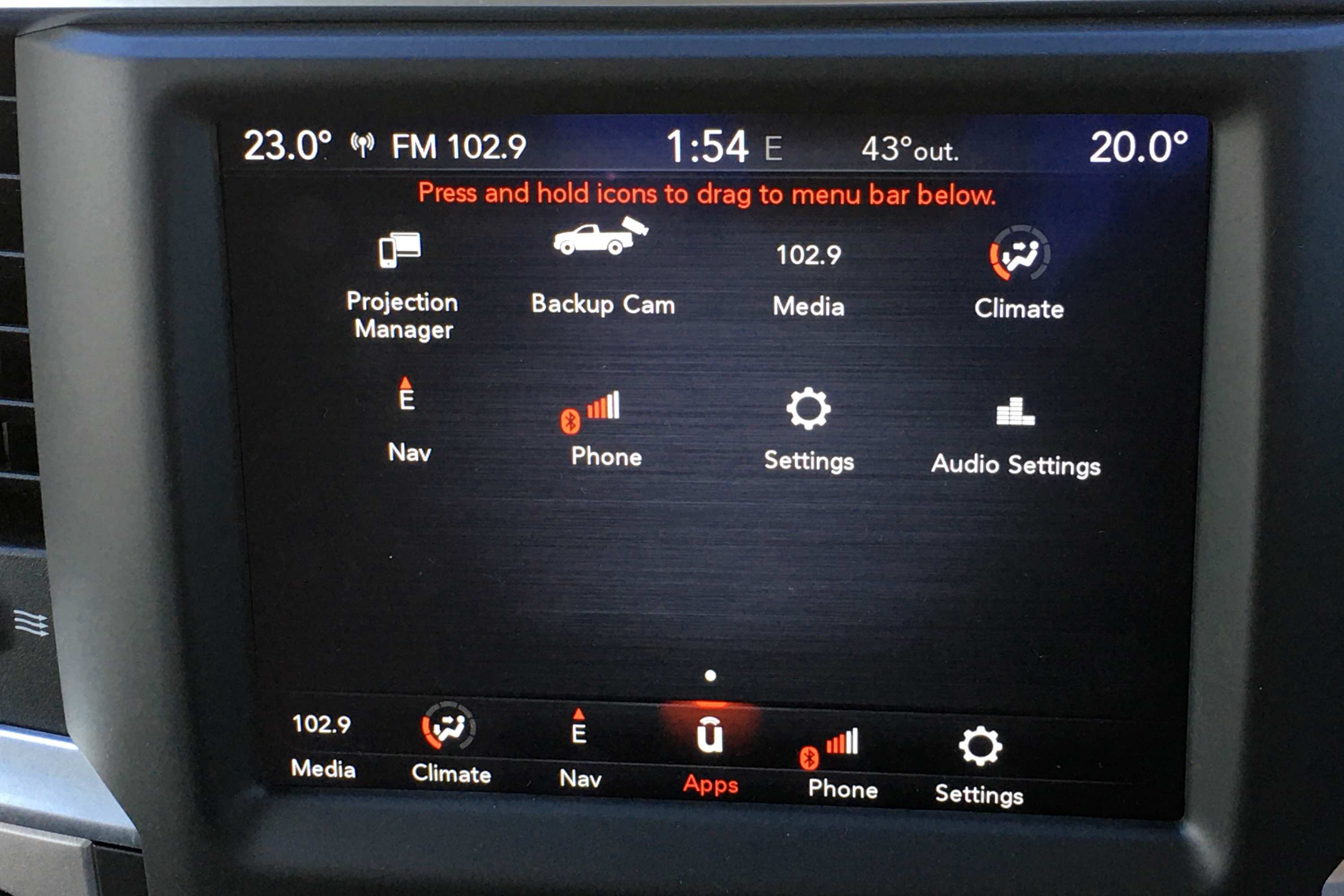 On the subject of lights, low beam is a bit weak, fog lights are good and high beam is pretty good. I would add a good set of driving lights.
As the Warlock is based on the base model crew cab, it's missing a few luxuries, however it does get electronic leather trimmed seats with additional lumbar support.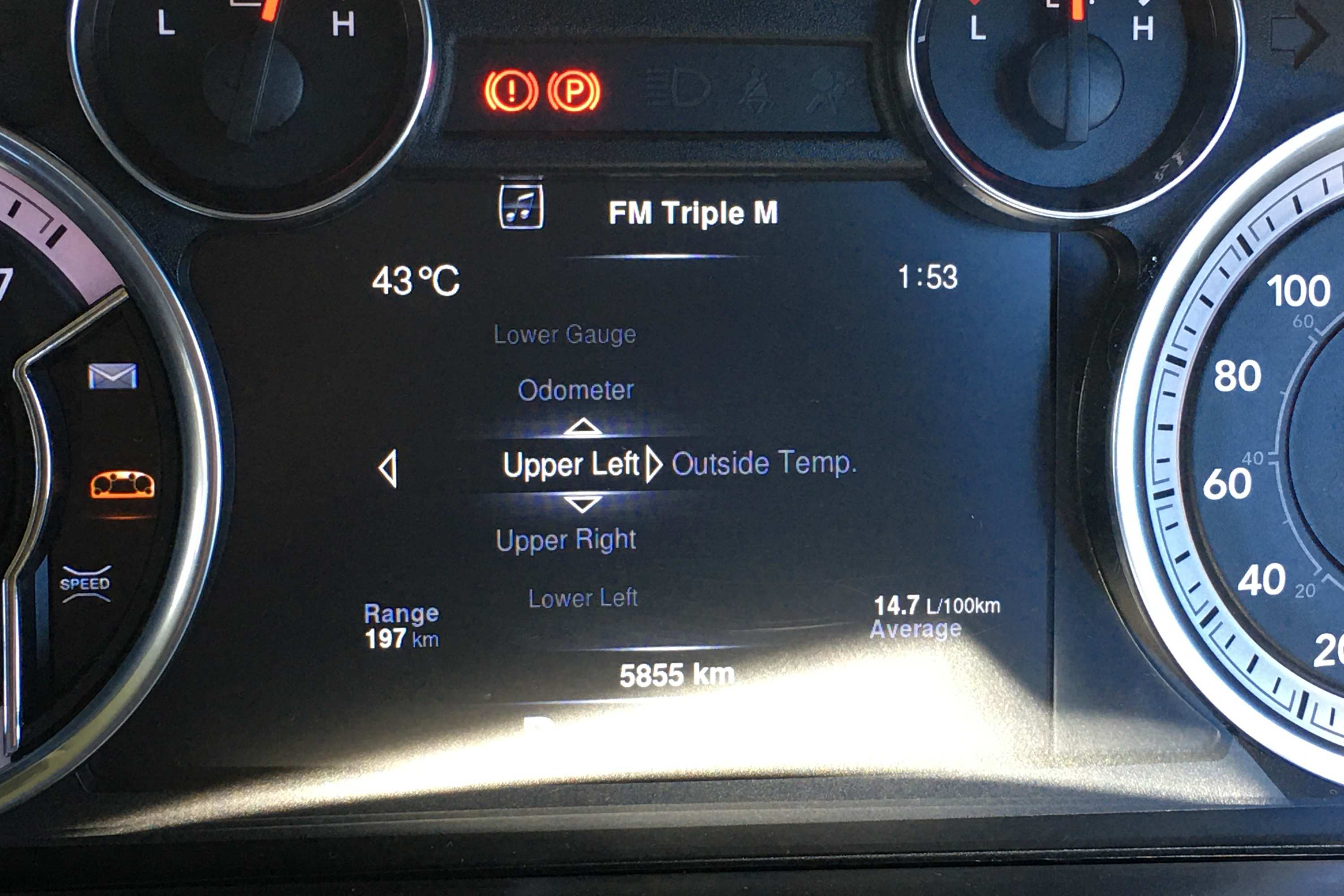 In front of the driver there is a twin dial dash, white on black, four smaller supplementary dials and a configurable MFD display cluster between. It's clear to read and easy to use. The dash itself has soft touch padding. The screen is a long way forward.
Over bonnet visibility is a little restricted because of the bonnet bulge, but you quickly get a feel for the extremities. The reversing camera is a bonus and a necessity. 'A' pillars are a little intrusive, but have grab handles as do the rear doors. Entry and exit is easy thanks to these and the black, full cabin length steps.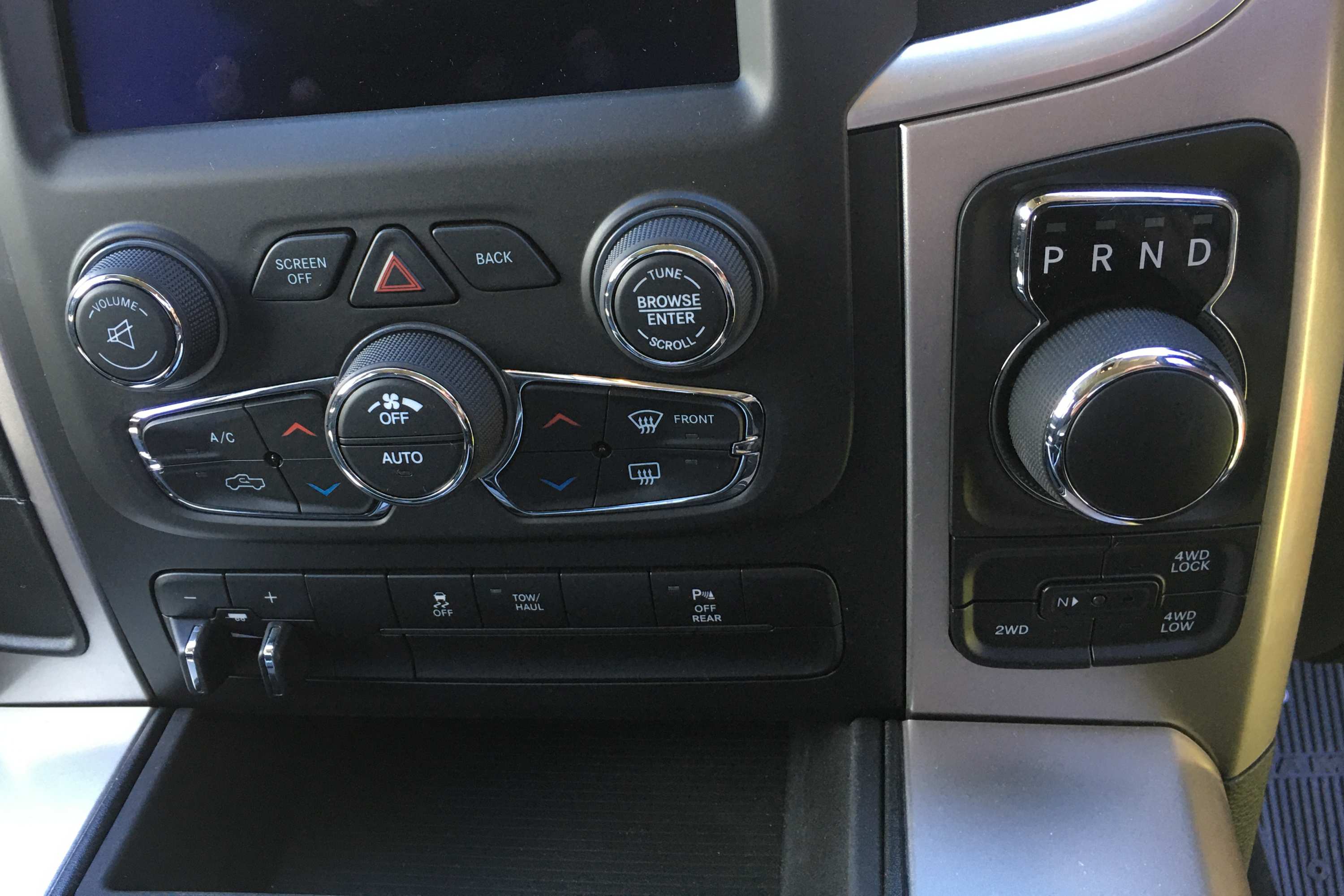 Centre console is huge with a large soft padded lid and two sections for storage, a top tray and a deep bin. The top houses the USB ports etc, with a side space for the cords to come out. Wireless Apple Car Play would be handy. Additionally there are large door pockets with room for two bottles each, side slots in the centre console and a smaller size glove box. In front of the centre console is a HUGE storage bin, that's exceptionally practical with two storage trays for phones and a clever slot for vertical storing them as well.
There is both under seat and floor storage in the rear.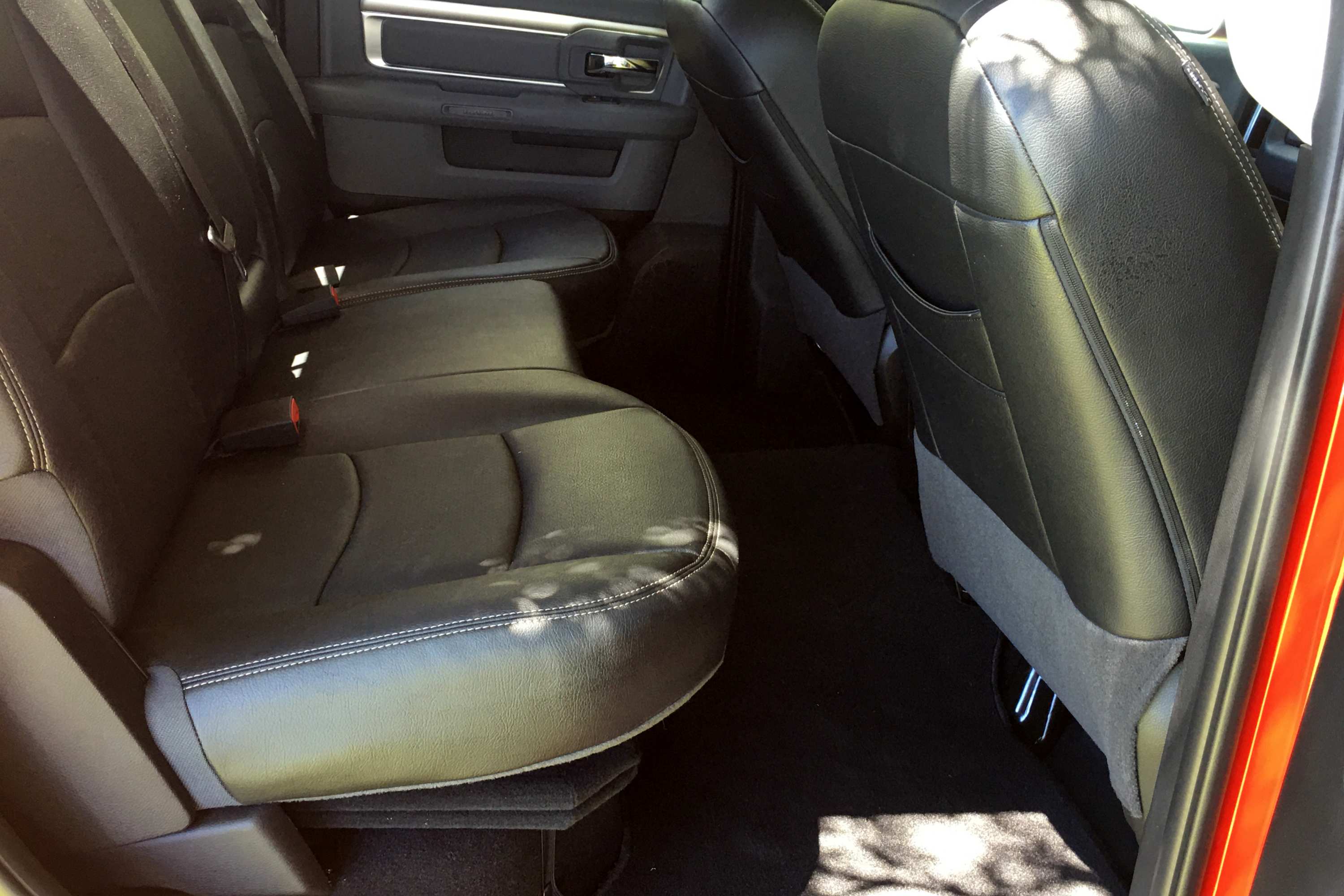 The sculptured rear seats will accommodate me comfortably, that's a bulky 190cm, with more space than almost anything on the market, bar another RAM truck or an F250, or a LandCruiser. It's impressive and part of the reason these trucks are becoming so popular.
Couple of little niggles. Once you have the seat belt on it doesn't seem to have much extra movement so reaching the footbrake release means straining against the seat belt. Of course that could be just because I am larger than the average bear.
The foot brake is another slight niggle, the top point is quite high and requires lifting your leg more than necessary. An electric brake would be much more effective and ergonomic. The relationship between the accelerator and brake means complete lifting of the foot. I ended up left foot braking most times.
In this model there are no seat heaters, which would be missed. The A/C recirculating button needs to be turned on every time, my A/C runs 24/7/365 on recirculation. A HUD would also be appreciated as would wireless Apple CarPlay.
Other features for the Warlock include dual-zone climate control, satellite navigation, Apple CarPlayTM and Android AutoTM connectivity via the UCONNECT® 8.4-inch Touchscreen.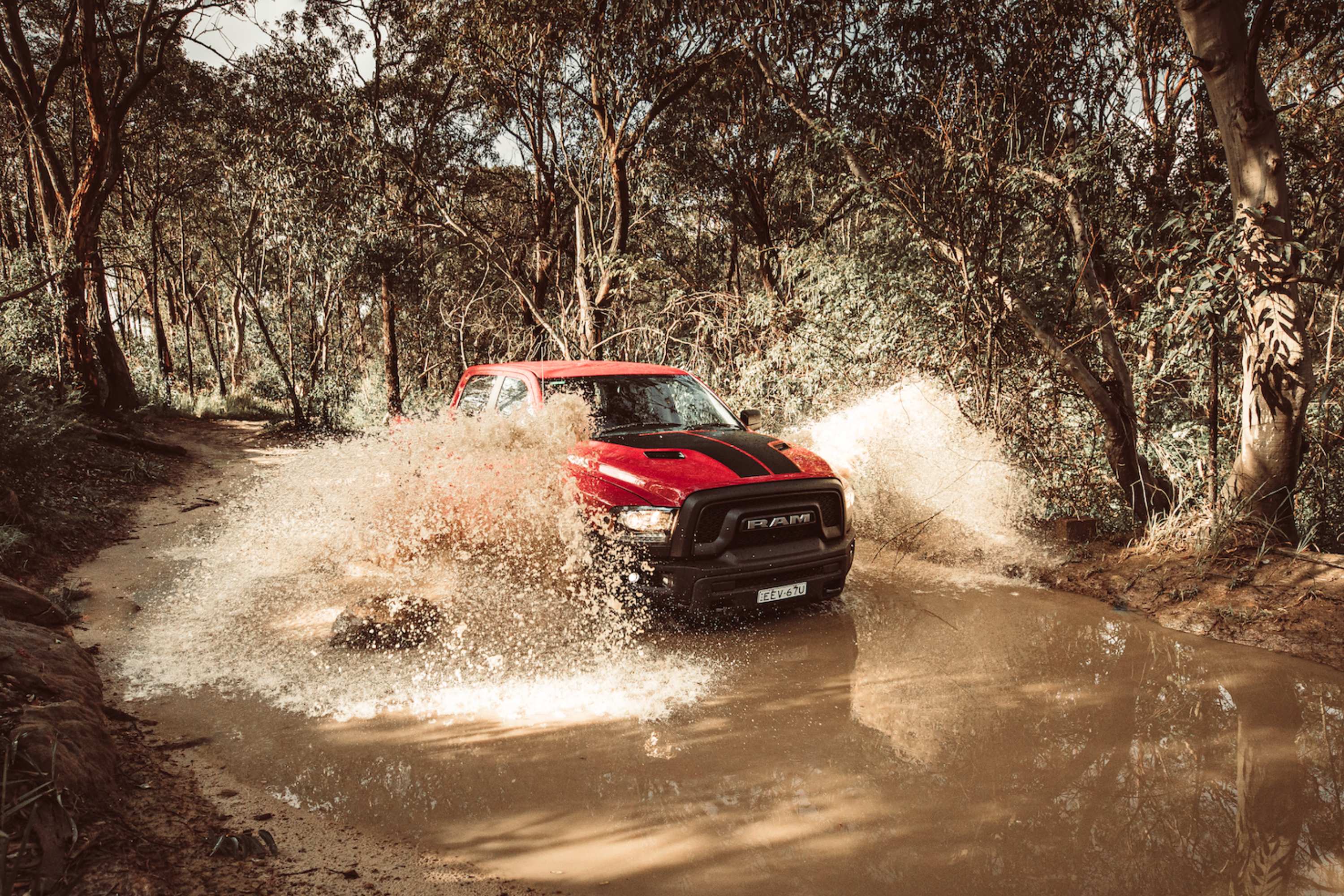 What drives the RAM 1500 Warlock?
A nice big thumping 5.7L Hemi V8 and I love it.
This legendary engine has found its way under a whole raft of American muscle and motorsport cars, producing power of 291kW @ 5600rpm and torque of 556Nm @ 3950rpm.
This can drive all four wheels through an innovative rotary e-shift dial that controls the TorqueFlite eight-speed transmission. The new rotary e-shift dial also yields space for more functional and usable storage in the console.
Keeping the engine at optimum operating temperature is a clever RAM grill shutter system that opens front louvres as necessary to cool the engine.
The fuel use is slightly less than you might expect but varies with a heavy right foot, but the ADR figure is 12.2L/100K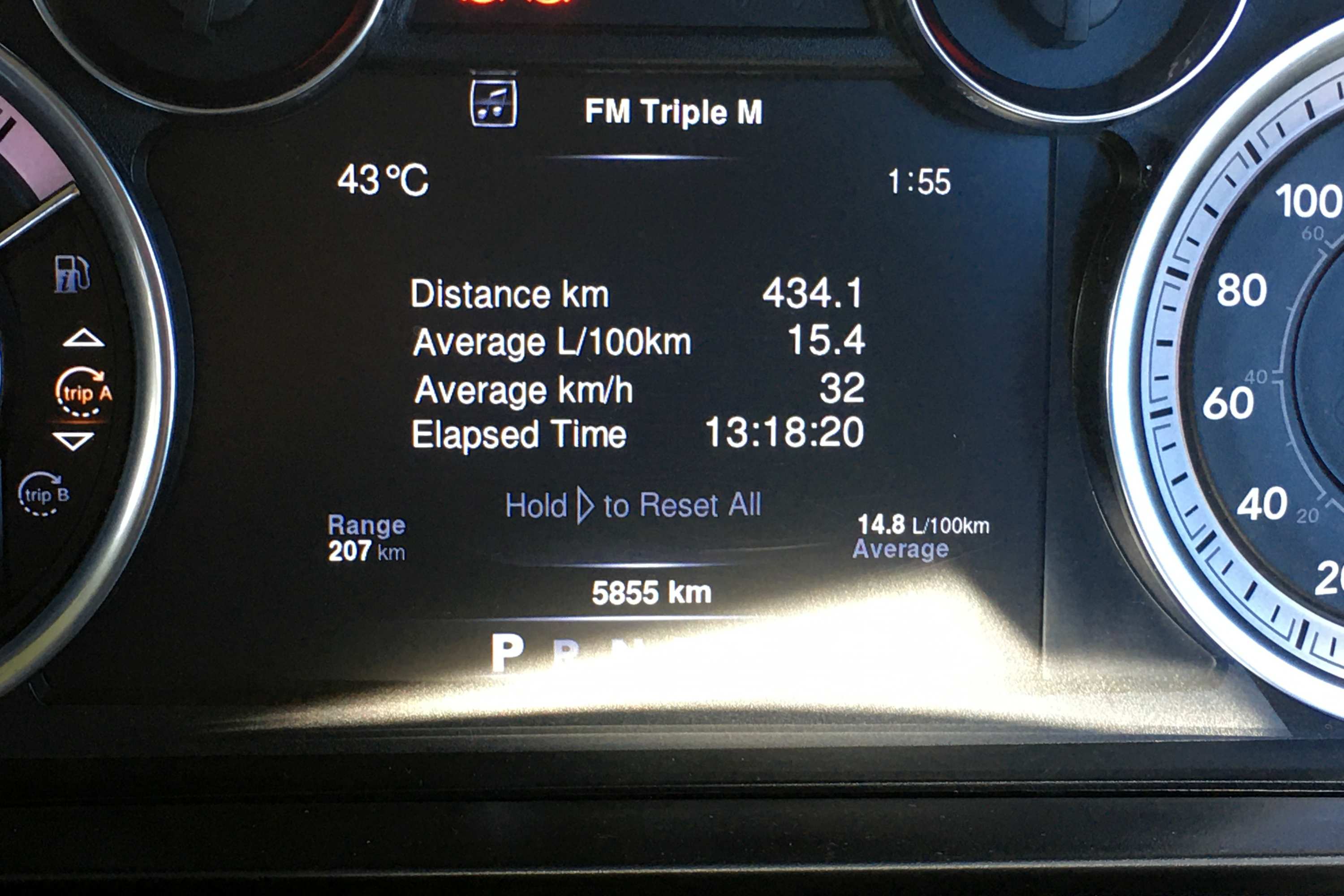 In real life I got around 11L/100K on the freeway and around 17-18L/100K in town for an overall average of 15L/100K. That is only an issue when filling up. You don't really think about it when you're listening to the sweet V8 burble.
Suspension in the front is upper and lower "A" arms, coil springs, twin-tube shock absorbers, stabiliser bar. The rear suspension is Five-link with track bar, coil springs, stabiliser bar, twin-tube shock absorbers, solid axle. Both have heavy duty shock absorbers.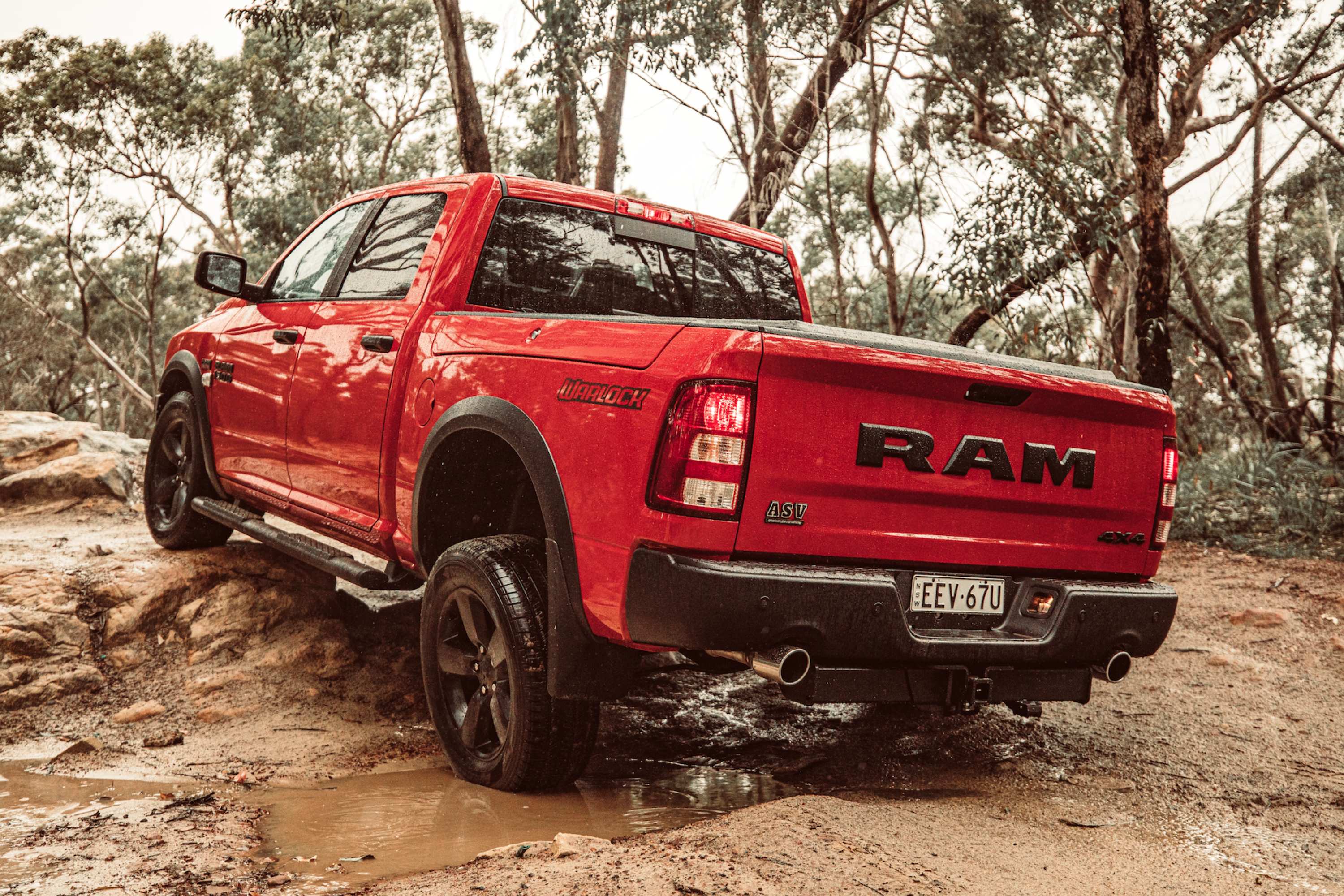 Warlock includes a factory fit 1-inch suspension lift, which not only looks good but also allows for greater wheel articulation and ground clearance. Working in unison with the high and low range settings of the four- wheel drive system, this addition enhances the off-road ability of the RAM 1500.
Note that the RAM 1500 runs disc brakes front and back, which is unusual for Utes in Australia.

RAM 1500 Warlock 4WD Capability and what it is like to drive.
On road the throaty V8 Hemi was a delight to drive. The electronic steering (recalibrated for Australia) is fairly direct and responsive. There is a reasonable degree of road feedback through the steering.
The ride is more akin to a luxury SUV rather than a Ute.
It simply doesn't have the choppiness of a typical unladen Ute and was smooth and quiet. You quickly forgot how big it is when driving. It's hard to describe just how comfortable you get driving the Warlock, it's actually a lot of fun.
Sink the right boot and the V8 responds in a loud roar, while the RAM 1500 simply flies away. It will effortlessly lift its skirt and run hard when asked. As will the fuel.
Obviously it's not a sports SUV, but it does respond well to direct inputs from the accelerator, steering and brake.
The RAM 1500 is not a 4WD as such. It does have a dual range system which in the Warlock provides a choice of 2WD High; 4WD High, Locked; Neutral; 4WD Low, Locked. They all operate at the push of a button.
If you think of the RAM 1500 as an all track or all road 4WD SUV, an outback tourer, rather than as a heavy duty 4WD such as a LandCruiser Ute, then you will be better satisfied. The Warlock is the most capable of the 1500 series, but the main limiting factor off road is the sheer size and length and the road biased tyres soon lose their grip on slippery surfaces.
More off road orientated tyres such as all terrains will help dramatically, but if you're looking for a heavy duty 4WD Ute, you are better looking elsewhere. However over different road surfaces the RAM performed comfortably and well within limits.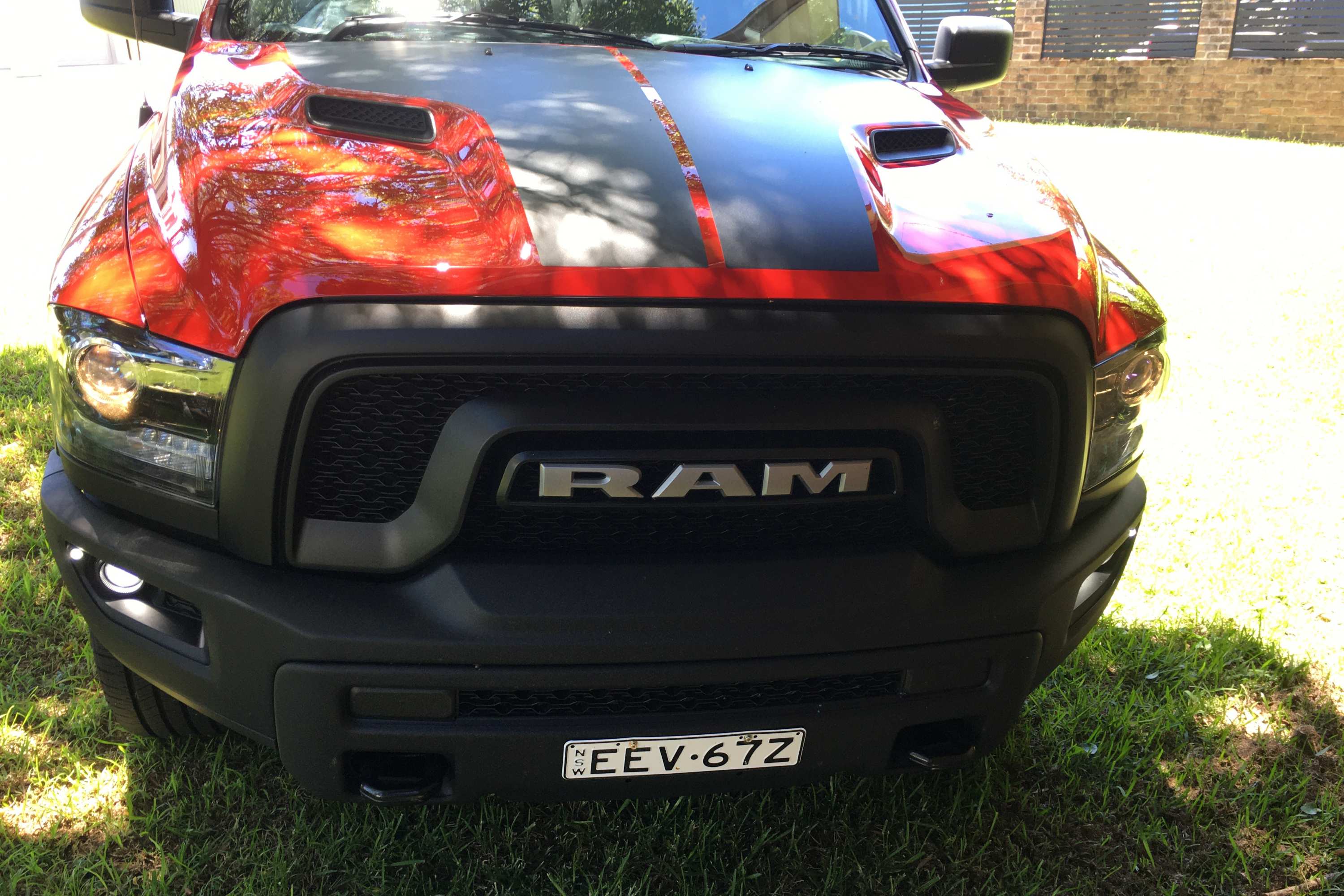 RAM 1500 Warlock Towing Capability
With an 820kg payload and the standard Trailer Brake Control system, Warlock has a mighty 4.5 tonne max braked towing capability, pulling boats, trailers, or campers with ease.
In addition to the usual swath of electronic safety features, the RAM 1500 adds Trailer Sway Control, Ready Alert Braking, trailer brake control. Needless to say, a heavy duty tow bar is standard on all RAM 1500 versions, as is a seven pin flat towing harness plug.
Trailer Sway Control does what it says – it works to counter one of the most common problems with towing, a trailer weaving behind the tow car. Using sophisticated electronics combined with the RAM  1500's brakes, it detects and counters a trailer swaying and pulls it back in line behind the RAM  1500, allowing the driver to maintain full control.
Tow Haul selection with the slider controls on the dashboard allow for control of the electric brakes on a trailer or caravan. These also bring up a choice of two readouts on the display screen in the instrument cluster to inform the driver exactly what setting the trailer's brakes are set.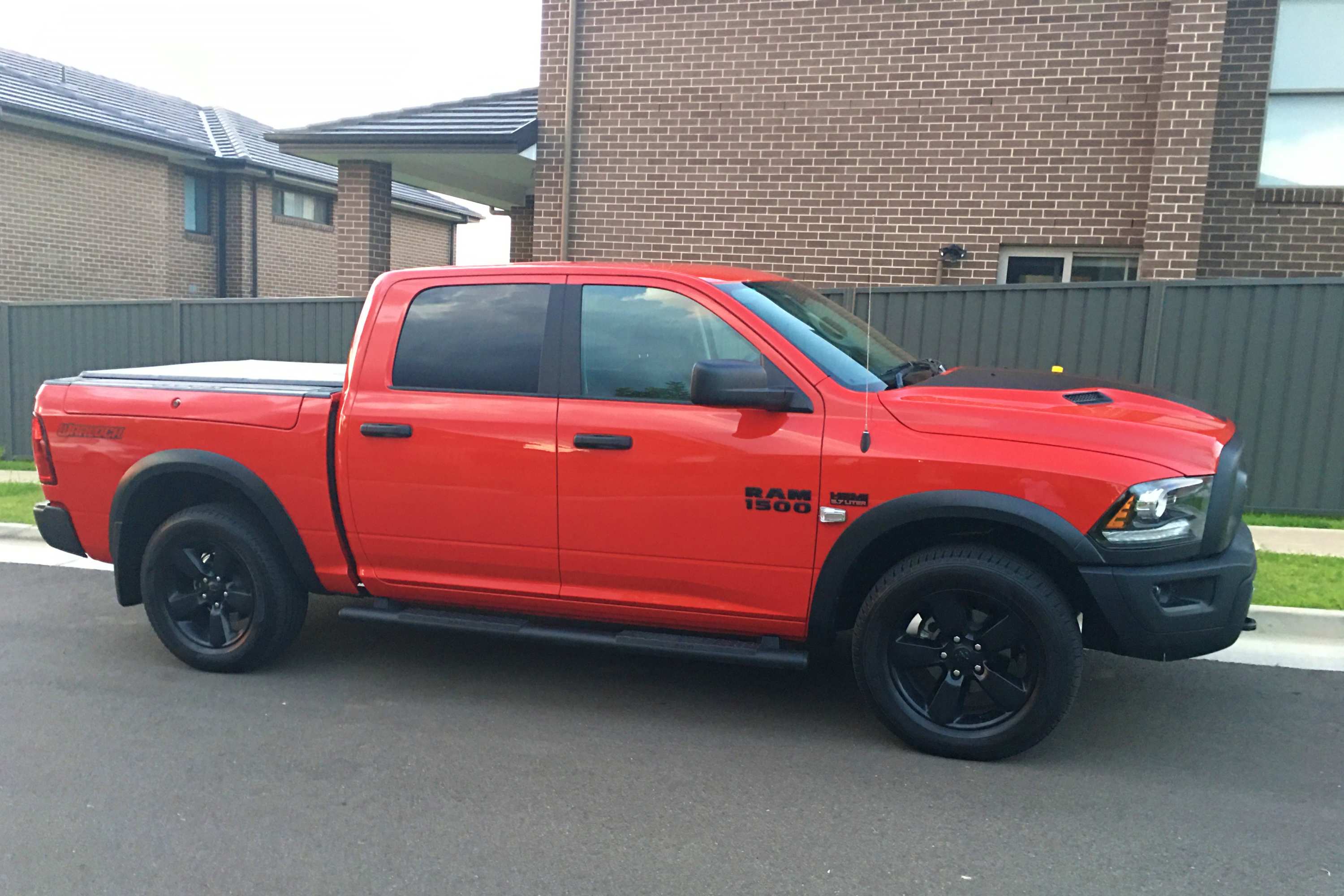 RAM 1500 Warlock Dimensions
RAM 1500 Warlock has an
overall length of 5850 mm,
wheelbase of 3569mm,
width of 2097mm and
height of 1950mm
Unladen ground clearance is 240mm.
Approach angle is 25.4 degrees, rampover is 21 degrees and departure angle is 19.1 degrees.
Wading depth is TBA mm
Turning circle is 12.1m
Fuel Tank is 98L
GVM of 3450kg, GCM of 7237kg (3.92 diff),
Kerb mass of 2650kg and Payload* of 820kg,
There is 1.295m between the wheel arches
Towing capacity is 4500kg (3.92 diff and a 70mm ball)
Tow ball rating is up to 10%.
*Includes occupants, fuel and fitted options/accessories. The weight of these must be deducted from the payload to determine load carrying   capacity. Front and rear axle loads must not be exceeded.
RAM 1500 Warlock Safety
 The RAM 1500 hasn't been tested for ANCAP as they haven't selected it yet. However that doesn't mean it isn't full of the usual safety gear. This includes:
Airbags; Driver, Front Passenger, Front Seat Side & Curtain
Fog Light, Automatic Headlamps and Bi-function Projector Headlamps
Front Stability Control
ABS Brakes, Ready Alert Braking
Traction Control
Electronic Brakeforce Distribution
Trailer Sway Control,
Hill Start Assist
Collapsible Steering Column
Front Seat Belt Height Adjustment Child Seat Anchorage Points 3 3
Cruise Control
Electro-chromatic Rear View Mirror
Heated Door Mirrors
Parksense® Park Assist System – Rear
Rear Back-Up Camera
Tyre Pressure Monitoring, Rear Mud Flaps
Rain Sensing Wipers
RAM 1500 Warlock Conclusion
Okay, I loved the Warlock. It was easy to drive, quiet, very smooth on road and handled the tracks with ease. It's also surprisingly responsive.
As mentioned it's more like an expensive SUV than a 4WD Ute, yet it is that. For the price I would expect a few more little luxuries, yet I guess they are sacrificed for the increased ride, exceptional towing capability and appearance.
It's a towers dream and nothing other than another American truck Ute or a real truck can match it.
It uses plenty of fuel, especially when towing and with the larger diff ratio, that allows 4.5T towing it also uses more fuel.  However there is a sweet resonance that comes from the exhaust that alleviates the pain at the bowser.
If I could afford one I would buy one tomorrow.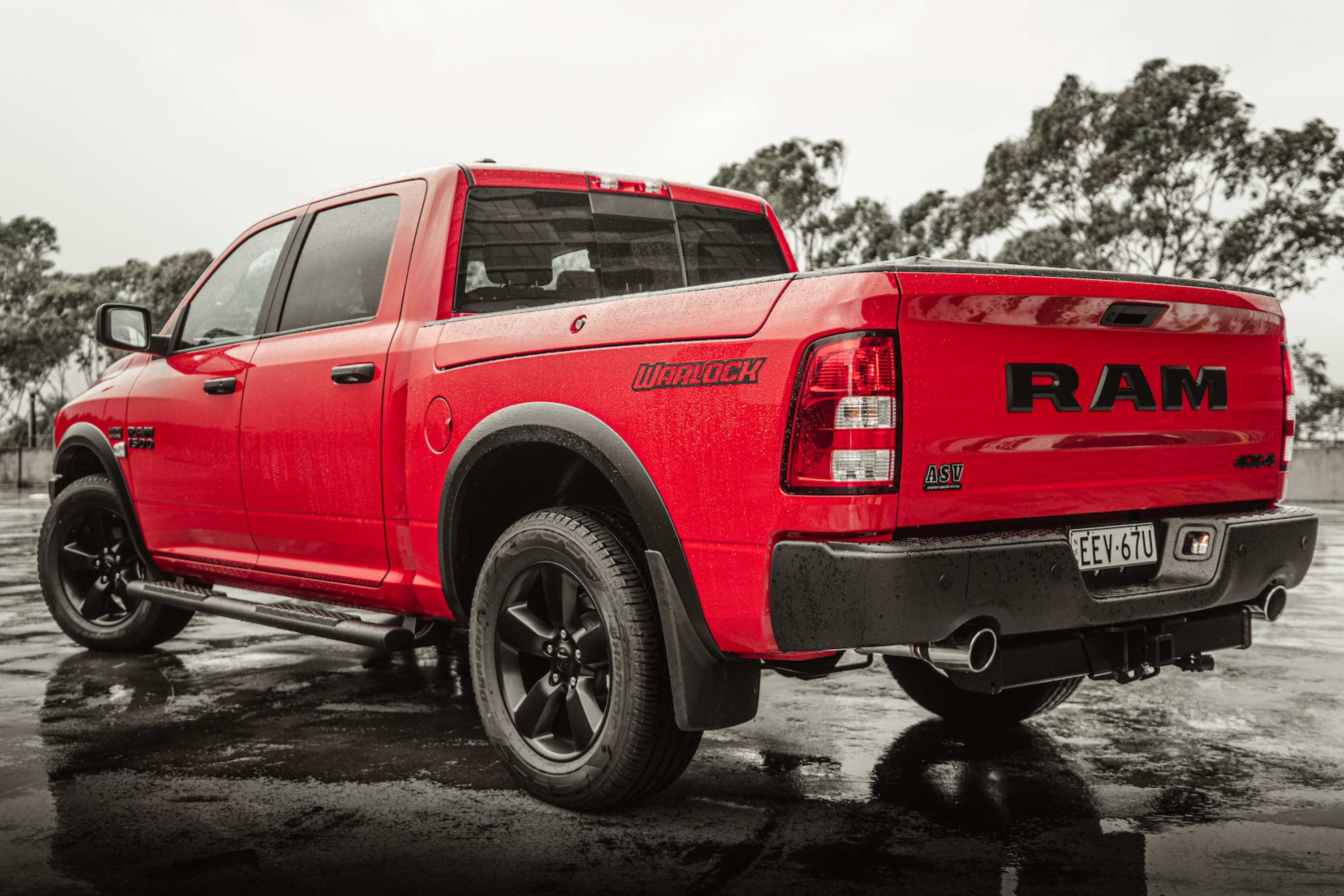 What's good:-
V8 Hemi Engine
Ride and quietness
Towing capacity
What's not so good:-
Pricey
Ridiculous foot brake as park brake
Lacking a few features for the price
Also look at
Model:   RAM 1500 Warlock Crew Cab Ute 4WD 
Model Price       $104,450 MLP*
Engine                 5.7L V8 Hemi Petrol
Drivetrain           8 Sp TorqueFlite AT 4WD
Power                 291kW @ 5,600rpm
Torque                556Nm @ 3,950rpm
Safety                  TBC
CO2                     230g/km
Economy ADR   12.2 L/100 km
Servicing             TBA Price 12mths/12,000km
Tow Rating         3,500 kg
Tow Ball Rating 350 kg
Warranty           3 Yrs. / 100,000 km with Roadside Assist
*MLP – Manufacturers List Price includes GST and LCT but excluding statutory charges, dealer costs and dealer delivery. See your dealer for RDAP. Does not include price of any options.
 Overall Rating: 87/100
Behind the Wheel           8
Comfort                            9
Equipment                       8
Performance                    9
Ride & Handling              9
Practicality                        9
Fit for Purpose                10
Towing Ability                  10
Off Road Ability               7
Value for Money             8