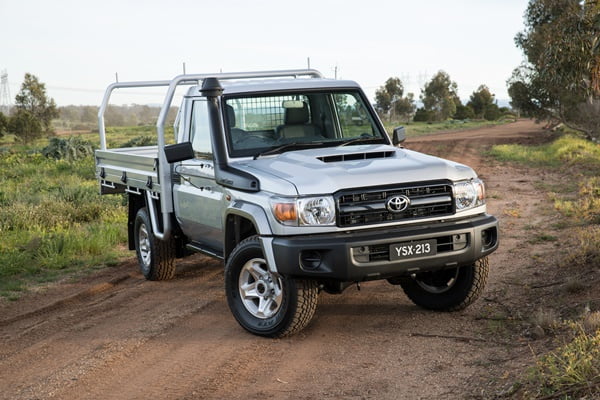 Toyota has long reigned supreme in the world of rugged robust work Utes. The LC70 single Cab Chassis Utes from Toyota are almost indestructible. Toyota updated the LC70 in late 2016 with a host of features but essentially remains the same rugged robust work beast it always has been.
The Toyota LC 70 GX Cab Chassis we had for a few weeks as a test vehicle was subjected to many of the daily excesses that fall on these Utes in the workforce. It mainly was used to help with moving house and was in its element but displayed its split personality.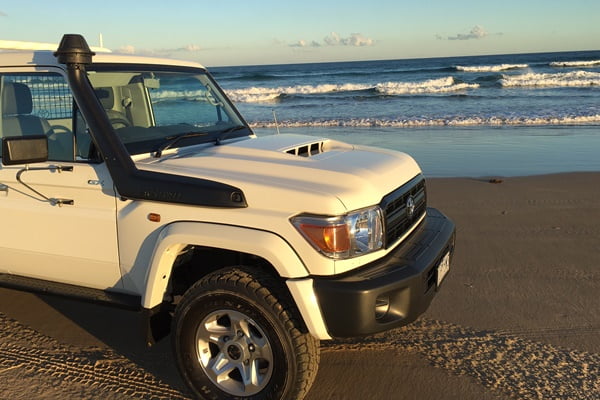 From the outside the LC 70 looks exactly like it should for what it is designed for. A utilitarian workhorse that would last forever. It has a bold grill, large bonnet bulge, high roofline and sides. The front has single lights and bold wheel arches. The particular GX vehicle we had was fitted with a robust genuine Toyota steel tray, alloy wheels, snorkel, under tray spare wheel carrier and tow bar.
Inside the LC 70 is more spacious than expected and much more spacious than the range of work Utes on the market. There is just enough leg room for my 190cm tall frame, plenty of headroom, even with a hat on and while it is a little cramped changing gears the height adjustable steering wheel allows more flexibility.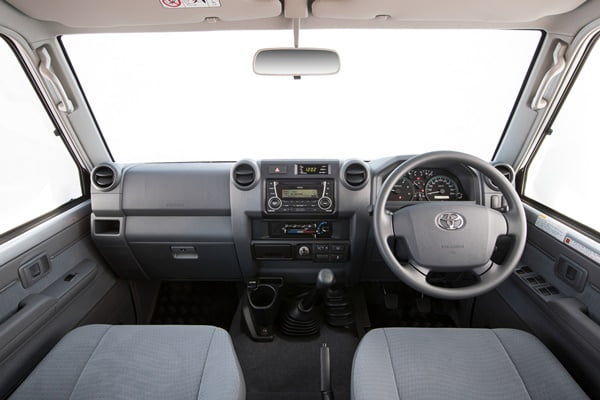 The dash and AC controls are a throwback to the HJ60 series Landcruiser. Like the old HJ 60 series there is a hand throttle/idle up button. The seat is supportive but could do with some lumbar support. I actually prefer the vinyl seat covering to the fabric of the GXL as it is easier to get in and out. The steering wheel actually feels pretty good in the hands and allows better feedback than the previous model. While the steering geometry is better it is relatively still a beast to handle at speed. The steering wheel is however totally devoid of any controls.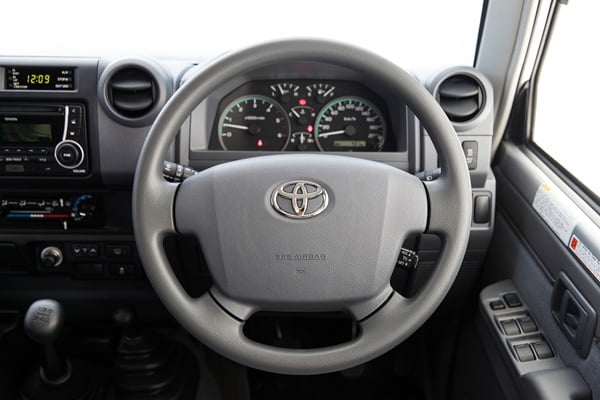 The dash has two larger dials, two smaller and provides a large amount of information. There is a clock on the centre stack, a Bluetooth stereo and below are the slide controls for the AC. Apart from some missing features the LC 70 reminds you that you really don't need some of the fancy things that are in vehicles as the older versions still work. The wind up windows are unusual these days but simple to adjust to unless you want to put down the passenger side window! The driver's winder can stick into the knee at times though and it is a little cramped winding them down. I do particularly like the quarter window though, it is functional and practical. One benefit of the upright vehicle style is excellent visibility all around.
However there are some things that are needed, like a reversing camera for safety and electronically adjustable external rear mirrors. Let me repeat this, the external rear view mirrors are still manually adjustable. Yes you read that right. This essentially meant that almost every day I had hop in and out multiple times to readjust the left hand side mirror because someone had bumped it in a car park. It was annoying and simply ridiculous.
The LC70 continues with the attributes that have made it such a versatile off-road vehicle – a tough box-section chassis with thicker, stronger, more rigid frame – side rails, simple part-time 4WD system with two-speed transfer, lockable hubs, excellent low-range gearing, long-range fuel tanks and excellent ground clearance.
These features, combined with ample approach, ramp-over and departure angles, enable the 70 Series vehicles to traverse rugged roads and obstacles that are beyond the capabilities of other vehicles with almost disdain for the terrain thanks in part to the powerful engine.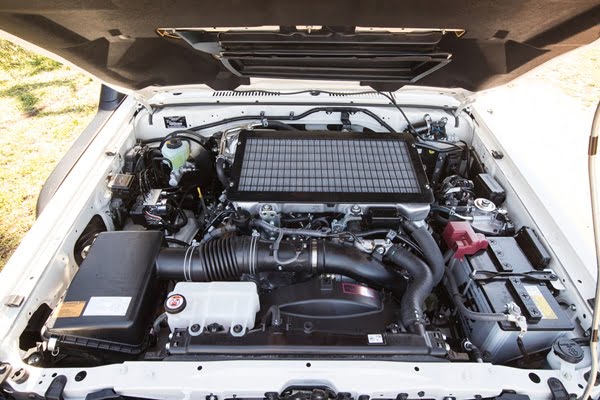 Today's LandCruiser 70 Series models are powered by a 32-valve 4.5-litre V8 turbo-diesel engine with improved with Piezza electric injectors and an intercooler. It delivers 151kW of power at 3400rpm and peak torque of 430Nm from just 1200rpm all the way to 3200rpm – a particularly flat torque curve.  The large bonnet bulge provides more cooling around the engine because the vehicle now has a diesel particulate filter as standard as part of the move to Euro 5 compliance.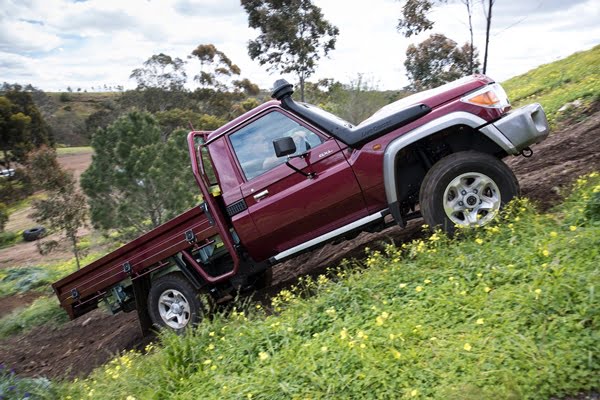 This is actually one of the main features of the LC 70. The torque curve or flat line allows you to drive in fifth gear all the way from 50kmh up to 120kmh. You can idle and pull away at 50kmh without chugging or problem. This does however affect fuel economy.
The Toyota Landcruiser LC 70 Single Cab Ute is a mixed bag. It has dual personalities. On road and around town it feels like a sumo wrestler trying to buy clothes at Supre'. It is big, cumbersome, has an atrocious turning circle (that I discovered at a tight inner city roundabout much to my dismay and the mirth of onlookers) and simply is out of place.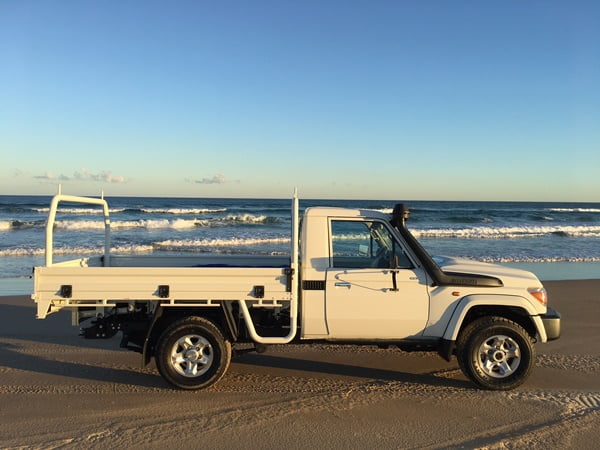 Long distance cruising in the LC 70 was previously a masochistic pleasure. The revised gearing means that 5th gear at highway speeds now cruises at around 2200-2500 rpm rather than around 3000 – 3200 rpm at highway speeds. This makes for a somewhat more relaxed and economical freeway drive however it is still very loud with high rpm, wind, and road and tyre noise.  Using the Bluetooth cruising at 110kmh is an exercise in frustration. You will end up with sore vocal chords from shouting. It still needs a 6th gear.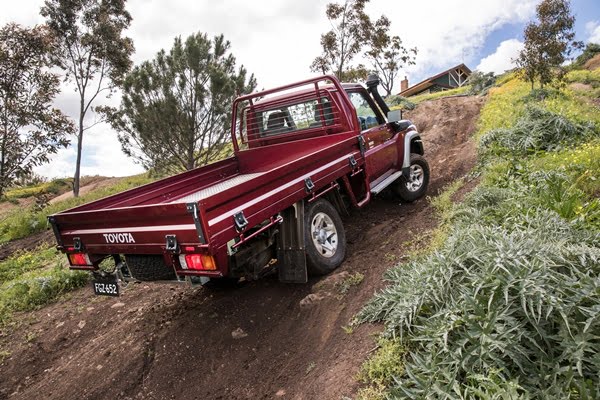 However the dual personality comes to the fore when you turn off the tar roads and head bush, either on the beach, dirt roads or on the farm. Here the LC 70 is king. It is here that the LC 70 excels, almost unrivalled. The low down torque delivery combined with low gearing means that it will gently putter along where needed. It is simply superb. On the sand tracks and the beach the LC70 will putter along in 2nd gear totally unfazed.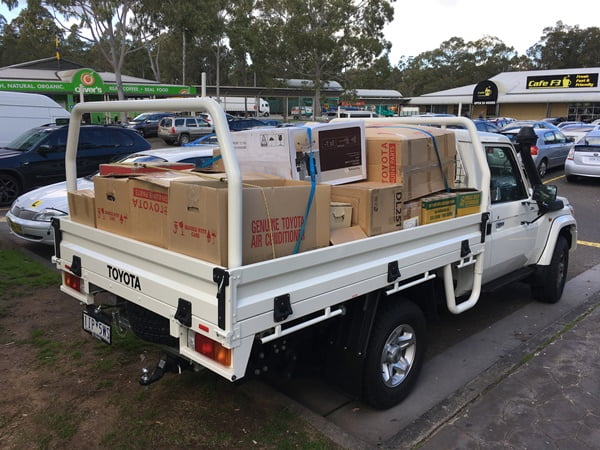 On the test whatever we loaded into the tray it simply did what was asked without fuss.  We have previously towed trailers both on and off road with the LC 70 and with the 3500kg tow rating and a 350kg tow ball rating it is a great tow vehicle. The single cab-chassis has the highest payload capacity at 1220kg.  The critical and unusual thing about the 70 series is that you can load the maximum towing capacity and pay load at the same time.  If you are towing at the limit in other four wheel drives this significantly reduces the payload you can carry in the tray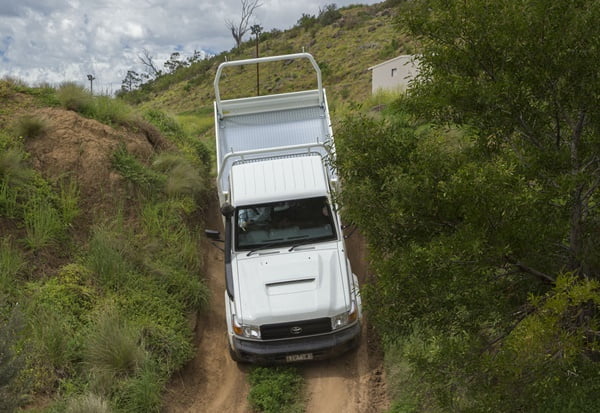 The 2017 MY upgrade means that all models now get the safety electronics package of vehicle stability control; active traction control; hill-start assist control; brake assist; electronic brake-force distribution; cruise control, front seatbelt pre-tensioners; and front-passenger seatbelt warning.
The single cab-chassis also gets thicker, stronger, more rigid frame – side rails, three additional airbags– curtain-shield (two) and driver's knee (one) making a total of five.  The result is the cab-chassis model has achieved a five star ANCAP safety rating.
In today's market there really isn't a direct competitor for the single cab LC 70 Ute. Buyers will either opt for one of the smaller size Utes like the Colorado or Hilux size, or go for the more truck variant like the Isuzu N series or an F250 which is a lot more expensive. The LC 70 is extremely popular with buyers in mining, agriculture, construction, communications support and recreation industries.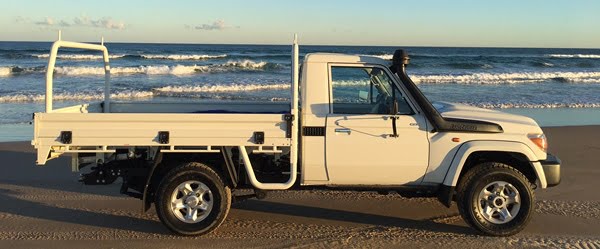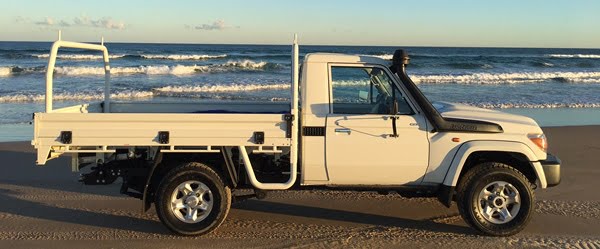 They value the almost indestructible nature of the ubiquitous LC 70. I have friends on farms that have Landcruiser Utes that are 20 years plus old, have been belted beyond recognition in everyday use and still keep going strong.
The LC 70 has a rightly deserved unrivalled reputation for class-leading mechanical reliability and serious towing, load carrying and off-road performance. If only they had electronic adjustment for the external rear view mirrors.
In a world that is seeing the 4WD become an AWD SUV we should be thanking Toyota for persevering with the costs of upgrading the LC70. It will be a dark day when this iconic vehicle is no longer available for sale.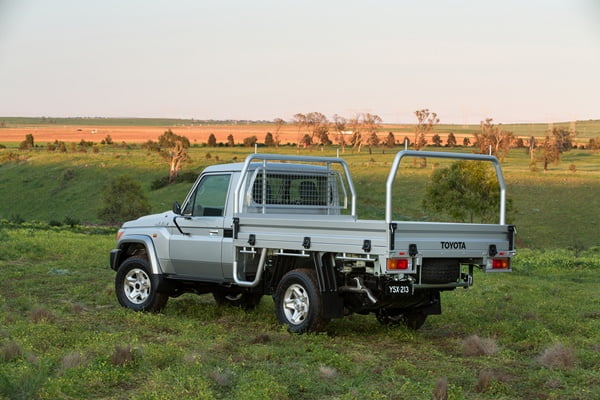 What's Good:
Robustness
Torque and power
Load and towing capacity
What's Not So Good:
Needs 6th gear
Turning circle
Manual external mirrors
Model: Toyota LC 70 GX
Model Price:      $70,337 RDAP
Engine:               4.5L V8 DT
Drivetrain: 4WD 5 speed MT
Power:  151 kW @ 3,400 rpm
Torque: 430 Nm @ 1,200 rpm
Safety:  5 Star ANCAP
CO2 Emissions: 304 g/km
Economy: 10.7 L/100km (ADR comb)
Tow Capacity: Max 3500 kg
Tow Ball Rating: 350 kg
Servicing: Capped Price $340/service
Warranty: 3yr/ 100,000 km with full roadside assist
Overall OzRoamer Rating     83/100
Behind the Wheel 6
Comfort 7
Equipment 7
Performance 9
Ride & Handling 8
Practicality 9
Fit for Purpose 10
Towing Ability   10
Off Road Ability 10
Value for Money 6