If you spend any time wandering around a caravan park and have a look at the rear of the tow vehicles you will see heaps of homemade flaps all designed with the same purpose in mind. To deflect rocks away from flicking back onto whatever you are towing. It is a real issue for towing, especially if you are doing any travel on dirt roads.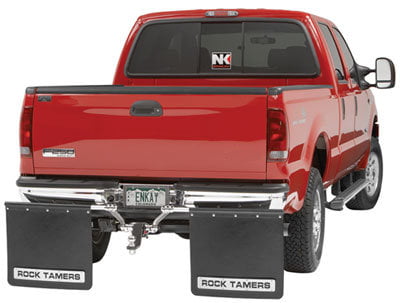 There has been many a time when we have passed a 4wd with a smashed rear window as a direct result of a rock deflected from the camper trailer or caravan. This is a common occurrence and is a result sometimes from ignorance, sometime from arrogance and sometime from bad luck. You may be surprised just how expensive those rear windscreens are, and in the middle of the Oodnadatta track really is not the place to find out.
Enter ROCK TAMERSTM Australia who is the Australian importers of the patented system that first started in 1994, when Neil Knoer had an idea for a removable mud flap system. For years, rock damage kept claiming the gel coat of his prized tournament boat, the trailer frame took a beating and the paint chipped and peeled. The front of his fifth wheeler was equally prone to road damage. After costly repaints and repairs he sought a way to provide additional protection from road damage whilst towing these expensive investments.Neil determined bigger mudflaps attached near the bumper and further away from the rear wheels would help reduce rock damage. Permanently attached mudflaps were not an option as no drilling or welding on a truck was acceptable.
Eventually after many hours of fiddling and design, Neil came up with the patented Enkay System which is the only adjustable and removable mudflap system for trucks, wagons and utes utilizing a ball mount and receiver towing hitch.The end result is a stylish, robustly engineered patented system that is easy to attach or remove from any standard 2″(5cm) ball mount. The overall width is adjustable and easily fine-tuned to fit any full size or dually truck. The mudflap height is adjustable to maintain consistent ground clearance when towing various loads. ROCK TAMERS™ are made of top quality materials and components.
A problem with all stone deflectors is the exhaust which burns the flaps. I know from my own home made system, the exhaust has melted the flap and moulded it. ROCK TAMERS™ accommodates this problem by having adjustable arms. If you have an extended hitch then you can move the Rock Tamer away from the rear of the vehicle and adjust the arms away from the vehicle to achieve a clear space of at least 250mm from the exhaust, assuming the exhaust is directed straight to the flap. If this is not possible then you can always make a a small modification to divert the exhaust gases to either side of the vehicle or fit a diverter which pushes the exhaust downwards.
Overall the ROCK TAMERS™ looks and feels the real deal. The market certainly has been looking for something like this. We haven't had a chance to give them a real log term test as yet, but they are certainly worth a look. For more information check out their website at www.rocktamers.com.au