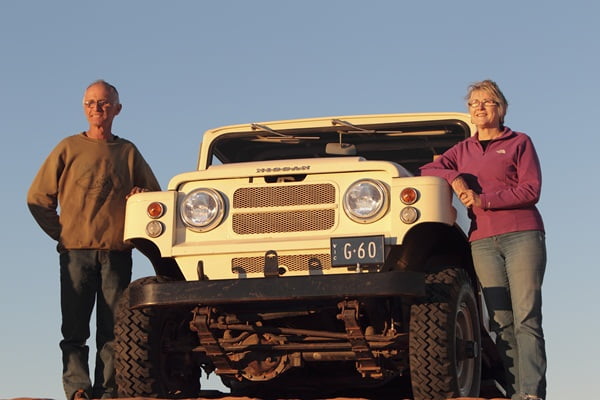 History was repeated and Birdsville celebrated over the weekend of July 24th when sister and brother Margaret and Doug Sprigg crossed the remote Simpson Desert in an early model, short wheelbase Nissan G60 Patrol – 50 years after their pioneering trip in a similar Nissan in 1962.
Travelling with their parents, geologist Reg Sprigg and his wife Griselda, Marg (then aged 10) and Doug (then seven) became the first motorists to cross one of the world's most remote regions with its 1,000 parallel north-south running dunes spread over 176,500 square kilometres.
Reg Sprigg went on to found Santos and then Beach Petroleum as the result of his Simpson and other inland expeditions searching for resources and Marg and Doug today run the Arkaroola Wilderness Sanctuary that their parents founded.
While both had the opportunity to travel in the modern comfort of an accompanying current model Nissan Patrol ST 3.0 litre Diesel, they chose to drive the elderly G60 Patrol the full 437km from Simpson Desert 'gateway' hot springs camp of Dalhousie Springs in the west to Birdsville in the east in a journey lasting four and a half days.
"I was amazed how comfortable and capable it was," said Doug Sprigg. "It was virtually unstoppable and didn't miss a beat."
In 1962 the Sprigg family averaged just 5km/h as they pioneered a track between and across the dunes, often getting 'beached' on giant saltbush outcrops and risking disaster as it began to smoulder under their 44 gallon (200 litre) drum of petrol.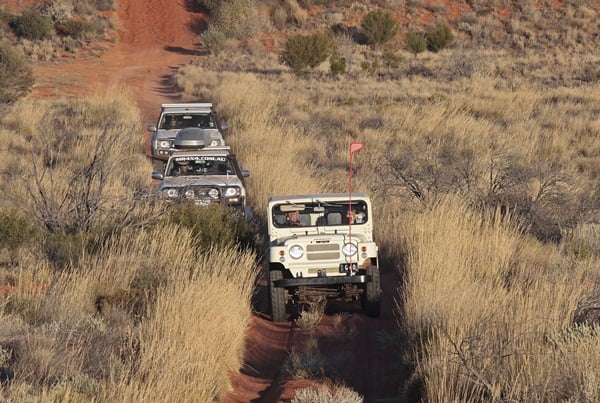 In 2012 the crossing was much easier, thanks to the well-worn track now best known as the 'French Line' established by the French oil company in the early 1960s two years after the Spriggs' crossing and by the thousands of four wheel drive enthusiasts who have made 'doing the Simpson' a rite of passage since.
However they were regularly slowed by chats with well-wishers – some the owners of Nissan Patrols of all models that later gathered in Birdsville from all parts of Australia to share in the re-enactment.
"It was a dream trip," said a delighted Doug Sprigg, whose desert driving craft delighted the many onlookers who cheered as he and Marg crested the huge dune named 'Big Red' at the end of the desert, just 34km west of Birdsville.
It was the first time either had driven over 'Big Red' and they crested it confidently, with the 4.0 litre six cylinder G60 Patrol pulling strongly in low range second gear.
"I was confident that we wouldn't have any trouble. At Arkaroola, our workshop is kept busy repairing 4WD vehicles that can't cope with this sort of terrain, but rarely do we have to repair a Nissan. They are exceptionally tough, which is why our father selected the G60 for the first crossing."
Marg Sprigg also celebrated a personal milestone. She and her mother were the first female Europeans to traverse the desert in 1962 – just 26 years after the first non-indigenous crossing in 1936 made by Captain Ted Colson, accompanied by an Aboriginal man named Peter Ains and five camels.
In 1967 both Marg and Doug returned to the Simpson with their parents, who wanted to drive the French Line and while Doug has visited parts of the Simpson regularly as part of aerial survey work he carries out for the South Australian Government, this was only the third full crossing for both.
On the Saturday night of their arrival in Birdsville, the Spriggs were honoured at a special Outback Concert staged in their honour for Nissan enthusiasts at the Birdsville Racecourse, with popular singers James Reyne and Darryl Braithwaite performing for a large crowd.
The following day (Sunday July 22), they were again honoured with the unveiling of a cairn at the edge of Birdsville that recognised the pioneering achievement of their parents, their re-enactment and the central role of the Nissan Patrol in both these achievements.
In other news points:
The 50th Anniversary Crossing of the Simpson Desert also celebrated a milestone for the event's charity partner, Frontier Services, which this year celebrates 100 years of community support at the heart of remote Australia.
Melbourne off-road specialist manufacturer Track Trailer supported the 50th Anniversary Simpson Crossing by supplying two new Track Trailer 'Mate' multi-purpose trailers – both equipped with rooftop accommodation and a new model Tvan Yulara camper trailer.
Towed by standard current model Nissan '50th Anniversary' Patrol 4WDs, the Track Trailer vehicles travelled everywhere the other Nissans went, including an untroubled run up 'Big Red' at the crossing's end, despite their heavy laden weight.
Marg and Doug Sprigg insisted on doing the trip with no special luxuries, other than enjoying the enclosed sleeping quarters of the Tvan at overnight stops when temperatures dropped to as low as -4 degrees in the Desert.