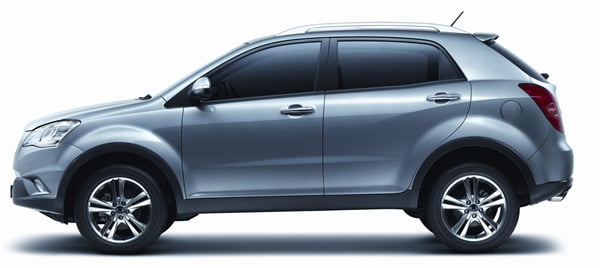 Even before the tough new Euro 5 emissions regulations are introduced in Australia, Ssangyong is taking the lead in its vehicle class with its powerful 2.0-litre diesel engine Korando, which emits just 159 CO2 per kilometre; all while offering the lowest price in its class.
Similar vehicles to the Ssangyong Korando, such as the Hyundai iX35 or Kia Sportage, both in a manual diesel option, emit 198g/km with a price tag that is at least $7,500 higher. Mazda CX-7 manual diesel and the Renault Koleos manual diesel have 202g/km and 221g/km emissions respectively, and drivers can expect to pay an additional $12,000 at a minimum.
"This simple comparison shows that the Ssangyong Korando really lives up to our tagline of 'a lot of car, a little price'. The engine delivers impressive efficiency with average fuel consumption of 6.1L/100km and leading environmental compliance compared to the competition," said Steven Thomas, National Sales and Marketing Manager, Ssangyong Australia.
The Ssangyong Korando features a 2.0-litre turbo-diesel four-cylinder engine across the range. A Diesel Oxidation Catalyst and Catalytic Diesel Particulate Filter operate along with EGR to reduce emissions.
Korando's Nitrogen Oxides (NOx) emissions are treated via Exhaust Gas Recycling while Carbon Monoxide (CO) and Hydrocarbons (HC) emissions are treated via the Diesel Oxidation Catalyst with the Diesel Particulate Filter handling Particulate Matter (PM).
The engine ECU detects the amount of PM collected via information from pressure sensors. When the amount of PM reaches the pre-determined level, the ECU performs "post injection" to increase exhaust gas temperature which automatically burns the collected PM; a factor which allows it to meet the Euro 5 standard.
The Korando is a stylish and compact SUV, available from only $27,990 and comes with a five year, 100,000km warranty.