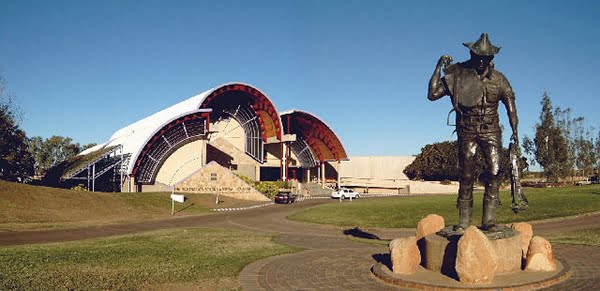 I first stumbled across the Stockman Hall of Fame when they were in the final stages of building it and thought even then that this was worth a visit. What is the fascination we have for the Australian Outback? Is it the sense of man/woman working with, and sometimes against, nature, battling odds, celebrating victories? For many of us we love to set off for the big Aussie road trip, not just to see the sites, but to experience a different lifestyle. If you are going anywhere within a cooee of Longreach you gotta check this one out to have an insight into outback Australia!
History
In 1974 Hugh Sawrey dreamt of creating a grand tribute to the unsung heroes of remote Australia.
This dream was shared by other Australians and a massive fundraising effort followed. Longreach was chosen as the site and Feiko Bouman, a Sydney Architect, won the national competition for the design. Constructed from timber, stone and corrugated iron, Bouman was inspired by the unique buildings, silos and water tanks of the Australian outback. It was opened on 29 April, 1988.
What to do while you are there (you could easily spend a day here)
1. Check out the five themed galleries.
These display the history behind some of Australia's greatest and bravest explorers, stock workers, pastoralist, and Aborigines. They include Discovery, Pioneers, Outback Properties, Life in the Outback, and Stockworkers. But stockworkers are not the only members of the outback story. There are the storeowners, smithies, saddlers, hawkers, shearers, swagmen, telegraph and telephone operators, mailmen, pilots, teachers, book keepers, miners, fencers, well and dam sinkers, and coach, truck and rail drivers, among many others. Their stories too, are part of the Australian Stockman's Hall of Fame and Outback Heritage Centre.
2.Children's Discovery Drawers
An important part of children's understanding of Australia's history is the story of the outback. Through our Discovery Drawers, children can familiarise themselves with some of the main themes featured at the Australian Stockman's Hall of Fame.
3.Curator's Office and Storage Area
The Australian Stockman's Hall of Fame holds a vast reserve collection of items that have been removed from previous displays or are waiting to be included in future displays. Housed behind a glass wall, this main storage area gives visitors an insight into the "behind the scenes" work of a museum.
4.Outback Stockman's Show
The Outback Stockman's Show will commence on 1 April 2012 and will run until the end of October 2012. The Show runs every Tuesday to Sunday at 11am. The Show tells the story of real life stockmen and women who work on the land. Our performer, Luke Thomas, is a known horse breaker, drover, bush poet and raconteur as well as one of the last bullockies. The Outback Stockman's Show encompasses the modern day aspects of being a stockman, as well as telling the tales of what it used to be like in the past.
5.Multimedia Shows
A vivid light and sound experience is now featured in the ceiling vault of the main exhibition hall. Two large screens present photographic displays of Australia's "Land" and "People". They appear as backdrops to the exhibits and can be enjoyed in seated comfort or while walking through the Museum.
6. Have lunch or hold your fuinction there and cool off.
Open 9am-4pm daily, the Wool Bale Café serves a basic range of refreshments and snacks to cater to even the most famished of travellers. Catering services for groups and functions are also available.
7. Buy a piece of Australiana
The Outback Store and Bookshop carries a unique range of exclusive Australian Stockman's Hall of Fame merchandise that includes clothing, Akubra hats, jewellery, craft items, souvenirs, and a comprehensive collection of outback fiction and non-fiction.
8. Wheel Chair friendly – well done guys
The Hall of Fame's display areas and amenities are fully wheelchair accessible. Strollers and wheelchairs are available for complimentary use but bookings are recommended.
Where Is it?
The Stockman's Hall of Fame is located in Longreach, on the Tropic of Capricorn (23° 26′ 30″ S) at the junction of the Landsborough Highway and the Thomson Developmental Road in Central Queensland. It is approximately 700kms west of Rockhampton, 1200kms North-West of Brisbane. Situated on the eastern side of Longreach and opposite the Qantas Founders Museum, the Hall of Fame is hard to miss with large flags at its entrance.
For more ideas check out www.outbackheritage.com.au