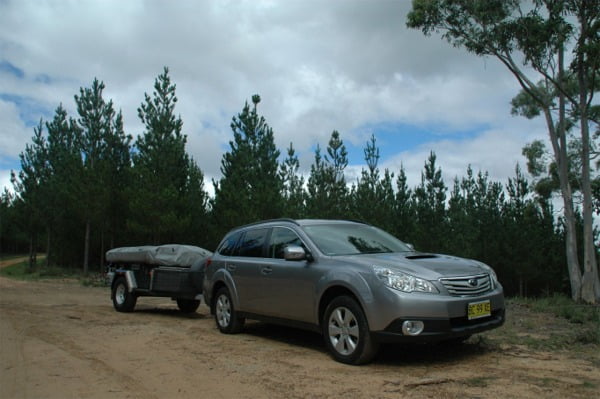 Subaru has finally produced a 2.0L Boxer Turbo Diesel motor and used it in the popular Subaru Outback. The Subaru Outback Diesel AWD SUV is a 6 speed manual.
What are we Testing?
We took the Subaru Outback 2.0D 6 Speed Manual wagon for a weekend test with a camper trailer attached to see how it performs in what may be typical conditions. This addition to the classy and successful Outback range was released in Australia in November 2009 and is the first time Subaru has ventured into diesel territory. The MLP of the entry model Outback 2.0D is $40,490
What's its Purpose?
It's a family AWD SUV Subaru with the benefits of diesel. A true lifestyle vehicle.
What is Good and Not so Good?
Good?
· Subaru's brilliant Symmetrical AWD System
· Build quality and 5 star ANCAP
· Boxer diesel motor
Not so Good?
· Entry model drivers seat needs more support
· Only comes in Manual.
· Diesel is slightly underpowered
Outside
First impressions of the Outback 2.0D like the entire Outback range is that it is probably the best looking wagon Subaru has produced. The new platform produces an Outback that is more spacious in every key dimension.
It is 65 mm longer, 50 mm wider, 70 mm higher and the wheelbase is up 75mm. Overall is has a flowing style with flared wheel arches, integrated front grill and headlamp design and the bonnet scoop gives the front some presence.
The Outback 2.0D has an overall length of 4790mm, wheelbase of 2745mm, width of 1820mm and height of 1615 mm. Tare mass is 1551kg, ground clearance of 213mm and the turning circle is 11.0m. The Outback 2.0D rides on 17-inch alloy wheels and 225/60 R 17 99VV Yokohama tyres.
Inside, Comfort & Features
The new platform brings with internally an overriding impression of spaciousness and width. Everywhere you look there is more storage areas, more cargo space, more head and shoulder and legroom and the drivers position is excellent.
On the entry model the driver's seat is not the most comfortable needing more lumbar support and perhaps some more slide adjustment. The steering wheel is great though and instruments precise and crisp.
In front of you is the typical Subaru dash, clean lines, well laid out and everything works without fuss. There is no change for the diesel version to the normal Outback interior. The Outback is now a true 5 seat family tourer AWD wagon.
Safety
Like all Subarus in Australia the Outback 2.0L Diesel has been awarded the maximum 5-star ANCAP safety rating.
Collision avoidance and collision protection features are paramount in achieving this ANCAP rating and the diesel Outback comes standard with Subaru Symmetrical All-Wheel Drive and our VDC (Vehicle Dynamics Control) system which brings together a raft of technologies like Electronic Stability Control (ESC), Anti-lock Braking System (ABS), Traction Control System (TCS), Electronic Brakeforce Distribution (EBD) and Brake Assist. Plus, 7 airbags and seatbelts with Automatic Emergency Locking Retractors.
Performance, Engine, Transmission & Suspension etc
The Outback 2.0L Diesel is powered by the 2.0L 4-cylinder 'H' boxer motor, which produces power of 110kW@3600rpm and torque of 350Nm@1800-2400rpm. The result of these figures is that the 2.0L Diesel has the benefits of the torque coming in at a very low level (300Nm @ 1600 rpm) which somewhat compensates for the relatively low power and torque fugures.
The Outback 2.0L Diesel can reach the 0-100-km/h mark in just 9.7 seconds; however it is also very efficient with average combined fuel consumption of just 5.6L/100K. The Outback 2.0L Diesel comes standard with a 6 speed manual transmission that is very smooth, efficient and easy to drive.
The Outback's in general have well sorted suspension for their proposed purposes. Front suspension is McPherson strut type independent suspension and the rear is self-levelling double wishbone type independent suspension, which is handy when towing or driving over dirt roads or fire trails etc.
The diesel outback will tow 1700kg with a tow ball weight of 170kg. However like many such vehicles rear suspension help is needed for heavy weights.
Remember that the Outback is an AWD SUV and although it has 213mm of ground clearance and is extremely capable for fire trails, dirt roads, beaches and the snow, if you take it too far off road the result wont be pretty.
Summary
Like a lot of people I eagerly awaited the first boxer diesel motor from Subaru. The result is a mixed bag. They have produced a good engine and fitted it to a brilliant vehicle.
When we hooked up the Challenger camper trailer and set off you easily forgot it was there on the freeway. However on hills or windy roads you did notice it because even though the torque characteristics of the boxer diesel bring power in at a relatively low rpm it still was found wanting more.
It is economical, easy to drive and produces an almost comforting combined diesel/boxer rumble that I just love. At $40,490 it has some stiff competition. However Subaru has always been just left of centre and with extremely loyal buyers so selling them wont be a problem.
That is the thing for me. I will admit that I am a big fan of Subarus having owned a number of them over the years. However I feel they have missed an opportunity here to produce something brilliant. Imagine just how good this vehicle would be if it had closer to 140Kw and 430Nm of torque. It could almost be a category killer.
Article Copyright © all rights reserved – Auto Alliance Group Pty. Ltd. 2010