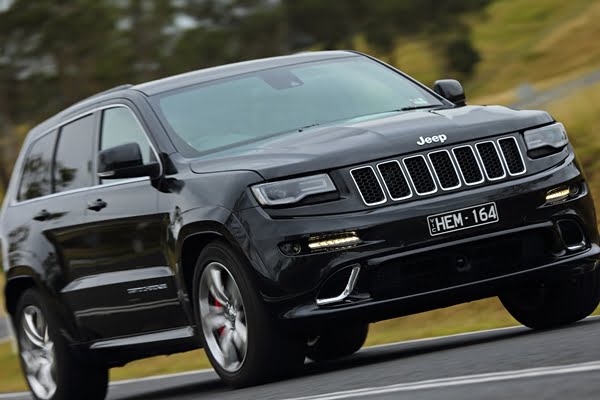 OzRoamer has picked the top 5 Sports SUV's for enthusiastic drivers. These include the Audi Q5 SQ5 TDi , Jeep Grand Cherokee SRT, Subaru Forester XT Premium, BMW X5 M50d and Porsche Cayenne GTS.
Yes I know the moniker Sports SUV is probably a misnomer and slightly redundant however the term SUV has now become synonymous with the taller wagon variety of vehicle. Since way back when Subaru first introduced the Liberty RS the concept of the Sports wagon has been evolving and as a driver I have been along for the ride. These are probably near the top of my list of favourite cars.
With often sports car performance, all road ability and the space and practicality of a family wagon, what's not to like. The driver in the family can be rewarded for buying a family car.
Let's take a brief closer look at these practical rockets.
Audi Q5 SQ5 TDi
Introduced in May 2013 the Audi SQ5 TDi is a ripper. Audi SQ5 TDI is the first diesel S model from Audi, and is powered by a high-performance V6 3.0 TDI Biturbo engine. This produces 230Kw @ 3,900rpm and a respectable 650Nm @ 1,450rpm. This drives the car through the 8 speed Stronic gearbox and Quattro permanent all wheel drive.
This combination propels the Audi SQ5 TDi from 0-100kmh in 5.1seconds and has a top speed of 250kmh. That is AWESOME figures, especially when you consider that by driving sensibly you can sip fuel at an ADR rate of 6.8L/100K.
The stiffer S sport suspension lowers the body by 30 mm, and size 255/45 tyres are mounted to the 20-inch wheels in five parallel spoke design. The black brake callipers on the front wheels are decorated with SQ5 badges. The Audi drive select dynamic handling system is standard.
The interior is designed in black, with an optional silver headlining. The electrically-adjustable sport seats are upholstered in fine Nappa leather, and are available in three colours. Interior inlays consist of brushed aluminium, or carbon atlas, piano finish black and aluminium beaufort as options.
The dash in front of the driver features white on grey instruments and 'S' logo on the gear shift knob, door sills and on the unique steering wheel. Overall it is subtle and stylish. The pedals and shift paddles glisten in an aluminium look.
Other features MMI Navigation plus, rear reversing camera, flat-bottom sports steering wheel that feels fantastic, tyre pressure monitor and electric driver and passenger seats with memory function (including mirrors)
There was a special launch edition as well with over $14,000 of extras and if you can find one of those its worth it.
At a RDAP of $98,922 it isn't cheap but quality never is.
BMW X M50d
The BMW X5 M50d was the winner of the OzRoamer Sports SUV for 2012 and although the newer model is available from march 2014 the existing model will do us nicely thanks.
Step inside and you immediately feel comfortable in the BMW leather Sport Seats for driver and front passenger with multiple electric adjustments especially the lumbar support. In front of the driver is the M leather steering wheel with gearshift paddles and all the controls you need. It is very comfortable to hold and assists in the driving experience.
In front of the driver is an excellent heads up display that projects speed and arrow directions for navigation, directly into the driver's field of vision and the dash is typically BMW, which means crisp, clear to read and functional.
The heart and soul of the BMW X5 M50d is the M Performance TwinPower Turbo inline 6-cylinder diesel engine, combining common rail direct injection and triple turbocharging. Mated to an 8-speed sport automatic transmission with Steptronic, this lusty powerplant pumps out 280 Kw of power @ 4,000 rpm and an awesome 740 Nm of torque @ 2,000 rpm.
This powerplant will propel the BMW M50d from 0-100kmh in 5.4seconds , has a maximum speed of 250kmh and again if driven sensibly will consume fuel at an ADR rate of 6.7l/100k
This combination grips the road through the xDrive, permanent all-wheel drive system with fully variable torque split between front and rear axles, M Sport suspension with self-leveling suspension and pneumatic rear suspension. In short it's a ripper to drive.
The BMW X5 M50d is a gem. Don't mistake it for an AWD SUV that you can take far off road, rather it is a sports SUV that provides fun in abundance with its awe inspiring engine and handling and reasonable owing capacity. At almost $160,000 it is expensive but could be considered a bargain. It is also a worthy winner of the OzRoamer Sports SUV of the Year 2012.
Jeep Grand Cherokee SRT.
What can you say about the new Jeep Grand Cherokee SRT other than this is what a sports SUV is all about. Prodigious power, luxury interior and true 4wd ability.
Internally the Grand Cherokee SRT is luxurious and very comfortable. There is a choice of an exclusive leather interior in two distinctive colours combinations – Black Nappa leather with perforated suede and light slate grey accent stitching as standard and all-new Laguna leather with perforated suede in Sepia with silver accent stitching as an option. Both leather trim combinations are matched with carbon fibre trim adorning the instrument panel and doors.
The SRT interior is further distinguished by a unique heated three-spoke steering wheel with a race-inspired flat bottom and more pronounced, ergonomically efficient paddle shifters, that I have to say work well given my hatred of these adornments.
The true four wheel ability that Jeep is legendary for comes from an exclusive-to-SRT, Quadra-Trac active on-demand four-wheel-drive system, also featuring rear ELSD. Grand Cherokee SRT also features Brake Traction Control System (BTCS) on the front differential and a rear Electronic Limited Slip Differential (ELSD).
The Selec-Track system is fitted exclusively to the Grand Cherokee SRT model. This system interacts with several different systems (stability control, active damping, transmission shift strategy, transfer case torque proportioning, Electronic Limited Slip Differential performance, throttle control and cylinder de-activation) to automatically tune the dynamics of the vehicle according to the driers' habits and current driving conditions.
The driver can manually choose between the following dynamic modes – Auto, Sport, Track, Tow and Snow – for specific driving performances. On the new SRT model, software improvements to Selec-Track further distinguish the five dynamic modes, enabling drivers to choose a vehicle setting that more closely meets their requirements and ambient conditions.
Drivers will find the torque split change in Track Mode provides a vehicle that is more responsive from mid-corner to exit and one that delivers faster lap times at their favourite track.
The Grand Cherokee SRT is fitted with the proven and powerful 6.4-litre Hemi V8 engine equipped with Fuel Saver Technology, which produces 344 kW of power at 6,250 rpm and 624 Nm of torque at 4,100 rpm to deliver benchmark SRT performance through an 8 speed Tiptronic transmission. It sounds AWESOME!. I must admit to sitting in the driveway continually starting the engine just to hear the V8 burble. I must have been deprived as a child.
This powerplant will propel the Jeep Grand Cherokee SRT from 0-100kmh in 4.9seconds , has a maximum speed of 255kmh and again if driven sensibly will consume fuel at an ADR rate of 14.0l/100k. That will raise substantially with enthusiastic driving.
Fuel Saver Technology on the Hemi V8 engine optimises fuel efficiency and reduces emissions by alternating between a four-cylinder mode when less power is needed and a V8 mode when more power is in demand. However while it may sip frugally on the highway, if you bury the right foot the fuel disappears at an alarming rate.
Also new for Grand Cherokee and exclusive to the SRT model is the Launch Control system, which has been paired to the new eight-speed automatic transmission. Launch Control mimics a professional driver's inputs to optimise the SRT's performance by bringing engine, transmission, driveline, stability control and suspension in line for a textbook launch. Controlled by a button located behind the new T-handle shifter on the centre console, it delivers enhanced and more consistent straight-line acceleration.
At a RDAP of $84,905 it represents outstanding value. As mentioned what you have here is a sports SUV that has true 4wd ability, prodigious power, luxury comfortable interior at a reasonable price. Not to mention the aural delights of that melodic 6.4L Hemi V8.
Porsche Cayenne GTS
The Porsche Cayenne GTS is the pedigree of the pack. Coming from a long history of performance vehicles the Porsche Cayenne GTS personifies the sports' SUV.
While not the fastest in the Cayenne lineup, that prize is reserved for the turbo versions, it nevertheless has performance to spare and is more affordable (relatively) than its faster siblings.
Inside the Porsche GTS is all class and style in typical Porsche fashion. It's almost as if they sat a driver in the seat and designed the dash and cockpit around them. Everything falls in place and even the complicated array of buttons and switches is intuitive to use. The seat position and sports steering wheel offer exceptional support and contact and the 5 dial dash instruments are crisp and clear to read.
The new Cayenne GTS is powered by a naturally aspirated 4.8-litre V8 engine. It delivers power of 309 kW @ 6,500 rpm and torque of 515 Nm @ 3,500 rpm. This is delivered through an 8 speed Tiptronic transmission.
This combination will propel the Porsche Cayenne GTS from 0-100kmh in just 5.7 seconds and has a top speed of 261 km/h. Fuel usage is and ADR rate of 10.7l/100k.
The ride height on the steel-spring sports suspension is 24 mm lower than on the other Cayenne models – for a lower centre of gravity. Also fitted as standard, Porsche Active Suspension Management (PASM) is an electronic damping control system. It offers continuous adjustment of the damping forces on each wheel, depending on the current road conditions and driving style.
The AWD driveline is Porsche Traction Management (PTM): active all-wheel drive with electronic controlled, map-controlled multi-plate clutch, automatic limited-slip differential (ABD) and traction-slip control (ASR). This system electronically allows the Porsche Cayenne to have unbelievable off road ability. It's just that most owners wont or don't use it.
At a RDAP of $164,395 it certainly isn't cheap but has the prestige and quality that the Porsche badge can bring. While definitely capable off road it is extremely unlikely the GTS will see anything rougher than the pebble driveway to the country estate.
Subaru Forester XT 2.0L Premium
The Subaru Forester XT Premium is the baby of the bunch. It is significantly cheaper than the others here and has much less power but in term of bang for your buck and driving fun it consistently punches above its fighting weight.
The Forester XT Premium Edition has a purposeful look with silver roof rails, exclusive 18-inch alloy wheels and rear roof spoiler.
Internally the Forester XT Premium has leather seat trim, soft touch dash surrounds and a quality feel. The heated front seats are 8 way electrically adjustable and the driver's seat has good travel.
The leather thick rimmed height and reach adjustable steering wheel has controls for stereo and cruise control and Bluetooth etc. Even with the sunroof there was plenty of headroom.
In fact the whole car has a spacious feel, with plenty of headroom, fantastic visibility and subtle colour toning.
The new CVT is tuned to the more powerful direct injection turbocharged 2.0 litre horizontally opposed Boxer engine that produces 177 Kilowatts of power at 5600 rpm and 350 nm of torque at 2400-3600 rpm.
The SI Drive matches performance to driving style and the gearbox includes Subaru's active torque split All-Wheel Drive (AWD) system.
This combination will propel the Subaru Forester XT Premium from 0-100kmh in 7.5 seconds and sip fuel at a an ADR rated 8.5l/100 while it is doing it.
The Forester XT Premium can really lift her skirt and run fast and the suspension damping is specifically tuned. Pushed hard there is a little scrubbing but there is no denying this car is FUN.
On dirt the X Mode AWD and power balance means it is composed and allows for spirited driving. There is 220mm of ground clearance. On sand it is simply awesome.
At a RDAP of $55,297 if you are after a daily driver that provides a sporty drive experience and still allows that outdoor lifestyle at a very reasonable price, to be honest they don't come much better than the Forester XT Premium.