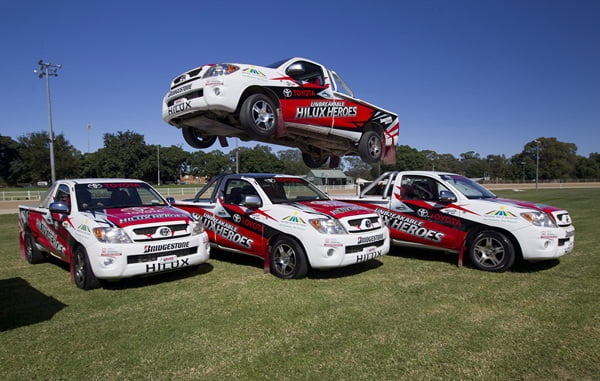 Precision driving team Toyota V6 HiLux Heroes has backed up the unbreakable reputation of the Toyota HiLux by confirming it will continue this year with the same fleet of stunt vehicles it debuted with in 2007.
The team will also be renamed Unbreakable HiLux Heroes for 2012 in a direct tribute to the toughness of its own HiLux fleet and of Toyota HiLux in general.
Unbreakable HiLux Heroes has performed spectacular driving manoeuvres and stunts for millions of people across Australia at major capital city and regional agricultural shows.
The HiLux used in the performances are similar to their road going 4.0-litre V6 counterparts, with heavy duty suspension for 15-metre ramp jumps and locking differentials for extended driving on two wheels the only major mechanical modifications.
The team's HiLux have been used in over 800 performances, but lead driver Jack Monkhouse said there were no plans to upgrade them to the new model.
"Toyota HiLux has a reputation for being unbreakable, but we are amazed at how much punishment these cars have absorbed," he said.
"We've tortured them with thousands of jumps, bumps, skids and slides and yet they never miss a beat.
"When we started the plan was to replace them after three years, but they are so tough they are now in their fifth year and are still as strong as ever."
Unbreakable HiLux Heroes unveiled its new team livery during performances at the Camden Show in NSW last weekend.
The team also joined Australian cricket legend Glenn McGrath in becoming official ambassadors for the Australian Year of the Farmer 2012.
"We have met hundreds of farmers in our travels at numerous agricultural shows and have really come to understand the importance of farming to all Australians," Monkhouse said.
"We are delighted to become ambassadors and will proudly display the Year of the Farmer logo on our new livery."
Australian Year of the Farmer founder and chairman Philip Bruem said Unbreakable HiLux Heroes played a major role in boosting morale in rural communities.
"We are thrilled to have the Toyota HiLux Heroes associated with the Year of the Farmer," he said.
"Their presence and contribution to rural communities within Australia is legendary and their very special talents provide unique demonstrations that are highly entertaining and exciting."