We had the opportunity to take Trakka's brand new Trakkaway 850 'C' class motorhome for a brief drive. This 8.5m long motorhome is based on the Fiat Ducato with ALKO chassis. The Fiat Ducato has a 3.0L Multijet Turbo Diesel motor with a 6-speed Automatic. Launched recently with a drive away price in NSW of $202,225 it is easy to see why it has been an immediate success with the build quality and high level of standard inclusions.
What's it's Purpose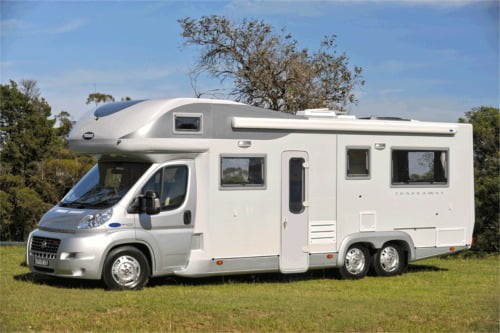 The Trakkaway 850 is a stylish sleek motorhome, ideal for a couple that travels extensively with room for the grandkids occasionally.
What's it Like
Drive Notes
Outside
The immediate impression you get from the Trakkaway 850 is one of smooth, sleek style. It looks good! They have picked an excellent colour combination that compliments the overall feel. The Trakkaway 850 is 8.5m in length, 2.39m wide and 3.0m high yet it looks smaller from the outside. The exterior is cab over look with a one-piece fibreglass roof and Hi-tech vacuum moulded Fibreglass Styrofoam composite panel construction with Hi-Gloss moulded finish and metallic paint. The composite construction provides superior strength and insulation to the more traditional methods. This is all set on a hot dipped galvanised ALKO chassis with dual rear axles.
External appointments include 2 x powered skylights with roller screen & blind, 9 x double glazed windows, outside shower (hot/cold), outdoor work bench, Stainless steel gas BBQ, 4m long Premium F45 Titanium awning, external storage lockers & a rear boot which is huge and accessible from both inside and out and a 125kw solar panel.
Trakka has always produced a quality product and this motorhome is no exception. They have concentrated on smaller campervans to date but their customer demand led them to this larger model. For a first up try they have done a damn good job of it. The interior layout flows and provides a surprising amount of open space in the living section. The kitchen, which is immediately in front of you as you walk in, is small but well designed. The bedroom has an open feel with an island bed and reasonable size separate shower and toilet. Interior fit and finish is first class while the smooth sleek external lines and colouring has a very 'European" feel to it.
The choice of Fiat Ducato adds to the overall feel. The motor is powerful enough, smooth and relatively economical. It's also very easy to drive with the 6-speed automatic.
Inside
The one step easy entry shows how stable the motorhome is. It doesnt move as you step inside. Once inside the look and feel from the outside carries through. Both driver & passenger have comfortable seats with armrests and they swivel to be a part of the lounge area. They also provide easy walk through access. The Fiat driving position is great really, with all the necessary instruments etc falling easily to hand. Trakka provide a GPS which doubles as a screen for the reversing camera and can be used to assist with hooking up trailers etc.
The front windscreen has an easy to use privacy curtain. Other features include air – conditioning, Radio/CD, remote central locking, power mirrors & windows, cruise control, multifunction steering wheel and trip computer. Above the drivers section there is a permanent cab over double bed perfect for the kids to visit.
The separate lounge area is away from kitchen and has two, very comfortable leather covered sofas, which face onto a multi-position table that can be swivelled and moved to suit. There is also a 48cm (19") HDD TV/DVD.
The fully equipped kitchen is small but functional, including Stainless steel 3-burner stove, range hood, Stainless steel sink/drainer, Stainless steel gas oven, 17L Microwave oven, 175L 3-way fridge & freezer, drinking water filtration system, overhead roof locker storage, slide-out pantry and built in rubbish container. They also make the most of the available bench space with a nifty fold out extension. One thing that we would change is the shelf on the bench; it looks good but takes up space without providing functional use.
The centrally positioned bathroom allows convenient access from living and bedroom areas. Features include separate shower and toilet areas, 2 x Screened Turbo vents (Shower & Toilet), adjustable showerhead & mixer tap, shower screen, 17L chemical toilet cassette, vanity basin, shaving cabinet & mirror, teak shower grate & towel rail.
Last but not least the bedroom has a permanent island bed with the option of single beds, bedside tables, wardrobes, privacy room divider and overhead roof locker storage. Large windows and skylights give the bedroom an open feel.
Throughout there is quality carpet with vinyl in the kitchen and plenty of carefully planned storage areas. The whole vehicle has air conditioning and ducted diesel heating. Overall the interior works and has a spacious feel to it.
Safety
Safety has always been at the heart of Fiat design, protecting passengers and payload alike. The new Ducato builds on this with an extremely strong structure – including programmes crumple zones and a rigid passenger compartment – that has been designed to absorb impacts with maximum effectiveness. A dual-stage driver's airbag comes as standard, with 120-litre passenger airbag, side bags and drop-down window bags for 360 degree protection all available as optional extras. The Ducato also leads its class in preventative safety. Twin circuit all round disc brakes come with the latest generation ABS system with EBD which splits the braking action between the four wheels to prevent them from locking and ensures control of the vehicle in all conditions.
In addition to the ABS the Ducato has ASR, ESP, LAC & HBA
Power and Water
The Trakkaway 850 comes with 130L fresh water, locking water filler, mains pressure water connection, 14L stainless steel hot water tank (gas & 240v), 130L grey water tank. 3 x 4kg gas bottles. Power comes from 2 x 100amp/h maintenance-free deep cycle house batteries, 15amp Automatic charger, 125-watt solar charging system. Keeping a watchful eye on all this is an electronic control system that monitors battery condition & water levels.
In addition there is a clock, outside temperature check, Halogen & fluorescent lights throughout, 2 x exterior lighting, TV amplified antenna, rear speakers, electrical locker & built-in camping ground lead.

Engine, Transmission, Suspension etc
The Fiat Ducato has a 3.0L 4 cylinder Multijet direct injection, common rail, electronically controlled turbocharged diesel engine that produces 115.5kw/3500rpm and 400Nm/1700 – 2500rpm. This mates beautifully to the 6- speed automatic with adaptive tiptronic control. Its one of the better light truck motors, sits in its rev range and just cruises along. The vehicle sits on a long wheelbase with a hot dipped galvanised chassis. Dual rear wheels and the independent suspension combine with a relatively low centre of gravity to give a supple ride for comfort with more than adequate handling. The long wheelbase also gives the Trakkaway a reasonable degree of stability.
Like all the Fiat light truck range it needs more suspension travel and it suffers from bump stop banging on relatively minor road irregularities and potholes. This however is not intrusive, just noticeable.
Summary
Overall for a first time attempt at a larger motorhome Trakka have really nailed the Trakkaway 850. It is exceptionally well thought out and shows years of experience and many hours of design in the layout. Trakka's smaller campervan experience shows in providing a spacious segmented four-area layout that extracts maximum use from available space.
Nothing is perfect though and some of the things we didn't like so much included the smallish kitchen. Whilst it works well it is small. Also we would like to see a full-length mirror in the bedroom (well not me but strong feedback from those who appreciate such things)
It will accommodate 4 in comfort, drives and handles pretty good for a light truck, is easy to live with and has a quality feel. One of the key things about Trakka is that they pride themselves on providing a long list of standard features.
The Trakkaway 850 is absolutely worth a look if you're in the market for a "C" class motorhome and at an advised $202,225 drive away it represents pretty good value.