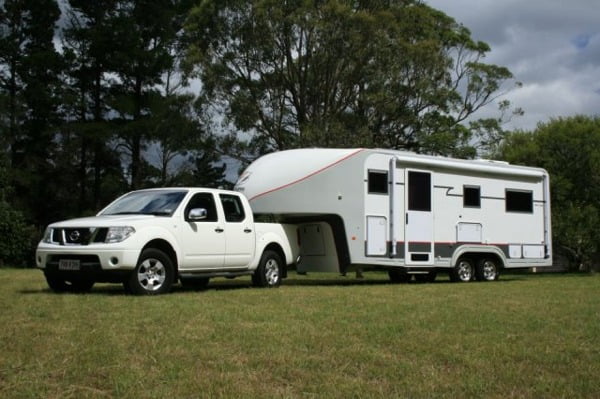 Venture 5th Wheelers VSX 760 is a stylish 5th Wheeler that combines the attributes of form and function in its design. The 5th Wheeler is an alternative to caravans and motorhomes.
The choice for most travellers when they are deciding on what to buy for the big trip is usually a caravan or Motorhome, however a third alternative is becoming increasingly popular in Australia,. The 5th Wheeler concept has been extremely popular in the states for years and the size of some of the rigs is mind blowing.
There are a number of manufacturers and importers, but Venture 5th Wheelers have been around since 1999 and produce a stylish, quality product specifically designed for Australian conditions.
Here we will have a brief look at the Venture 5th Wheelers VSX 760 series which is one of the better looking 5th wheelers on the market.
Outside
When you first approach the VSX 760 the immediate impression is the bullet shaped nose. Not only is this a stylish design but also it has very practical benefits in streamlining wind resistance and allowing a tighter turning circle.
The tapered nose allows for closer coupling with the 3 inch ball coupling or King Pin over the axles of the tow vehicle, especially for dual cab utes, which means better weight distribution and greater safety when towing.
Unlike many other designs, especially the imported version with wide nose cones, the tapered nose also allows improved manoeuvrability with tighter turns. The benefit of this is apparent when you are trying to get into tight sites in van parks etc.
The sandwich panel construction has a number of benefits. Firstly it provides a smooth, sleek look that is the way of the future and the grey and white toning adds to the quality feel. Secondly it provides an insulated shell that is surprisingly robust yet lightweight. This shell sits on top of a hot-dipped galvanised chassis that gives a solid base for the 5th wheeler. Combine this with the dual axle ALKO independent suspension, 15inch alloy wheels and 4 wheel electric brakes and you have a smooth riding good looking 5th wheeler.
There is an abundance of external storage areas ranging from smaller bins to full flow through areas. A full length 15 foot awning provides external cover. There are electric jacks at the front and rear stabilisers. Other features are all LED external lights, security screen door, double glazed push-out tinted acrylic windows with integrated flyscreen and silver reflector blind / curtain and full-open skylights with integrated flyscreen and curtains, exterior bayonet LPG fitting (for BBQ)
This design is a classic case where form and function combine.
Inside
The stylish theme carries through to the internal fit out the design and finish is first rate.. Entering the van there is an open feel about it which is enhanced by the neutral colouring and euro styled curved cupboards made of light timbers.
As you walk in immediately to your left is glass fronted cupboards then 3 storage steps up to the bedroom. Overhead cupboards, cupboards and a shelf in the bed head ensure plenty of storage. A skylight and windows ensure an open airy feel. Height is an issue and you will spend a bit of time on your knees but as you really only sleep there that really isn't an issue for the limber types. A flat screen TV completes the bedroom setting.
Immediately to the right of the door is the kitchen bench with a 4 burner stove with range hood over and stainless steel sink with drainer. There is not a lot of bench space and with both stove and sink in use you are limited but the little fold out shelves at either end help with that. The microwave oven is below the stove, with a cupboard below. Under the sink is a dual cupboard and to the left are four drawers.
Overhead cupboards the length of the wall on both sides provides heaps of storage. The 3 seat leather lounges are at the rear with a fold out table in between. Because the lounges are long they can be used as beds for extra guests.
On the opposite side to the kitchen are the 3-way 184L 2-door fridge/freezer and a hanging length cupboard with drawer and separate cupboard underneath, which is next to the bathroom.
The bathroom is well laid out with separate shower, sink and cassette toilet. One particularly pleasing feature is the screen door on the shower which keeps the rest of the bathroom dry and looks good.
There is a cupboard over the sink. Like a lot of these size vans the bathroom is cramped, especially for a big bear like me, but the toilet does swivel which helps and there is a towel rail on the door. The bathroom is more for occasional use on stopovers rather than everyday use.
Entertainment is provided by a 19″ TV/DVD (12V) on bracket, CD/MP3/AM/FM player with iPod connection, Wind-up TV antenna and some trendy speakers throughout.
Electrical fittings include Intelligent battery monitoring system (shows % remaining), 15A smart charger, Halogen interior lighting, Interior and exterior 240V power points, 200Ah sealed maintenance free deep-cycle batteries, 260W solar system . Options include a generator, Inverter and LED, fluoro or incandescent lighting.
Plumbing includes LPG/240V hot water system cassette toilet, 150L fresh water tank, 150L grey water tank, Tank level monitors and a 12V water pump.
Summary
While taste is a purely subjective thing it is obvious to me that the designers of the Venture VSX 760 have bucket loads of style. Everything is designed with the premise of form and function combining to produce a 5th wheeler that goes beyond the norm.
While it is not large they make the absolute most of the space. There is room to stretch out, relax, watch some TV or read a book, put the feet up. These are the small things that make the travel homely and relaxing either by yourself or with friends.
At 25' long it is in the mid range of 5th wheelers and is able to be towed by most commonly used utes easily. Typically the likes of the Mitsubishi Triton, Isuzu, DMAX, Toyota Landcruiser, VW Transporter etc are suitable.
It represents pretty good value and if a 5th wheeler is on your shopping list you should do yourself a favour and have a look at the Venture VSX 760 5Th wheeler.
Venture 5th wheelers provide a 3 year warranty on the van and organise the fitment of the hitch to your vehicle, along with electric brakes, as part of your 5th wheeler purchase.
Dimensions, Capacities and Weights
VSX Series
(Dimensions in mm) VSX 760
Length – External 7,653 (25.1′)
Length – Body 7,600 (25′)
Length – Internal 7,460 (24.5′)
Width – External 2,350 (7.7′)
Width – Body 2,200 (7.2′)
Height – Exterior (over air con) 2,955 (9.7′)
Height – Interior 1,980 (6.5′)
Height – Bedroom 1,040 (3.4′)
Tare weight 2,400 kg
Pin weight at tare 480 kg
ATM 3,000 kg