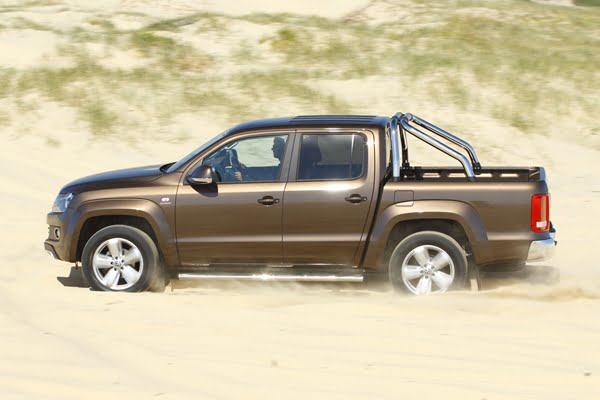 Volkswagen has upgraded its Amarok in July 2012 to overcome some glaring shortcomings in its range. It introduced a more powerful diesel engine and an 8 speed automatic transmission to try to milk as much as it can from its underpowered engines. The 8th gear is purely an overdrive to improve fuel economy
The Amarok range now includes a single cab variant as well to try to attract the Tradie market that has avoided the vehicle to date.
Starting at around $28,000 RDAP for the single cab 2WD variant through to a staggering $68,000 (approx) RDAP for the TDI 420 Ultimate Auto, the VW Amarok carries a hefty price premium over its competitors. However as they aren't selling in any volume if you twist the dealers arm you should be able to get a substantial discount.
There are 5 model variants, three different driveline versions: permanent all-wheel drive, selectable four-wheel drive (both 4MOTION), and rear-wheel drive (2WD) and four engine variants in the lineup.
However the automatic transmission can only be purchased when combined with permanent 4-wheel drive and the 132 kW 2.0-litre twinturbo TDI420. If you want one of the other engine variants your only option is a six speed manual transmission which is next to useless in the recreational off road and towing market as the overwhelming majority of buyers opt for auto.
Internally the Amarok is spacious and typically VW which means well laid out and efficient. There is adequate head and shoulder room and the rear passengers will not be cramped.
The 2012 upgrade has finally included Bluetooth mobile phone connectivity, cruise control and a multi-function leather steering wheel as standard across the entire 4MOTION range.
VW Amarok was the first dual cab ute in the segment to achieve a 5 star ANCAP safety rating, a feat which most new utes now replicate. It set the standard for safety though.
With exceptional on road handling and ride from the comfort suspension option, the VW Amarok has earned the nickname of the Claytons Ute as the handling turns to mush in rough off road driving. On sand the Amarok is pretty good but on heavy fire trails, corrugations etc it tends to bounce around and loses its composure more than others.
The Amarok can tow up to 3,000kg with a towball rating of 300kg. However the lower power turbo engines can struggle with heavy loads and off road situations. The 8 speed auto is the best option for towing. When we performed back to back tow tests the differences between the Amarok and for example the Ford Ranger were quite startling, with the Ranger far superior.
The VW Amarok was introduced with much fanfare and on the surface has many credentials to recommend it. If you are wanting a dual cab ute for mainly on road driving with some light towing then it is a great choice. However for serious off road and towing recreational drivers there are better, more robust choices at lower prices with less reliability issues.
What is Good
• On Road Handling
• internal space
• Tray size
What is Not so Good
• off road handling
• Poor reliability
• Price
Model VW Amarok TDI420 Ultimate
Model Price $67,894 RDAP
Engine 2.0DTT 4 Cylinder
Drivetrain 8sp Auto 4Motion Perm
Power 132 Kw @ 4,000 rpm
Torque 420 Nm @ 1,750 rpm
Safety 5 Star ANCAP
CO2 Emissions g/km 219
Green Vehicle Rating 3 Star
Fuel (ADR comb) 10.1 L/100Km
Tow Capacity – Max 3000 kg
Tow Ball Rating 300 kg
Warranty 3yr/ unlimited km with full roadside assist
Overall OzRoamer Rating 66/100
Behind the Wheel 7
Comfort 7
Equipment 7
Performance 7
Ride & Handling 8
Practicality 7
Fit for Purpose 6
Towing Ability 7
Off Road Ability 5
Value for Money 5