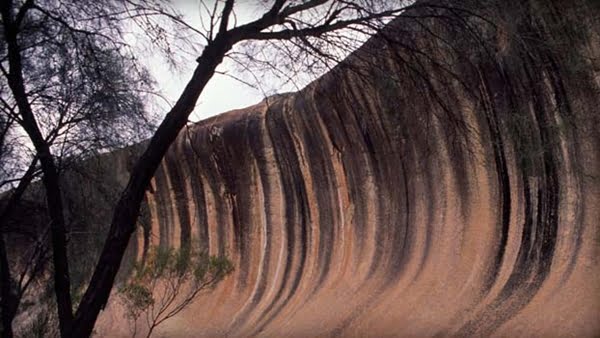 My first impression of Wave Rock in Hyden Western Australia was one of complete awe. Of course I had seen tourist pictures but it wasn't until I stood near Wave Rock that I could appreciate its impressive qualities. Standing 14 metres high and 110m long Wave Rock dates back some 2700 million years, even before dinosaurs. Now that's a Wow in my book! It is part of the northern face of Hyden Rock getting its shape by the gradual erosion of the softer rock beneath the upper edge, over many centuries. The colours of the Wave are caused by the rain washing chemical deposits (carbonates and iron hydroxide) down the face, forming vertical stripes of greys reds and yellows, with changing sunlight altering its colours and appearance.
Things to See and Do:
1. Do the rock walks and check out the wildflowers growing up around and on the rock in their season including the twenty varieties of small orchids.
2. Visit the Hippo's Yawn


3. Check out the cave of Mulka, the Aboriginal outlaw, with his handprints roof.
4. Visit the Wildlife Shoppe.


5. Have a cuppa and taste some great local produce at the Country Kitchen
6. Check out the Lace Place and Gramophone Collection


7. Visit the Wildlife Park
8. Tour the salt lakes, rolling hills and wildflower sand plains.
9. Drive to the rabbit proof fence: the limit of settlement.
10. Have a beer with the locals at the Wave Rock Motel, and have some tucker at one of the many eateries.
11. Sail, swim or canoe Lake Magic, next to the Resort just 1km from Wave Rock.


12. One of my favourites is to wander outside on a dark moonless night and look up at the clear Mallee sky. See millions of stars strewn across the Milky Way to the horizon, light enough to read by! Find the Southern Cross that marks this hemisphere: down under.
13. And my all-time favourite! Wake to the cold, crisp morning of the Outback: desert dew and a red ball sun in a clear blue sky. Breathe the fresh air free of city pollution, listen to the noisy birds in the trees and simply breathe and feel the stress melt away.
How to Get There
• By Car – about 4 hours from Perth.
• By Air one hour in the south west of Western Australia.
• By Coach – twice weekly public bus service and regular tourist coaches.
•
Where to stay
• A variety of accommodation and dining services are available at Hyden and Wave Rock, to suit every taste and budget.
• The Wave Rock Caravan Park offers relaxed camping and caravan sites, with budget onsite vans and one bedroom cabins.
• The Hyden Hotel Motel has standard and executive suites, a choice of quality dining experiences, and cold beer, wine and sprits at the bar.
• For more luxurious accommodation, stay in a two bedroom colonial style cottage at Wave Rock Lakeside Resort.
For more info check out www.waverock.com.au