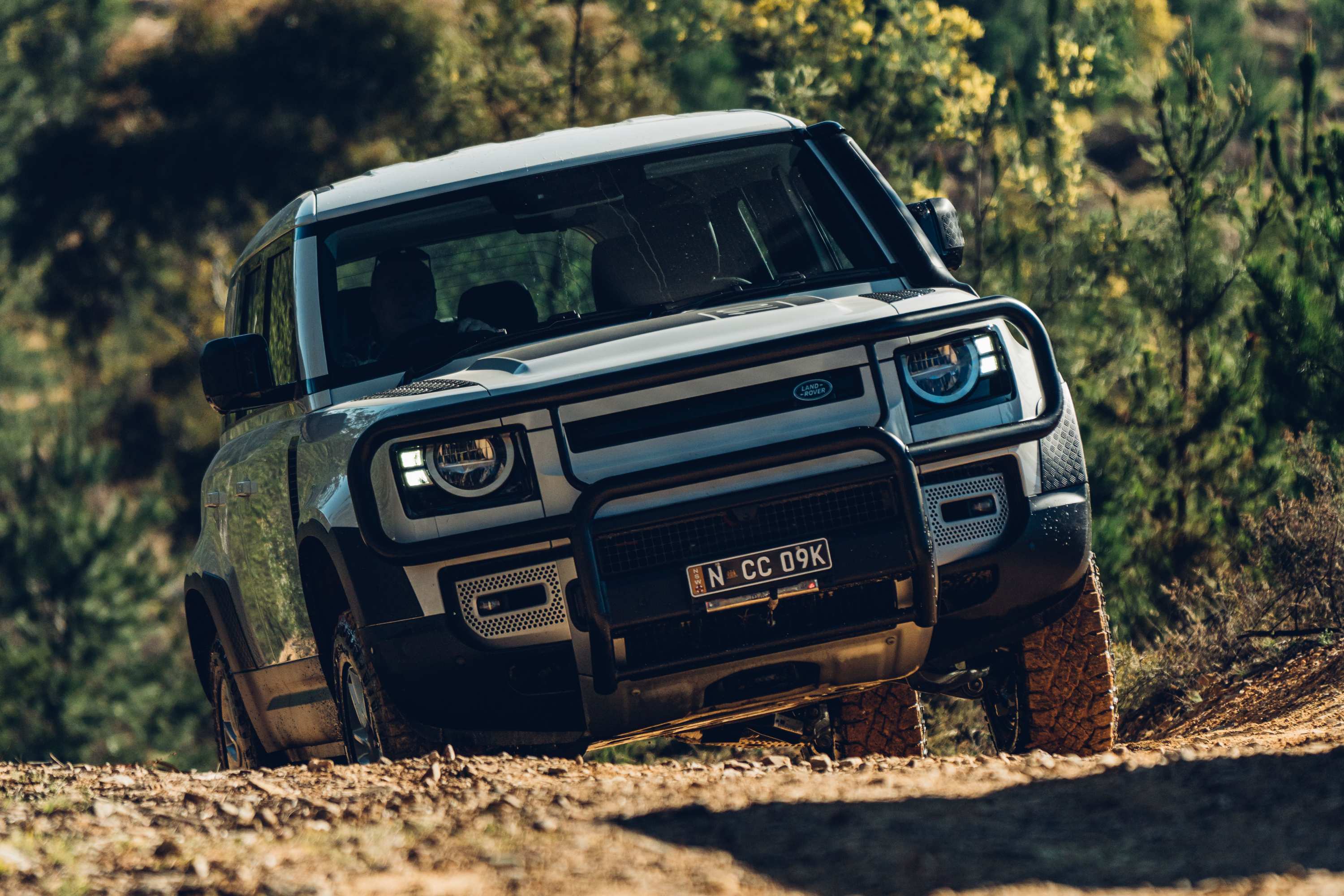 Land Rover Defender, is there a more iconic British 4WD? It has been around for what seemed like forever, but since 1948 or so and built to compete with the WW11 jeep. It became associated with robust rugged go anywhere transport.
We even still have one on the farm – a Ute, bought on 1975 or thereabouts and still going.
However time and design moved on and the old Defender, while iconic, became a dinosaur coming to the end of its production run in 2016.
Fast forward to 2020 and Land Rover has just launched the all new Defender. Yes we drove it at the launch but you'll have to wait until Friday the 28th August to find out what it drives like.
We first let you know some details in September 2109
The overall thing I noticed is that while there are definite nods to the heritage in design philosophy, the all new Defender is really nothing like the old Defender. Have a read of the drive impressions when they are up.
In the meantime-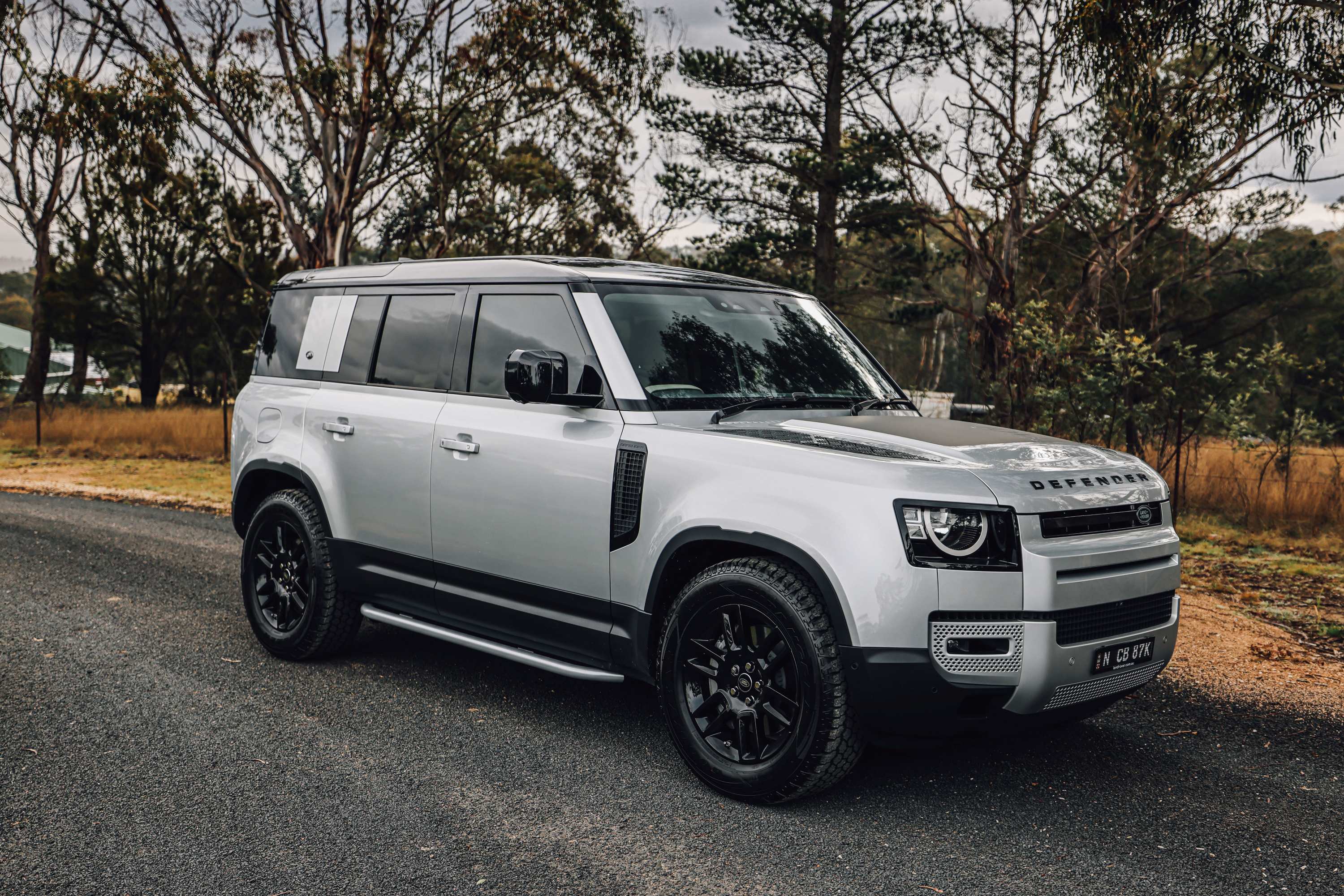 Here's what you need to know
There is one body design currently available, the 110 Wagon (more to come)
Three engines, two diesel and one petrol
The petrol version is a MHEV as well
One eight-speed ZF automatic gearbox and twin-speed transmission,
The model range is from entry level D200 110 from just under $70,000 plus ORC through to the 'X' model P400 from just over $136,000 plus ORC.
The range is 110, S, SE, HSE, First Edition and 'X'
All models have the Terrain Response2 4WD system
All models sit on the durable new D7x monocoque architecture engineered to withstand the Extreme Event Test procedure, above and beyond the normal standard for SUV
There are variable seating configurations, 5 seat, 6 seat and 7 seat.
Towing capacity is 3500kg with a 350kg tow ball rating
4WD capability includes up to 291mm clearance (with and additional 70mm included when needed). In off road height Approach 38 degrees, rampover 28 degrees and departure is 40 degrees. Wading depth is 900mm.
Wheelbase is 3022mm, overall length 5018mm (excl spare wheel)
Option packs
In addition to an 170 strong individual option and accessory list there are three major option packs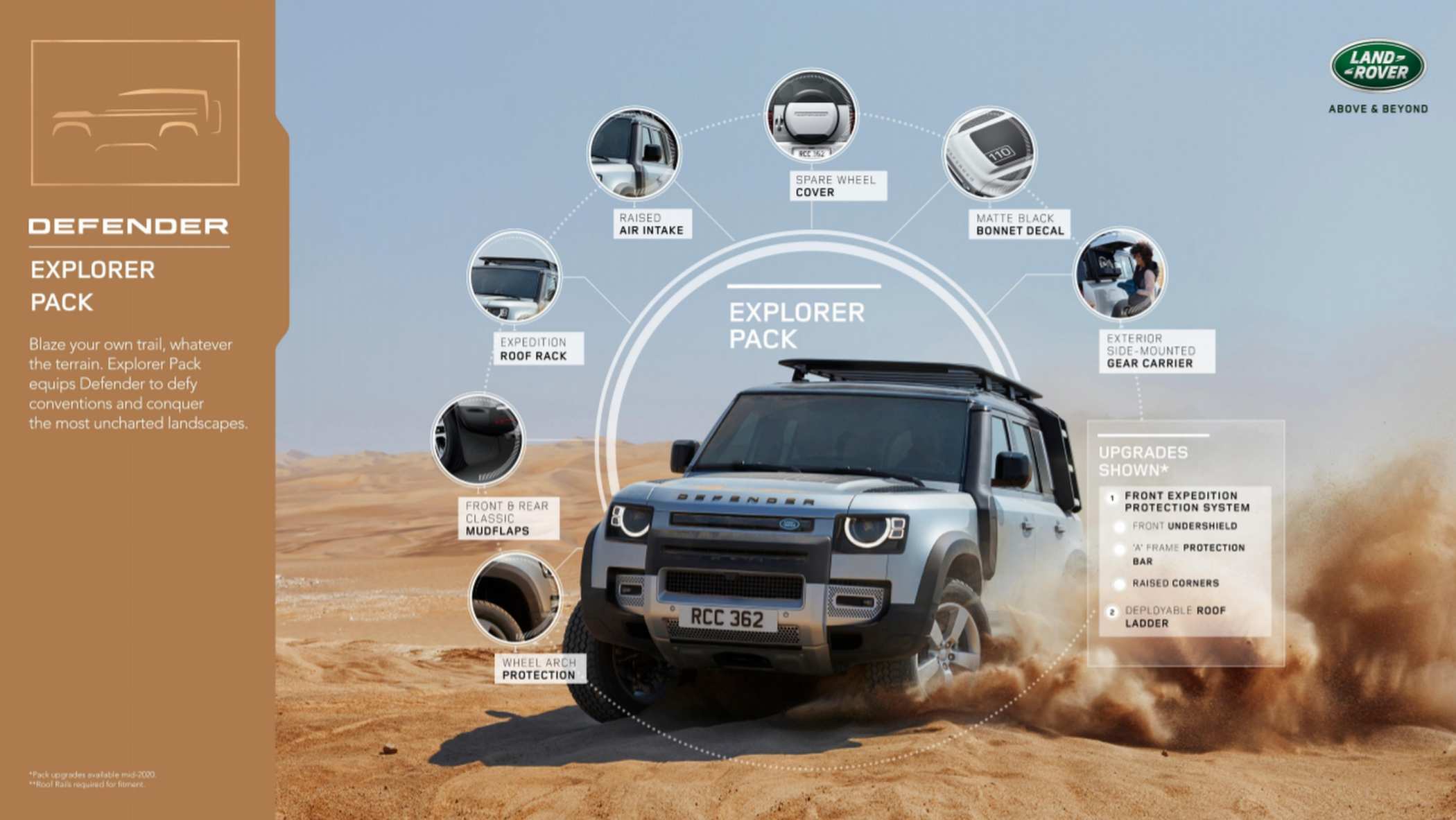 Explorer Pack –
Conquer unmapped extremes with:
Raised Air Intake,
Lightweight 26kg Expedition Roof Rack* and an Exterior Side-mounted Gear Carrier.
Front and Rear Classic Mud Flaps,
Wheel Arch Protection and a
Spare Wheel Cover,
Matte Black bonnet decal, featuring 90 or 110 cutout detailing.
Customers can also upgrade the Explorer Pack with
Fixed Side Steps and a
Deployable Roof Ladder,
while the Front Expedition Protection System adds a Front Undershield and 'A'-Frame Protection Bar with raised corners to improve the front approach angle.

Adventure Pack:
A Portable Rinse System with a 6.5-litre pressurised water reservoir,
boot-mounted Integrated Air Compressor and
Exterior Side-mounted Gear Carrier equip new Defender for time spent in the wilds.
Protection is enhanced by
Front and Rear Mud Flaps,
a Spare Wheel Cover and a
Bright Rear Scuff Plate, to guard the rear bumper against scrapes and scratches when loading and unloading,
a practical 20-litre Seat Backpack, which you can take with you when you leave the vehicle,

Country Pack
Designed for time spent off the beaten track, the Country Pack features
rugged Wheel Arch Protection,
a Bright Rear Scuff Plate to protect the top of the rear bumper and
Front and Rear Classic Mud Flaps.
A Portable Rinse System and
Full-Height Loadspace Partition equip the interior for everyday adventures.

Urban Pack
To stand out in the concrete jungle, the Urban Pack adds
a Bright Rear Scuff Plate,
Spare Wheel Cover and Front Undershield while
Bright Metal Pedals add to the robust interior.
Customers can then opt for a range of alloy wheel upgrades including a distinctive 22-inch five-spoke design.  A selection of Side Tubes and both Fixed or Deployable Side Steps are available across all four
Accessory Packs alongside a full range of durable deep-sided rubber mats to protect the interior.
The comprehensive range of accessories can also be purchased separately including the innovative Exterior Side-mounted Gear Carrier, which aligns with the Defender's distinctive floating pillars and is perfect for holding mucky equipment.
The lockable stowage pod has been aerodynamically tested to minimise wind noise and withstand extreme conditions and its 24-litre capacity can support up to 17kg, making it perfect for storing muddy boots or soggy wetsuits, without soiling the interior.
Expedition-ready
If the Gear Carrier isn't fitted, new Defender's floating pillars also provide a home for the Deployable Roof Ladder, which folds down from its locked position to allow easy access to items being carried on the roof.
With a choice of Aqua Sports Carriers, Roof Rails and Roof Racks, customers will be able to make full use of new Defender's impressive 160kg (Australian specification) maximum dynamic roof load.
For overnight camping trips and overland adventures, a Rooftop Tent makes full use of new Defender's maximum static roof load of 300kg.
Its one-click operating mechanism is easy-to-use and, when fitted with the Deployable Roof Ladder and Expedition Roof Rack, new Defender doubles as all-terrain accommodation for remote camping trips.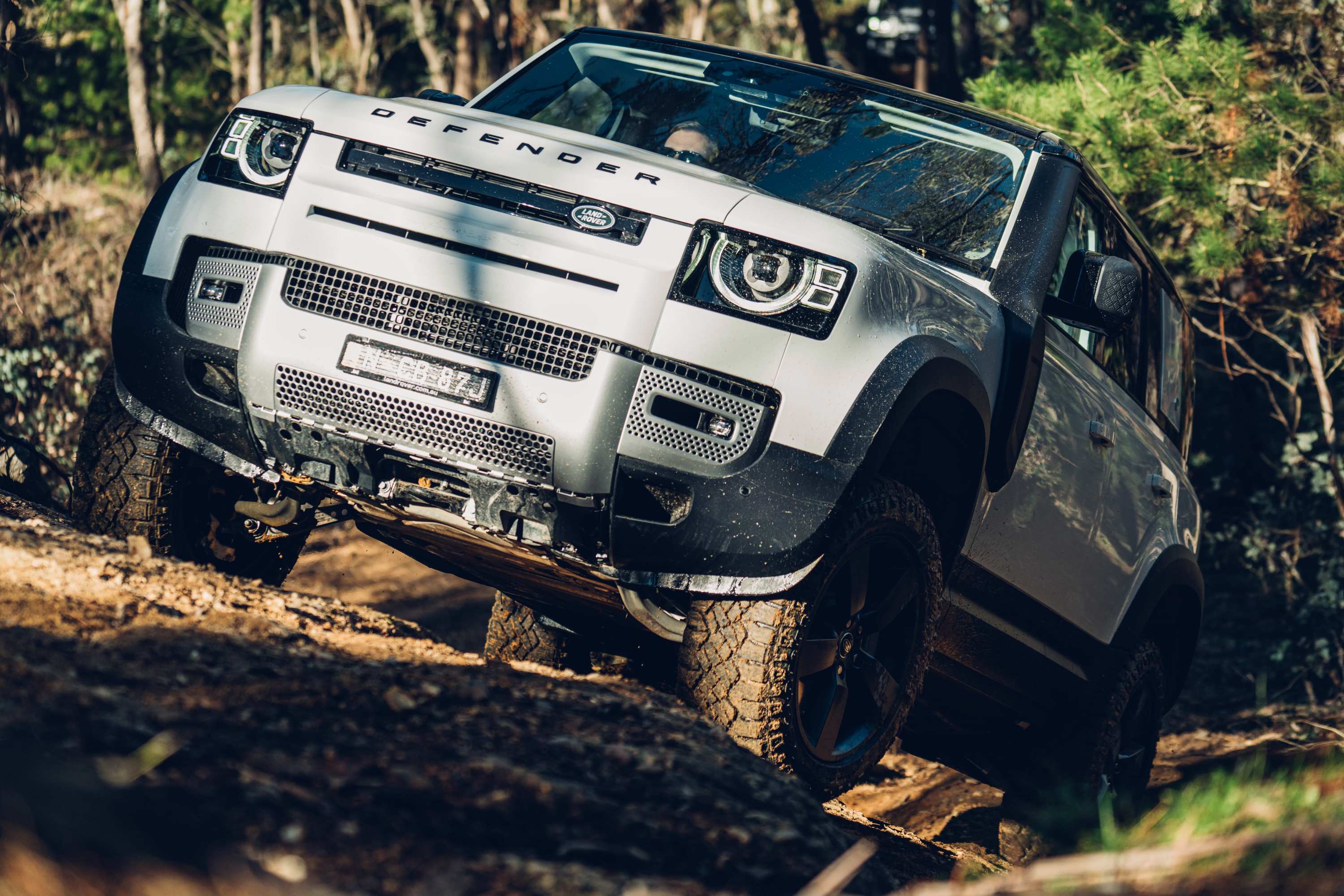 Additional accessories
The Portable Rinse System includes a 6.5-litre reservoir, hose and shower attachment and can be used to clean everything from dirty kit to filthy dogs and is also available as part of Land Rover's existing Pet Packs.
The user-friendly and practical list of standalone accessories also includes an Inflatable Waterproof Awning and a range of towing systems.
To ensure the toughest and most capable member of the Land Rover family inspires complete confidence in the most inhospitable environments on earth, a Remote Control Electric Winch provides complete assurance even when miles from home.
Packaged neatly within the front bumper, its integrated design generates a maximum force of 4,536kg, holds 40m of synthetic rope and can be wirelessly operated up to 45m away for the ultimate convenience and safety off-road.
Raised Air Intakes are a vital addition in dusty locations, protecting the engine by delivering cleaner air from their elevated position, and the Defender is available with a close-fitting semi-integrated design that fits neatly onto the side-mounted engine air intake in the front fender, to preserve performance in dusty environments.
An intuitive online configurator lets customers personalise the new Defender quickly and easily – to see how your perfect specification looks, go to: www.landrover.com.au/Defender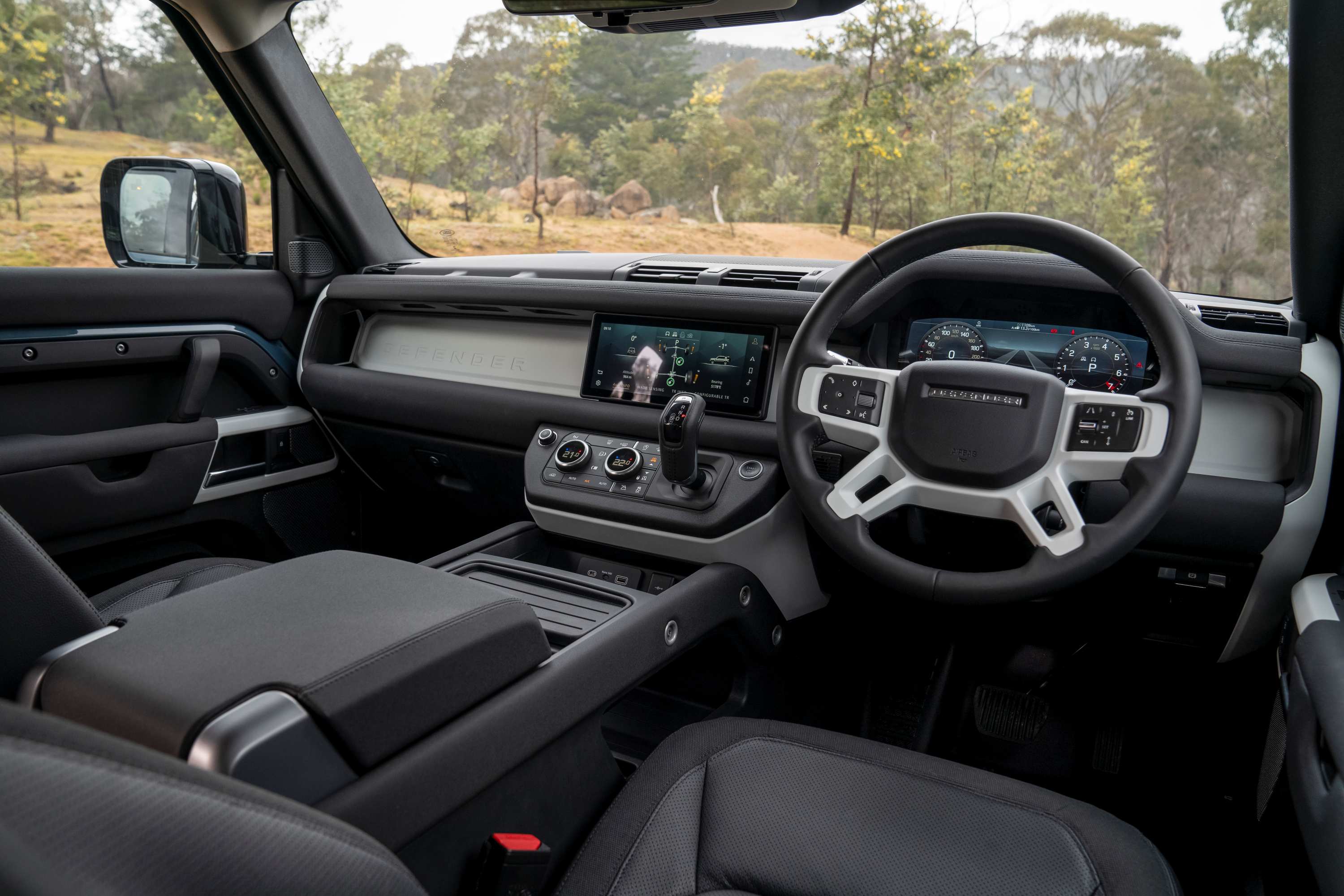 Above and Beyond Collection
The potential to accessorise Defender extends beyond the vehicle itself, as customers can also shop from the new Above and Beyond Collection – a 24-piece capsule collection designed and developed in collaboration with Musto®.
The range of outdoor performance apparel, technical equipment and accessories delivers the same toughness as the famous off-roader and features everything from a hybrid jacket, which effortlessly transforms into a gilet using Quickburst zip technology, to a belt with a tensile strength of 6,000kg.
A selection of lifestyle packs is also available mirroring those available for new Defender, grouping specially chosen kit that suit country life, city living, outdoor adventure and exploration respectively