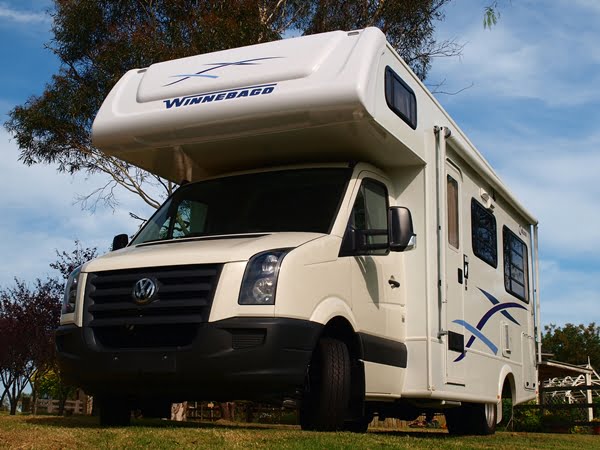 For many years, the Winnebago Leisure Seeker model range was the most popular of all and many are travelling the countryside. Leisure Seeker was discontinued and replaced by Esperance which has proven to be the best selling model range in the history of Winnebago, but many still have a soft spot for Leisure Seeker so…. Introducing Ceduna.
Winnebago developed Ceduna with the experienced motorhomers in mind, designing a rugged, in many ways, no frills motorhome yet offering features that motorhomers appreciate, particularly those who travel into the wild blue yonder to explore in detail what the countryside has to offer
Ceduna has the traditional motorhome look enhanced by the striking raked roof. Built on the strong Volkswagen Crafter 2.5 litre TDI turbo diesel chassis, Ceduna boasts dual rear wheels and rear wheel drive to push along what is a conveniently sized motorhome at a rapid clip although it is suggested that you just engage the cruise control and settle down for a comfortable and leisurely drive.
Incorporating Winnebago's unique product features including the metal sheathed under body protection and strong body construction, Ceduna attracts a 3 year 200,000km warranty on the chassis, a 2 year one million km warranty on the home and a 5 year structural guarantee
The large amount of external storage including the full width pass through bin which great for storing those longer items such as fishing rods will appease the motorhomer who probably carries around too much but some say you can never have enough storage space.
The amount of space inside the Ceduna is to be seen to be believed. Incorporating a design favourite, a u shaped lounge at the rear of the motorhome with over large glass louvre windows which are fantastic for viewing the countryside and for ventilation when parked up or in camp.
Ceduna has seatbelts for six people and of course, comfortable beds for everyone including the push button electric roll down bed conveniently stored against the ceiling during the day and lowered at night for a good night's sleep, the two single beds which double as part of the lounge and of course, the large bed over the cab.
The bathroom is huge offering a separate hot and cold water shower, flushing toilet and hand basin. The hot water system is gas or 240v electric and heats a massive 23 litres of water at a time for showers to soak away the dust of the day's enjoyment.

Fully equipped with cabin and roof air conditioning, a large external roll out awning, an electric entry step, a kitchen with full oven, grill and hotplates including an electric hot plate, a flat screen TV with DVD player, the Ceduna is quite a remarkable vehicle at a very affordable price