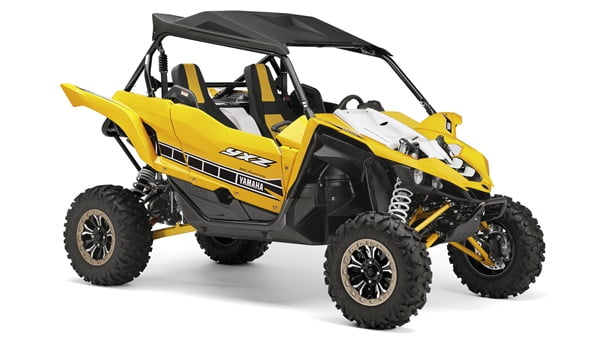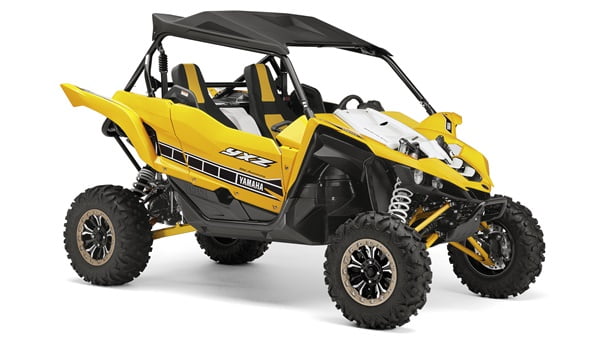 The radically styled Yamaha YXZ1000R is a new kind of Recreational Off Road Vehicle (ROV) that has been conceived, engineered and manufactured as a 100% pure sports recreational model.
Powered by a new generation torque-rich three cylinder engine driving though a rally-style five-speed sequential transmission, the YXZ is like no other model ever seen in the off-road world.
Equipped with the most advanced ultra-long travel suspension ever seen on a production off-roader, the YXZ1000R introduces a whole range of industry leading technology to the ROV world for the first time.
Featuring:
The first true pure sports side-by-side
Supersport performance and industry leading specification
New torque rich 3-cylinder 998cc DOHC engine
Class leading acceleration and top speed
Rally-style sequential 5-speed transmission
On-Command 2WD/4WD/4WD Diff-Lock
Aggressive and unique styling
Stable and agile chassis with all round protection
Ultra-long travel Fox Podium shocks
Fighter pilot style cockpit with supersport instrumentation
The ultimate off-road performer
Compact 3-cylinder 1000cc engine for ultimate performance
Never before has the sports-minded ROV customer had access to such high levels of supersport-class engine performance. With an ultra-compact inline 3-cylinder layout, this outstanding new 998cc DOHC engine has been designed to deliver breathtaking acceleration that puts the YXZ1000R in a whole new clas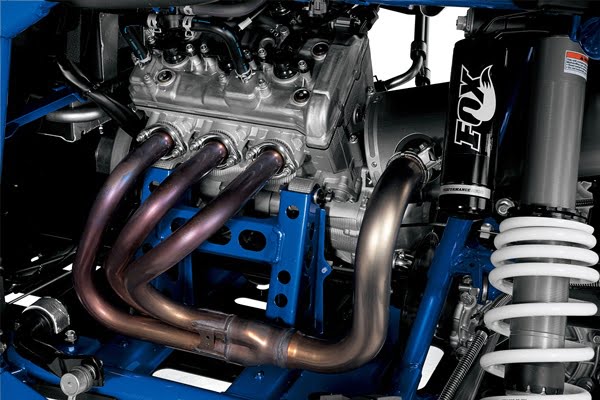 s.
Fed by triple fuel injectors with 41mm bodies, the free-breathing 4-valve cylinder heads run with a high 11.3:1 compression ratio that contributes significantly towards the YXZ's massive midrange torque and free-revving character. And with its vibration killing single-axis balancer, this torque-rich 3-cylinder engine is an exceptionally smooth runner.
For reliable and effective engine cooling in adverse conditions, the YXZ is equipped with a high capacity aluminium radiator featuring an integrated fan that automatically cuts in when required.
Compact, light and extremely powerful, this first-in-class 3-cylinder engine brings extreme performance to the ROV sector.
High capacity air intake For optimum performance the YXZ is equipped with a high-mounted large capacity intake that feeds fresh air into the triple 41mm fuel injectors for instantaneous throttle response and outstanding acceleration. The easily accessible twin element air filters incorporate one foam filter and one paper element for added reliability, and to enable quick and convenient maintenance, each filter can be changed without the need for tools.
Compact and clean exhaust system The three-into-one high-volume exhaust system with its stainless steel muffler is tuned for maximum power, and the muffler is centre-mounted for idealised weight distribution.
Industry first 5-speed sequential-shift transmission Yamaha have developed an all-new 5-speed sequential-shift transmission that has been designed to complement the exhilarating supersport character of the torque rich 3-cylinder engine. The rally-style sequential shift enables ultra-fast gearshifting for awesome acceleration, while the manual gearbox ensures instant and efficient transmission of power to the drive wheels without the power losses associated with some other CVT systems.
This industry-leading constant mesh 5-speed transmission with reverse is equipped with a torque limiter as well as a cam damper that help to ensure good driveability, together with smooth operation and low levels of shift shock. Ride quality is heightened by the use of a durable new 21-plate hydraulic clutch that gives a light and intuitive feel, enabling the driver to maintain optimum drive when shifting up or down the box.
For optimised weight balance and responsive handling, the transmission is mounted between the seats and in front of the compact engine – and with its single piece front and rear drive shafts, this smooth and efficient drivetrain gives a feeling of being connected directly to the throttle. This connected feel – together with the free-revving torque-rich engine and the slick shifting transmission – enable the YXZ owner to experience unmatched levels of confidence and controllability for added enjoyment and excitement.
Yamaha-exclusive On-Command® 2WD/4WD/4WD with Diff-Lock modes With the twist of a dial, On-Command 4WD gives the driver ultimate traction, with easily selected 2WD, 4WD and 4WD full Diff-Lock modes. The YXZ1000R's all-new drivetrain incorporates and takes advantage of Yamaha's proven On-Command 4WD system with full Diff-Lock for challenging terrain.
Durable and efficient drivetrain The YXZ1000R's drivetrain is designed to transmit the power from the high-performance 3-cylinder engine to the wheels as smoothly and efficiently as possible. An external engine flywheel helps to reduce engine vibration while also enhancing driveline momentum for smoother running, improved traction and a stronger feeling of torque.
For high levels of durability, the drivetrain features a single-piece front drive shaft equipped with easy to access U-joints that simplify routine maintenance – to help prevent front gearcase damage that can sometimes be caused by hard front wheel impacts, the front differential is equipped with over-torque protection.
At the YXZ's back end, the low maintenance single-piece inline rear driveshaft connects to the rear gearcase via coupler fittings to give smooth and efficient power transmission to the massive 27-inch rear wheels. Durable, efficient and able to handle the most extreme off-road terrain, the YXZ's drivetrain gets the power to either the rear wheels or to all 4 wheels to give the ultimate control in any driving scenario.
Engine Technical Highlights
High performance 3-cylinder 998cc 4-stroke DOHC engine
Compact layout and lightweight construction
First-in-class 3-cylinder configuration
High 11.3:1 compression ratio
Maximum engine speed 10,500 rpm
31mm intake valves, 26mm exhaust valves
High performance double overhead camshafts
High capacity front mounted air intake
Compact 3-into1 exhaust with stainless steel central muffler
Triple 41mm throttle bodies with 4-hole injectors
Dry sump design
Manual 5-speed sequential transmission with reverse
Reverse lock out to prevent accidental selection of reverse gear
On-Command® 2WD, 4WD and 4WD diff lock system
External flywheel
Single-piece front and rear drive shafts
Easy-action hydraulic clutch with shock-absorbing torque limiter
High efficiency cooling system with self regulated fan
Easy to maintain primary and secondary air filtersRadical and aggressive new styling
Radical and aggressive new styling With its uncompromising full-on image and aggressive rally-inspired looks, the YXZ1000R has more attitude and presence than any other off-road vehicle in the ROV sector.
With its exposed suspension systems, exclusive 27-inch tyres and compact twin cockpit chassis, this is most definitely a machine whose purposeful exterior has been shaped by the extreme performance of its engine and chassis. Designed for off-road drivers and passengers who are seeking the ultimate 4-wheel experience, the YXZ1000R represents a new era ROV design.
Agile pure sports chassis The YXZ1000R's chassis has been developed to enable the driver and passenger to experience the best handling performance ever achieved by a sport side-by-side model. The lightweight high-tensile steel chassis has been constructed to Yamaha's exacting standards using optimised dimensions in order to ensure class leading performance and outstanding durability.
An overhead protection system complete with a lightweight suntop is fitted as standard, and its rugged tubular structure has been developed to offer high levels of front and rear visibility for the driver and passenger.
Beneath the chassis is a removable 3-piece composite underbody protection system that offers high impact resistance and also gives easy access to service items. Manufactured from 4mm thick TPO (Thermoplastic Olefin) – with 6mm thickness at the rear section – this light and resilient guard also enables the YXZ1000R to glide over most obstacles found on the trail.
The ultimate long-travel suspension package Driven by a 998cc engine with a five-speed transmission, the YXZ1000R is built for jaw-dropping acceleration together with outstanding top speed. So in order to optimize its off-road performance we've equipped this next generation ROV with one of the most sophisticated and capable suspension systems ever seen on a production off-roader.
Featuring huge piggyback reservoirs, the state of the art Fox 2.5in Podium RC2 shocks not only shape the looks of this machine, they also enable it to conquer the most extreme terrain. With all four shocks being fully adjustable for spring preload, rebound and both high and low speed compression damping, this system can be dialed in to handle virtually any situation. To underline this ground breaking machine's breathtaking specification, the Fox shocks give a huge 406mm of front wheel travel, with a massive 432mm rear wheel travel, giving the YXZ1000R driver the ultimate in ride quality, tuneability and handling performance.
Colour-matched double A-arms with optimised geometry The YXZ1000R's double A-arm front suspension utilises an optimal caster angle and bump response, giving excellent cornering ability together with a light steering feel with good feedback, and confidence-inspiring stability throughout the system's entire 406mm of travel.
At the rear the extra long A-arms mount the long travel Fox shocks as far out as possible to allow the optimum stroke, and also to give the best possible camber to the 27-inch rear tyres throughout the entire 432mm suspension stroke.
Using optimized geometry, the rugged front and rear A-arm systems deliver a planted feeling at high speeds, together with smooth and effective steering and high levels of traction. Featuring a colour coordinated finish that gives a unique and distinguished appearance, this is the most effective system available today in the ROV world.
Electric power steering (EPS) For reduced steering effort and precise handling in all conditions, this ground breaking ROV is fitted with Yamaha's class-leading speed-sensitive Electric Power Steering. The rack and pinion steering system assembly is operated by a soft grip steering wheel for all-day comfort – and the EPS motor is mounted close to the steering wheel on the steering column, well out of the way of dirt and debris.
Large diameter all-wheel disc brakes To match its engine and chassis performance, this new generation ROV is equipped with one of the most powerful braking systems to be found on a side-by-side. 245mm diameter discs are fitted to all four wheels, and are gripped by twin-piston calipers for powerful and effective braking performance with plenty of feel, allowing the driver to brake later and harder.
There's also an automotive style parking brake lever mounted in the cabin's centre console that operates a shaft-mounted brake.
Alloy wheels with exclusive 27-inch Maxxis tyres To underline the YXZ1000R's exclusive supersport specification, the standard model features aggressively styled 12-spoke alloy wheels with an optimised offset that gives steering agility together with high-speed stability. These lightweight wheels are fitted with Yamaha-exclusive 27-inch Bighorn 2.0 radial tyres that offer extreme performance as well as increased ground clearance. Delivering optimum traction with increased durability, as well as high levels of driving comfort and steering precision, these are the ultimate tyres for the ultimate ROV.
Instruments reflect Yamaha supersports motorcycles and mix analogue speedo with digital tacho
The ergonomics of the YXZ1000R are all about enhancing the driver's comfort and control. With its plush high-back seats and integral shoulder bolsters, the fighter pilot style cockpit features well designed controls and instruments that enable the driver to concentrate fully on the trail in front of them.
The 8-position front/rear adjustable seat and tilt adjustable steering wheel can accommodate drivers of different sizes, and the supersport style dashboard features easy to read analogue/digital LED instruments with a full range of data.
Separate driver and passenger floorboards, three-point seat belts and a passenger handhold add to the feeling of comfort on rough terrain.
136kg cargo capacity For serious off-road adventures the YXZ is equipped with a sturdy composite cargo bed that features four steel tie down points, and offers a load carrying capacity of 136kg. There's also a sealed compartment next to the cargo bed, as well as a glove box and central tray inside the cab for smaller items.
Aggressive LED lighting A four-eye LED headlight design with high and low beams underlines the aggressive and purposeful looks of the YXZ, while the LED rear light gives extra visibility. With a long service life and low power consumption, these LED lights are practical as well as stylish.
Special 60th Anniversary Edition To mark Yamaha Motor Corporation's 60th anniversary the YXZ1000R is available in a special Yellow/Black design featuring the iconic 'speedblock' design exclusively equipped with special wheels featuring bead lock plates that help prevent tyre creep in the most extreme terrain.
Chassis Technical Highlights
Aggressive and radical new body design
Fully adjustable long travel Fox Podium RC2 shocks
Overhead Protection System and sun top
Optimised frame dimensions for high-speed stability
Colour matched front and rear A-arms
All-round 245mm disc brakes with 2-pot calipers
Lightweight supersport style cast aluminium wheels
Yamaha exclusive 27-inch Maxxis radial tyres
3-piece TPO (Thermoplastic Olefin) under frame protection    ? 4-eye LED
eadlights, LED taillight
Centre console mounted gearshifter
Rack and pinion steering
Height adjustable soft grip steering wheel
Electronic Power Steering (EPS)
Easily accessible 34-litre fuel tank
Dedicated driver and passenger closed in floorboards
Fighter pilot style cockpit and dashboard layout
Analogue/digital LED instruments
Upholstered bucket seats with shoulder bolsters
3-point seat belts for driver and passenger
8-position adjustable driver's seat
Adjustable passenger adjustable handhold bar
Cargo bed with 136kg capacity
Exclusive to special 60th Anniversary model only:
Cast aluminium bead-lock wheels
Yamaha Genuine Accessories Yamaha has developed a range of accessories for the YXZ1000R that will become available when the model gets into market. As well as a number of functional components, the range will include a selection of parts designed to enhance the YXZ's styling, enabling customers to personalise this new supersport side-by-side.
Availability 60th Anniversary Edition – now priced $31,999 RRP inc GST Team Yamaha Blue – late February RRP TBA