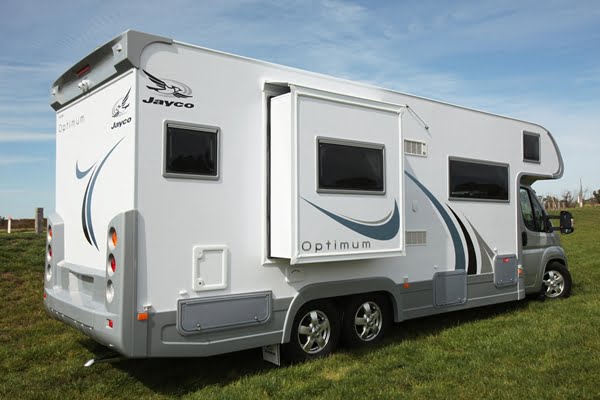 Jayco's Optimum Motorhome has had some impressive upgrades in 2011, providing buyers with the ultimate in luxury and comfort.
New to the Optimum range in 2011 is the innovative double slide out model, available in the 26 foot Fiat Ducato FA26.2 layout. Both the bed and the dinette can expand or contract, providing extra room to move when at your desired location.
And with upgrades to almost every facet of the interior, this state-of-the-art motorhome will be your 'Optimum' ride to freedom.
Jayco's Motorhome Manager, Bruce Astbury, said that Jayco is committed to providing its discerning customers with the ultimate home away from home.
"The Optimum Motorhome comes with as many features and modern conveniences as most holiday homes. The best thing is, all Optimum Motorhomes offer the freedom to get up and go with the turn of a key," Mr Astbury said.
New interior updates in all Optimum layouts include Italian styled cupboard door handles, a new square vanity basin design in the ensuite, and stylish leather upholstery for the ultimate in comfort and style.
With new LED lighting and a 120W solar panel with 30AMP regulator, the Optimum offers a reliable, economical and environmentally preferable power source.
The latest Optimum also boasts a Carefree 12V electric awning which provides smooth operation, and the added external speakers will create your own entertainment patio wherever you go.
Mr Astbury said that the 2011 Optimum motorhome will exceed all expectations of those looking to take their home on the road.
"The 2011 Jayco Optimum allows customers to venture out in spacious comfort without scrimping on the luxuries they enjoy at home.
"The Optimum Motorhome range is the pride of Jayco's fleet, which caters for travellers who want the ultimate in RV luxury, convenience and value."
Travellers will have the added protection and support with Jayco's Roadside Assist Program. Jayco is offering Roadside Assist for three years, up to 200,000 km, for Optimum owners.