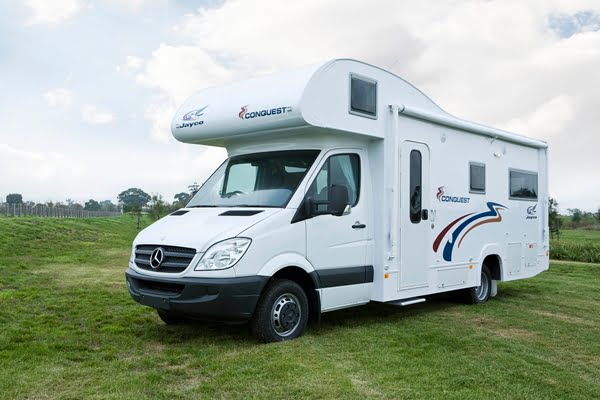 The 2010 Jayco Conquest Motorhome starting from $104,750, has been refurbished inside and out to provide a comfortable and stylish base when spending time on the road.
The interior's new look includes fresh fabrics and upholstery design, as well as a choice of tasteful bench top finishes to help create a living space perfect for a quiet evening in. With easy-to-clean vinyl flooring and full height kitchen splashbacks, the 2010 Conquest Motorhome is as practical as it is elegant.
The Conquest comes with standard internal features including microwave oven, 3 way fridge with AES automatic function, innerspring mattress, four burner griller and a LCD TV and DVD player.
Standard exterior features include a reversing camera and sensors for driving ease, as well as an electric step for hassle-free entry and exit. As attractive on the outside as it is on the inside, the 2010 Conquest Motorhome has all new external graphics and design.
New Conquest owners can choose between a Mercedes Sprinter, Iveco Daily or Fiat Ducato chassis. All have been engineered for enhanced on-road stability and reduced road and wind noise, for a quieter driving experience.
With seven different layouts to suit individual travel needs and available in standard or compact models, Jayco's designs are versatile to suit differing requirements.
Jayco Marketing Director, Andrew Ryan, said that the new 2010 Conquest from Jayco promises true freedom and comfort while on the road.
"The 2010 Conquest range will get you to where you need to go without compromising comfort, quality or convenience."
"It's a great way to enjoy your freedom, see the sights and make friends along the way," Mr. Ryan said.
The 2010 Conquest series is available at all Jayco dealers across Australia and New Zealand.