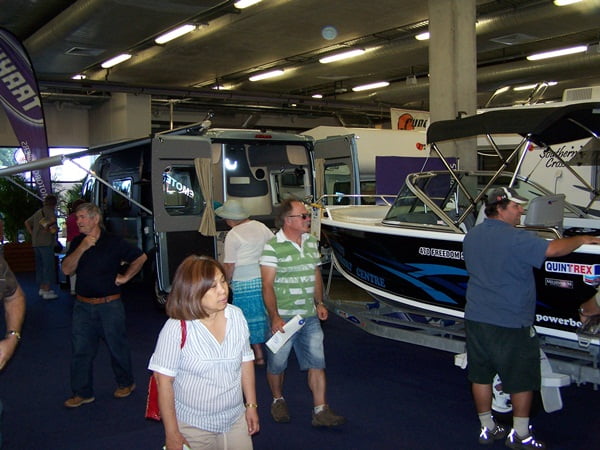 Good weather has seen strong first weekend attendance at the NSW Caravan, Camping, RV and Holiday Supershow at Rosehill Racecourse, 21-29 April. The 44th anniversary of the NSW Caravan, Camping, RV and Holiday Supershow , is evidence of a resilient caravan and camping market.
Theo Whitmont, President, Caravan and Camping Industry Association of NSW believes that the Supershow is judged as Australia's best festival and event because it has something for budget.
"The beauty of the caravan and camping industry is, that even in times of economic uncertainty, consumers can find a mode of travel and accommodation that suits their lifestyle without the expensive price tag."
The continued strength of the industry was also reflected in exhibitor sales over the weekend.
"Within the first hour of the show opening I sold a slide on camper. Whilst it is no secret that consumers are being cautious when it comes to spending, we have noticed that the majority are researching their products before they come to the show then make the final decision once they are here. The show allows them to make last minute enquiries with dealers in one easy location, said Vernon from Trayon Campers.
The 44th anniversary of the Supershow was celebrated on Sunday morning at the annual Supershow Opening Breakfast. It was a privilege to welcome the Hon Anthony Roberts, Minister for Fair Trading, Dr Geoff Lee, Member for Parramatta, Tony Issa, Member for Granville and Councillor Lorraine Wearne, Lord Mayor of Parramatta City. During the breakfast the VIP's presented exhibitors with awards for best displays. This year's winners are:
• Best Caravan Display – Avan NSW
• Best Motorhome/Campervan Display – Winnebago Industries
• Best Camper Trailer Display – Ultimate Campers
• Best Camping Display – Oztent
• Best Caravan Park Display – Family Parks
• Best Tourism Display – Northern Territory Tourism
• Best Accessory Display – ARB Corporation
• Safety Management Award – Kangaroo Tent City & BBQ's
 
The NSW Supershow is on now and runs until Sunday 29 April. With over 400 caravan, motorhome, campervan, camper and tent trailer, fifth wheeler, tent, accessory and tourism destination and Holiday Park displays the Supershow is the ideal place to research, book and buy. The best part is your next holiday won't break the bank.
NSW Supershow Details:
Dates: 21 – 29 April 2012
Opening Times: 10am to 5pm daily (closes 4pm Sunday 29 April) with free parking
More information: www.supershow.com.au
Bookings: Order tickets online at www.supershow.com.au