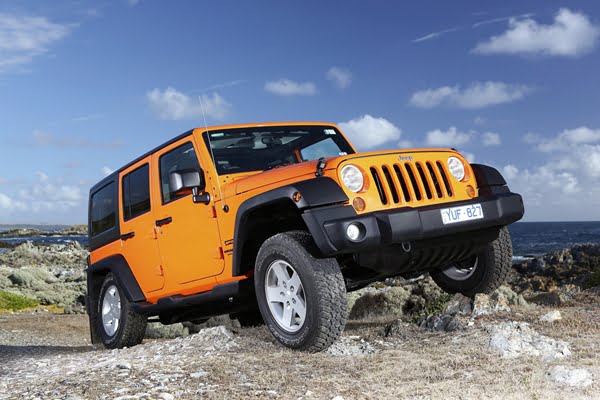 The 2012 Jeep Wrangler, in short-wheelbase Wrangler and long-wheelbase Unlimited form, benefits from changes aimed at giving the highly respected off-roader even more impetus in the Australian new-car market where Jeep is showing strong, sustainable sales growth that is accelerating in 2012, with January sales running 175 per cent higher than for the same month in 2011.
Of chief significance in 2012 is the Wrangler's adoption of the efficient new Pentastar 3.6-litre V6, already available in the Jeep Grand Cherokee, which produces much greater power and torque than the previous 3.8-litre engine, giving improved performance and fuel economy as well as lower exhaust emissions – not to mention greatly enhanced driving pleasure.
With a maximum power output of 209 kW it adds a substantial 63 kW over the previous engine, while the torque figure rises spectacularly too, from 315 Nm to 347 Nm.
Acceleration from zero to 100 km/h in the Sport two-door Wrangler is reduced from 11.2 seconds in the six-speed manual transmission version to a swift 8.1 seconds – an astonishing 27.7 per cent improvement.
Speaking of transmissions, the Pentastar V6 Wrangler is now available with the W5A580 five-speed automatic transmission with adaptive electronic control, or Electronic Range Select (ERS) driver-interactive manual control to further enhance the driving experience, as well as the Wrangler's overall refinement. This efficient, smooth-shifting transmission replaces the previous four-speed unit and combines with the new V6 engine to produce outstanding results in terms of performance, fuel consumption and CO2 emissions figures.
For example, the five-speed automatic two-door Wrangler Sport equipped with the new 3.6-litre Pentastar engine accelerates to 100 km/h in the same 8.1 seconds as the manual transmission version, while fuel consumption and emissions figures are virtually identical – the six-speed manual's combined figure is 11.2 L/100km, while the automatic is 11.3 L/100km. CO2 emissions are 259 g/km and 263 g/km respectively.
The Wrangler continues with the torquey and economical, Euro V compliant 2.8-litre CRD turbodiesel that, in five-speed automatic form, winds out a hefty 460 Nm of torque. The CRD's power output was upgraded from 130 kW to 147 kW last year and it continues to offer the five-speed automatic as an option over the standard six-speed manual transmission. A Stop/Start function is standard with the CRD in manual format.
The 2012 Jeep Wrangler range includes short-wheelbase Wrangler Sport and Rubicon variants, as well as the long-wheelbase Wrangler Unlimited which is also available in Sport and Rubicon form.
All variants (except the Rubicon) offer the choice of the new 3.6-lite petrol V6 or the torquey 2.8-litre CRD turbodiesel with either five-speed automatic or six-speed manual transmission.
The Jeep Wrangler's four-wheel drive credentials are legendary.
With the part-time Command-Trac® two-speed transfer case supplying drive to either the rear wheels or all four wheels and a tough, separate chassis featuring live axles front and rear as well as long-travel coil-spring suspension, the Wrangler is immensely capable in the toughest off-road conditions.
Wrangler is also available with Brake Lock Differentials (BLD) integrated into the Electronic Stability Programme (ESP) that further extend off-road capabilities through the selective use of braking force on individual wheels to spread torque evenly when operating in low-traction situations.
For even more extended off-road capability, the heavy-duty Rubicon model comes with remote-locking front and rear differentials, heavy-duty Dana axles front and rear, electronically disconnecting sway bars, beefy Rock- Trac® transfer case, a 4.10:1 axle ratio, heavy-duty rock rails, Freedom Top and premium audio system.
2012 also brings new options for the Rubicon model, including a body-coloured three-piece hardtop, leather-trimmed seats, heated in the front and including height adjustment and map pockets behind the front seat backrests, as well as body-coloured fender flares.
The Wrangler colour range for 2012 includes Dozer, Crush and Gecko clear-coat and Black Forest Green and Winter Chill Pearl – all hues that complement the Wrangler's indisputably serious off-road persona.
Standard features in the 2012 Jeep Wrangler include:
Advanced multi-stage driver and front-passenger air bags, Four-wheel anti-lock disc brakes (ABS) with off-road calibration
Electronic Stability Control (ESC) with Brake Assist, All-Speed Traction Control (ASTC), Electronic Roll Mitigation (ERM) and Brake Locking Differentials (BLD), Hill-start Assist, Hill Descent Control (auto only), Sentry Key® anti-theft engine immobiliser, Air-conditioning with automatic temperature control, Media Centre 130 CD/DVD/MP3 radio with Audio Jack
Six speakers, 17-inch aluminium wheels, Tyre Pressure Monitoring (TPM) warning lamp, Headlamp levelling system, manual
Next Generation heavy-duty Dana axles (Rubicon only), Command-Trac® four-wheel drive system (Rubicon only)
Quadra-Coil™ suspension with front five-link solid axle and rear five-link solid axle with heavy-duty monotube gas charged shock absorbers, Transfer case and fuel tank skid plates.
"With impressive sales from star performers such as the new Compass and the segment-dominating Grand Cherokee, Jeep is off to a spectacular start in 2012 – a beginning that will be given even more substance with the new Wrangler, " said Clyde Campbell, the Managing Director of Chrysler Australia Pty Ltd.
"The extra refinement introduced by the new Pentastar V6, teamed with the five-speed automatic transmission, is part of the ongoing development of a core model in the Jeep range. The driver in particular will appreciate the punchy response and overall smoothness of the Wrangler's new petrol engine," he continued.
Pentastar 3.6-litre V6 engine
The highly efficient, economical and powerful 3.6-litre Pentastar petrol V6 was introduced to Australia in the latest Jeep Grand Cherokee model, and now makes its appearance in the 2012 Wrangler.
The 60-degree 24-valve V6 incorporates advanced features including a high-pressure die-cast aluminium cylinder block, double overhead camshafts on each cylinder bank and Quad Variable Valve Timing (VVT) to deliver much higher performance than the previous 3.8-litre engine, along with improved fuel economy and lower CO2 emissions.
The new V6, with its lighter, more compact construction and advanced engine management systems, imbues the 2012 Wrangler with a greater sense of urgency that contributes to greater feelings of refinement and driving pleasure.
Power output is 209 kW at 6,350 rpm, while 347 Nm of torque comes in at 4,300 rpm with 90 per cent available from 1800 rpm – all substantial advances over the previous 3.8-litre petrol engine.
In all Jeep Wrangler variants, the smaller-capacity Pentastar V6 brings significant advances in every respect over the larger 3.8-litre engine, underlying Jeep's ongoing drive for increased efficiency, driveability and lower CO2 emissions in all its powerplants.
2.8-litre CRD turbodiesel engine
The Jeep Wrangler is also available with the 2.8-litre four-cylinder CRD turbodiesel upgraded last year to deliver 147kW at 3,600 rpm and 460 Nm of torque between 1,600 and 2,600 rpm (in automatic form – the manual transmission version produces 410 Nm of torque between 2,200 rpm and 2,600 rpm). The manual Wrangler Sport uses just 7.1L/100km of diesel fuel on the combined cycle.
The twin-camshaft, 16-valve CRD turbodiesel also features Stop/Start technology as standard on manual versions, which benefits exhaust emissions as well as maximising fuel economy, especially in urban situations. Stop/Start shuts down the engine when the vehicle is in neutral and the clutch released, then restarts when the clutch is depressed.
The Euro V compliant engine features a Diesel Particulate Filter (DPF) as standard, and is available with the same five-speed automatic transmission now also available with the Wrangler's 3.6-litre Pentastar V6, as well as in the Jeep Grand Cherokee.
Five-speed automatic transmission
Available with both the new 3.6-litre Pentastar V6 and the 2.8-litre CRD turbodiesel in all Jeep Wrangler models is the W5A580 five-speed automatic transmission that combines smooth function with maximum efficiency to deliver maximum driver enjoyment with high levels of fuel economy. The W5A580 transmission incorporates an electronically modulated torque converter clutch, and offers adaptive electronic control and Electronic Range Select (ERS) driver-interactive manual control.
All versions of the 2012 Jeep Wrangler are also available with six-speed manual transmission.
Design
Jeep Wrangler
There is never any doubt that the 2012 Wrangler is a Jeep. With the hallmark seven-slot grille, round headlights, squared-off, flared fenders and an upright, rectangular windshield it harks right back to the original 1941 model.
The Jeep Wrangler's flat, clamshell bonnet intersects trapezoidal fender flares, which appear as separate mudguard components – similar to some of the first civilian Jeeps. Resistant to dents and corrosion, the bolted-on mudguards are removable.
Once again replicating the original, the Wrangler features exposed hardware including bonnet latches and folding windscreen bumpers. The forged door and windscreen hinges are also exposed.
The Wrangler's full-framed or half doors are removable, with the full-framed doors also featuring power windows and power door locks. The doors include traditional check straps.
The Wrangler comes with blow-moulded step assists mounted to the body and featuring a diamond plate surface texture. For added body protection, Rubicon models come standard with heavy-duty rock rails.
From the exposed fuel-filler cap to the externally mounted spare tyre, the rear of the Jeep Wrangler maintains its rugged appeal. The tail lights, reminiscent of the 1941 Willys Jeep, are mounted separately from the body.
Jeep Wrangler Unlimited
Essentially identical to the standard Jeep Wrangler from the B-pillar forward, the Wrangler Unlimited features a radical four-door, open-air design with all the familiar Jeep-signature design cues.
With a longer wheelbase, front-hinged rear doors, exposed B-pillar and larger sport bar, the Wrangler Unlimited doesn't go unnoticed.
The Wrangler Unlimited has a 523 millimetres longer wheelbase with full-framed or half rear doors is encompassed by taut lines and sharp angles appearing not so much styled as constructed. The result is a design that is simple, strong and purpose-built, giving Wrangler Unlimited a military quality: upright and rugged, imposing without being intimidating.
Providing easy entry and exit, all four doors on the Wrangler Unlimited are front-hinged, with inside and outside handles, and windows that travel all the way down. Rear doors feature exposed forged hinges and open a full 90 degrees.
More open-air fun
With hundreds of different top, door and windscreen combinations, all Jeep Wrangler models offer a three-piece modular hardtop – Jeep's Freedom Top™ – which features left- and right-front passenger panels and a rear panel. The left- and right-front passenger panels may be stored inside the vehicle, while the rear section can remain in place or be removed separately.