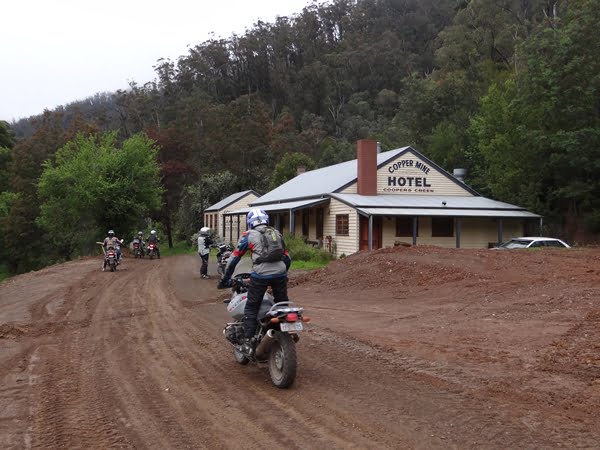 In late October around 250 customers participated in the 2013 BMW GS Safari events in Victoria's incredible High Country.
The BMW GS Safari event saw over190 riders take on mountain roads, bush tracks and the odd creek in ever changing weather conditions. Over the week-long event riders experienced sunshine, light showers, heavy fog and snow. The event took the riders from Merrijig to Mt Baw Baw, Bairnsdale and Bright before finishing in Mansfield. A highlight for many riders was a challenging ride to the summit of Mt Benambra in heavy sleet.
"It was fantastic to see many new riders on the GS Safari. I could see their confidence and skill level rise over the week, the smiles said it all. The thing that sets the GS Safari apart from other events is the support program, the route is arrowed, maps and GPS files are provided, we have technical support, tyre support and medical support, so it really is a fun week on the bike without the headaches and stresses of planning your own ride", said Miles Davis, BMW Motorrad's national marketing manager.
The GS Safari was sold out in 3 days with a waiting list so a second GS Safari Enduro event was offered the following week.
The Enduro group again departed from Pinnacle Valley Resort in Merrijig and in many ways mirrored the previous week's route, but deviated regularly to take on more challenging terrain. With almost 60 riders, the Enduro event concept was a complete success, with many of the riders including Australian Enduro legend Geoff Ballard saying that it was their best ever week on an adventure bike in Australia!
Miles, expanded further on the BMW GS Safari Enduro. "We were amazed at the response to the BMW GS Safari and in developing the BMW GS Safari Enduro we created an event that catered for riders with solid off-road background and skill who were looking to take on more challenging terrain. Both events were epic; the countryside we traveled through is what our GS motorcycles are built for. Without a GS this area remains just an area on a map. Behind the 'bars of a GS a whole world opens up. Customers are already talking about next year's events, where we have some special plans to celebrate an amazing 20 years of BMW Safari events".