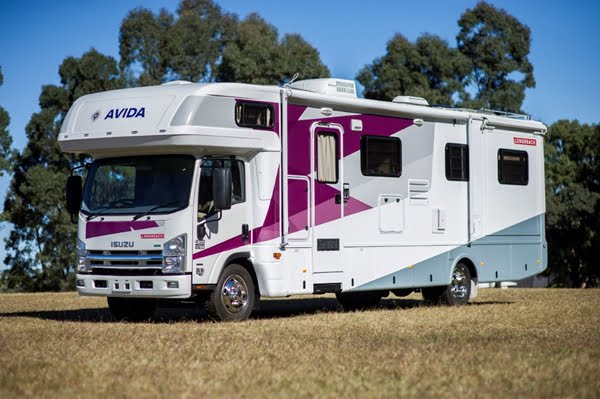 Avida has announced the release of the 2014 model Longreach with a long list of luxury improvements to an already well respected and iconic 9.5 metre (31 foot) twin slide out motorhome.
The Longreach has long been a favourite of "dyed in the wool" motorhomers in Australia because of its reliability and its almost never ending list of standard luxury features to gladden the heart of anyone dreaming of escaping the drudgery of daily life for one of adventure, fun and stress free living.
The essentials and the spirit of the Longreach model remain however it is the look and feel of the interior and luxury improvements throughout that immediately catch the eye.
Inside, Avida has moved away from the traditional timber look to a more contemporary "apartment" look offering fine furniture in contrasting neutral and darker tones matched with a slate grey bench top and timber look flooring. A choice of thirteen interior trim decors and thirteen exterior decal colours and a choice of three external wall colours allow for a great degree of personalisation.
Setting off the modern look is a multitude of bright LED power saving lights with switches at waist height for convenience, the main lighting supplemented by concealed mood lighting, stunningly attractive and encouraging relaxation in front of the large LCD television with built in DVD player, all cleverly raised out of the TV cabinet at the press of a button and lowered to be concealed for travel or when not being used.
Impressive also is the shaped lounge suite which can extend to accommodate a number of people comfortably. Adjacent to the lounge is the dining area, comprising two opposite facing comfortable bench seats with seat belts and a fold down table which can be converted into an extra full sized bed if so desired.
The kitchen is a delight, highlighted by a large bench top with splash back protection, an ample sink with water filter and hot and cold flick mix tap. The opportunity is there to create a culinary feast as the gas oven has a combined grill and even has a rotisserie feature. The cooktop under a tinted glass lid provides four burners, three of which are gas and the other electric. The huge 2 door AES refrigerator automatically selects its power source from 240v, gas or battery.
Nice features like the electric range hood, four slide out pantries, the slide out appliance area eminently suitable for the likes of a coffee machine, the multitude of cupboards and drawers and the huge amount of space created by the large electric slide out room will delight the most fastidious chef.
The bathroom offers a separate shower and flushing toilet, the large hot water system and two 125 litre fresh water tanks means that a steaming hot shower from the gas/electric hot water system is available on demand no matter where you have decided to stay for the day. Outside, you also have the convenience of a hot or cold shower head to wash off after the day's activities if you so desire.
The bedroom features a queen width bed with a supportive envirofoam mattress located in a second slide out room which electrically extends to create more bedroom space. There is more than ample wardrobe and drawer space to accommodate your personal belongings. With seatbelts for six people and bedding over the cabin, the main bedroom and on the dinette, travelling with family or friends is very easy to do.
There is a plentiful 250 litres of water on board and a grey water tank to take the shower and sink run off. Two 19 litre black water cassettes are provided for convenience.
Two 9kg gas bottles fuel the oven and the hot water system and the Longreach generates its own electricity through a bank of three 100 amp deep cycle house batteries separate from the chassis battery and connected to an 100amp battery charger which operates whenever the engine is started.
The twin 80w roof solar panels continuously generate charge to the batteries and as a backup, the large Onan 3.6kw built in generator with internal start, quietly generates 240v power to operate the roof air-conditioning and the large carousel microwave. Add to the comprehensive electrical generation and usage system, a state of the art 2000w inverter which converts 12v battery power to standard 240v, a free and ample power supply is always at your fingertips.
Ducted roof and cabin air conditioning heats or cools the motorhome and is backed by a 12v ducted diesel furnace heater cosily warming every nook and cranny including the bathroom, aided of course by the thickest wall, roof and floor insulation in the RV market.
Outside living is to many what motorhoming is all about and the Longreach offers so many enhancements to the great outdoors including a slide out external kitchen unit incorporating a large bench top, drawers, and sink connected to the main hot water system, space for a gas bottle and a BBQ. Avida has thoughtfully incorporated permanent shelving for condiments and a bright LED light illuminates the outdoor kitchen at night.
An extended rollout awning provides shade and protection from the weather along the length of the motorhome and incorporated into the side wall is the external entertainment unit offering a large LCD television with built in DVD player, a radio and CD player, speakers, a 12v socket and 240v power point all for your entertainment and enjoyment.
The Longreach has been partnered with the powerful and reliable Isuzu NQR450 chassis with a 5.2 litre turbo diesel engine developing 186hp and is coupled with a six speed automated manual transmission providing the convenience of an automatic gearbox with the benefits of switching to manual gearbox mode, changing gears but without having to use a clutch pedal.
Inside the cabin, the features that you would normally expect from a luxury car are immediately apparent including electrically controlled windows and mirrors, cruise control, trip computer, a touchscreen entertainment unit with navigation system and colour reversing camera, together with safety features as twin airbags and side intrusion bars.
Avida build their motorhomes to be the strongest available, utilising a full sandwich panel manufacturing technique for all body panels, the walls, roof and floor, offering a rubber lined domed roof for water runoff, more insulation and an aluminium sheathed underfloor for additional protection, all features unique to Avida motorhomes, creating the strongest body structure capable of taking weight on the roof.
Basic Specification
Model C9536SL
Isuzu NH NQR 450 premium AMT
4 cylinder 5193cc turbo diesel
GVM/GCM
8700kg / 12200kg
Power/Torque
139kw (186hp) @ 2600rpm/510Nm
@ 2600rpm
Transmission
6 Speed Automated Manual
Fuel type/capacity
Diesel / 140ltr
Suspension
Front Airbag Assisted Multi
Leaf Suspension
Licence required
Medium rigid (MR)
Exterior Length
9500mm
Exterior Width
2490mm
Exterior Height
3600mm
Wheel Base
5425mm
Interior Height
1980mm
Fresh Water Capacity
250ltr
Grey Water Capacity
125ltr
Black Water Capacity
38ltr
Hot Water Capacity
23ltr
LP Gas
Recommended Retail Price
2 x 9kg
$269990 plus dealer delivery and statutory on road costs