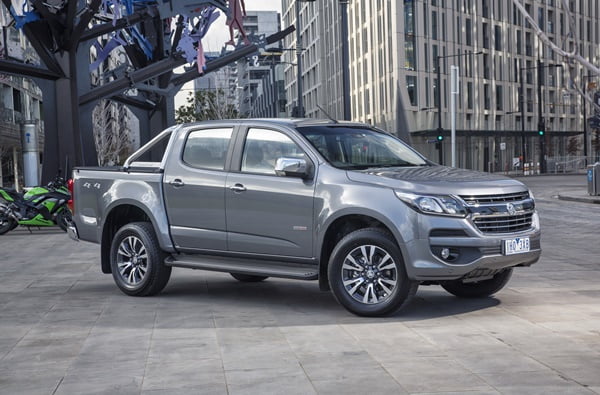 It may come as a surprise to some readers but one of the most competitive and exciting (yes exciting) market segments is the Ute market in Australia. Since 2011 when there was a major shakeup with four new entrants with total redesigns the segment has been growing and trending towards more up market offerings while not losing sight of its work base.
The Dual cab Ute has been described as the 'Swiss Army Knife 'of the car market. No other vehicle has as many diverse and contradicting demands on them. They are often asked to tow heavy trailers, carry huge payloads, all while transporting its occupants in relative comfort and increasing sophistication.
Into this framework Holden has released its revamped 2017 MY Colorado. One of the big four Utes the Colorado revitalised the market some 5 years ago with its launch. It redefined levels of power, torque, ride comfort and towing capacity.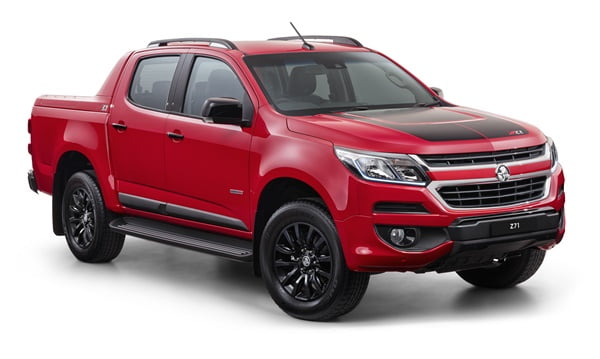 The MY 17 Colorado has taken these features and taken them to a new level again. Some of the revamped features are subtle, such as the new grill, LED headlamps etc. some are more obvious like the new Apple and Android play systems. Some revisions you can't see like the numerous engineering improvements, but you can certainly feel them. In addition to these improvements Holden has an almost complete range of Original Equipment accessories that has advantages over after market fittings.
Launched early August the MY17 Colorado is a substantial improvement over an already impressive product. At the launch I had the opportunity to have some relaxed and in-depth chats with the team behind the design improvements. Especially the engineering side, it's like a jigsaw puzzle. There are a myriad of little things that have been improved that all add up to the smoother quieter ride and improved handling.
Let's start at the outside and ignore the obvious marketing over sell like "The redesigned Colorado adopts a global design language that communicates power, strength and prestige. Sculptural artistry and precision are emphasised by a distinctive, sporty front fascia, combined with an extended slim line grille and more muscular bonnet that give the vehicle a tough, strong stance…"
I really wish I could write like that!!!! However one thing is for sure the redesign is a more stylish and robust design. It has a more truck like appearance that strangely is at odds with improved sophistication. I especially liked the new grill and daytime running lights. A clever and practical touch that simply combines form and function.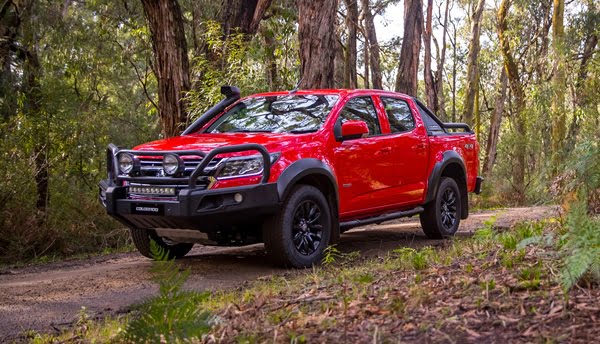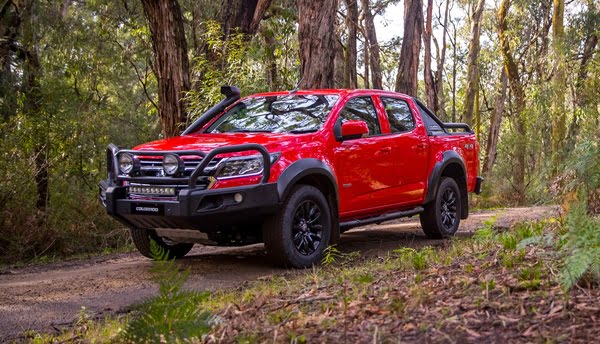 The other thing that impressed on the launch was the additions to the already long list of existing original accessories that includes: Bull bars, Safari Bar, Bash Plates, Extended Rail Sports Bars, Steel Rear Step, Tubular steel Side Steps, LED driving lights, Fender Flares, Nudge Bar, Snorkel, 18in Wheels and all terrain tyres.
These look the goods and on the surface mean that buyers can option up their Ute with Holden accessories and benefit from the full manufacturer warranty and not feel they have an inferior product. Big tick there. I hope they extend to suspension upgrades in the future as well.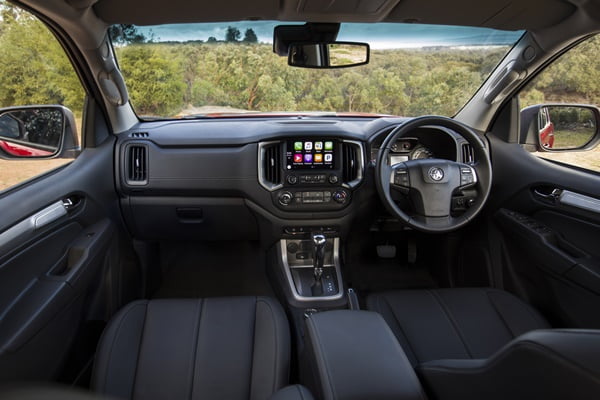 Inside the story just gets better. There is a definite feeling of higher level of passenger comfort. The soft touch dash, door trims, seats etc all have improved materials and the interior feels more integrated.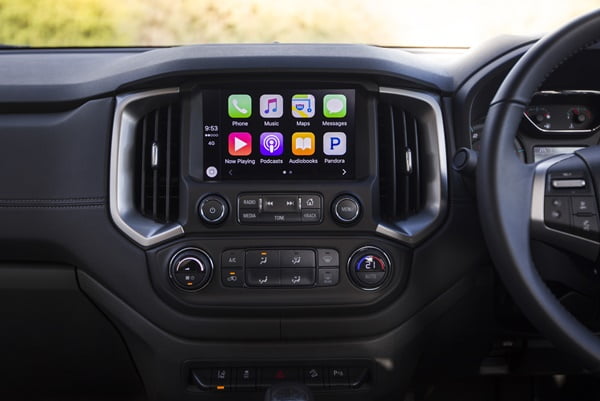 Colorado boasts a new Holden MyLink infotainment system equipped with Apple CarPlay® and Android® Auto connectivity… delivered through a colour touchscreen housed in the vehicle's centre stack. When coupled with Digital (DAB+) radio, embedded satellite navigation and voice recognition. It is actually pretty good to use and simple.
However when you drive the Colorado, you start to appreciate the levels of passion from the engineers that make this more car like than before.
Holden engineers introduced something quite clever called the Centrifugal Pendulum Absorber (CPA) torque converter. This basically in simple English counteracts and smooths torsional vibrations in the driveline normally felt in the cabin. Combine this with: Balance shaft relocation, Engine acoustic pack including – Injector Insulator – Metal timing cover – Oil pan insulator and the Wind noise package, all new engine mounts, all new chassis tune and you feel the quietness inside while idling and driving.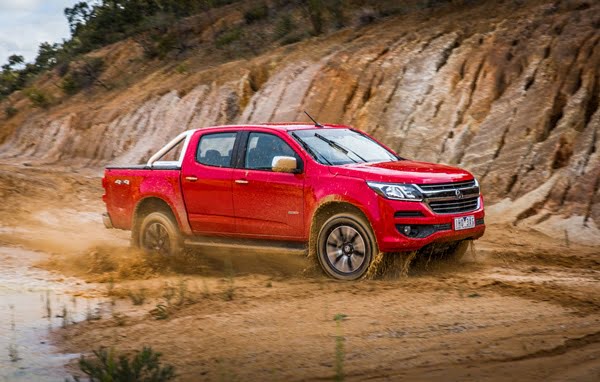 In comparison to competitors it now rivals the VW Amarok on road for ride and handling and probably surpasses it for quietness. Off road it rides as good as any of its competitors. Another big tick here!
One big criticism in the past of the Colorado was that while it had the headline 500Nm of torque it didn't translate well to everyday driving. In late 2014 I think Holden changed the transmission calibration to extract more of the available power. It helped but still wasn't enough? This time the engineers have, through the compiling of the jigsaw pieces, finally allowed Colorado to extract what seems like the full torque. It drives like it should now.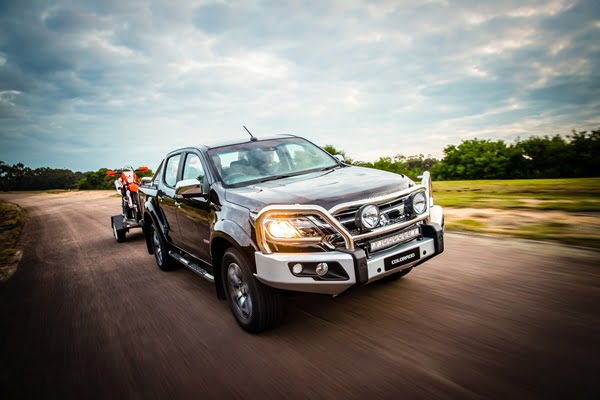 This also translates to towing. On the launch we had a brief opportunity to tow a mini excavator in a manual and it felt more responsive than the previous model. The Colorado is powered by the 2.8L Duramax Turbo Diesel Engine type 4-cylinder Capacity. This drives through either a six speed Auto or Manual transmission. Maximum power (kW) is 147 @ 3600rpm and maximum torque (Nm) 440 @ 1600-2800rpm for the manual and 500Nm @ 2000-2200rpm for the automatic.
Holden has a great payload calculator on its website. You really should check it out. They have been excellent in educating the drivers about the variances in what can be towed and carried etc.
As you would expect the new Colorado has a 5 star ANCAP safety rating with additional active and passive safety features ensuring Colorado is not only one of the most high-tech vehicles in Australia, but also one of the safest.
For slow speed reversing manoeuvres, a rear-view camera is available as standard across the range. Forward Collision Alert and Lane Departure Warning accompany Front and Rear Park Assist and Tyre Pressure Monitoring System to provide a comprehensive active safety package.
An upgrade in passive safety features includes key structural improvements in addition to a new driver's knee airbag, which takes Colorado's total airbag count to seven.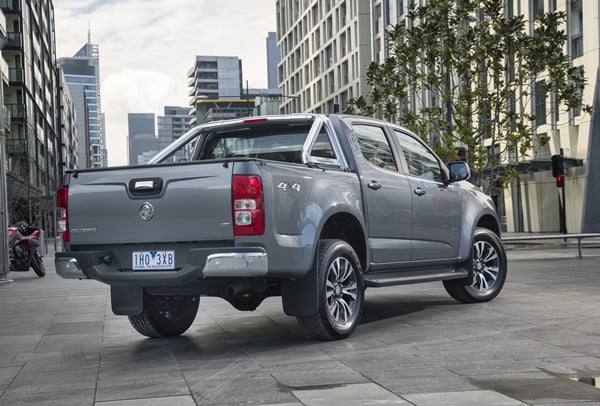 The Colorado comes in 4 variants, the LS, LT LTZ and the Z71, it also comes in manual and auto versions and in single can, space cab and dual cab.
Over the coming weeks we will have more in-depth reviews of a number of variants, but for the time being it's enough to say that the Colorado has again set the bar for the segment and the next multi comparison Dual Cab review will be an interesting event!