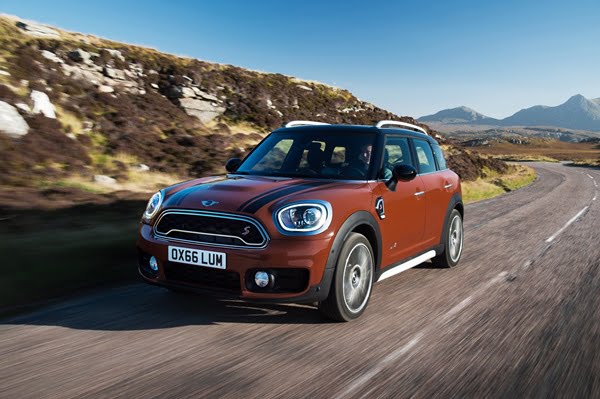 Mini Goes Glamping.
Put a camping pod on the roof, and this Mini SUV will take any brave couple on a cheeky weekend camping trip, with no difficult set-up required.
Why would you ever want to? Use a hotel you cheap b*&tard.
Relaunched a decade and a half ago, Mini has gone through a genesis, rising like a phoenix from the fires of history. Owned by BMW, Mini is the entry level to posh motoring, and an open door to quirkiness.
You can have a 3 or 5 door, a coupe or convertible, and if you aspire to a little light off-roading, but never intend to actually do it, an SUV driving either 2 or 4 wheels. We drove the AWD SUV.
I don't like using the term All-4, because it sounds too much like exercise.
Mini tries to be all things to all people, and apart from the appalling Mini One, has been good at capturing just the right mood.
This one is no different.
It's new, and for a Mini, it's big, even though it's small.
The exterior left me tottering with excitement.
I love Minis, but they can tend to feel a little too bijou for some tastes.
Ground clearance is only 165mm, so no serious off-road unruliness please, lest you fancy being marooned on ruts left by a Toyota Land Cruiser. Dirt tracks and carelessly maintained camping grounds should still be a doddle.
The rear hatch gives access to a reasonable 0.45 m³ cargo hold. Folding the back seats down increases it to 1.17 m³, but then you won't be taking friends along for the ride. Perhaps that is best.
There have been many upgrades to the current model and it now brims with the tech and features trendy hipsters secretly insist on, but say they don't.
5 doors access a surprisingly spacious cabin. There is a high-end feel without being too precious. Fabrics and fixtures are quality with a leaning towards the sporty outdoorsy-type.
The motor cycle inspired driver's instruments feature a naff LED fuel gauge on the righthand side which is had to read if you're not used to it. It looks more like the mood lighting elsewhere in the cabin.
Sometimes, you can try too hard to be different.
Even in bright sunlight, the interior has an evening mood which I like very much. The dark tone-on-tone is highlighted by an increasingly ubiquitous quilted stitching effect in the dark tan leather seats. It looks like a small hunting lodge.
Mini retains the retro switches, with toggles for the optional HUD (heads up display). The middle toggle is brightly lit in red, and is the starter button. With the key in your pocket, the rubber button on the door handle lets you unlock and jump in, so a push of the starter then fires the diesel into action.
Early Minis followed the Classic 60's Mini styling slavishly.
They had a horrible centre console-mounted speedo. I loathed it then, and I loathe it now. Thankfully the All-4 has a touch screen instead. I had a hallelujah moment when I realised I could simply point my finger at what I wanted to select without having to faff about with iDrive.
The floor console houses the big iDrive knob with inbuilt track pad. It is surrounded by a dizzying array of buttons. Now that the LCD has a touch function, the iDrive controller is largely unnecessary. The LCD is a bit small for my liking but has been made to fit inside the circle that once housed the speedo.
Although I want to hate it, I can't help but love it.
The circle has interactive LED lighting surrounding it. The lights change colour to indicate various functions. Green for eco, red for grrrrrrrr go-fast, and a myriad of other colours which you quickly come to rely on. It is a clever way of making Mini feel different from almost anything else on the road.
You can programme the direct select buttons along the bottom edge of the circle.
Functions such as radio stations, and the satnav address input screen, can be stored in these quick acess locations. You simply go to the function or station you want, and press and hold the button. It's now stored as the driver preference. Genius!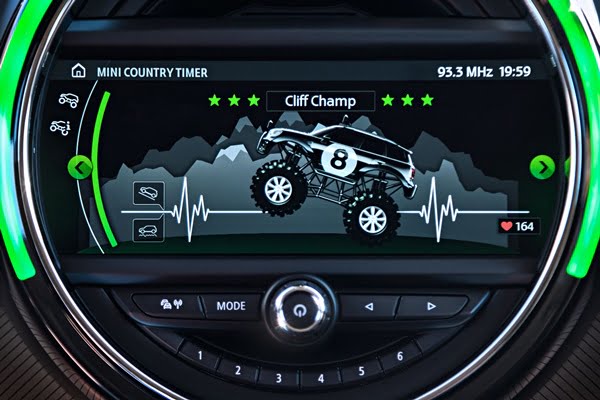 Our test car had DAB radio, and an upgraded audio system. I'd definitely tick this option on the spec sheet, because you're going to have this car for a long time and you may as well be comfy. BMW has great Bluetooth CarPlay/Android Auto and is worth having if you can get it.
Meanwhile, Hey Siri will have you dialing numbers and answering texts, without having to do anything as last-century as touching a button.
The neat floor gear shifter is enhanced by steering wheel paddles to manually control the 8 speed auto if that's your thing, but I didn't bother. The gearbox is as smooth as a Bublé ballad so why tamper with millions of buck's worth of German engineering?
If you want to give the gerbils an extra thrashing, you can use Drive Mode.
The drive mode selector is a large ring surrounding the gear lever. Left for sport, right for eco. In a diesel engine, why bother with the eco settings, I say.
With extras, our test car retails for $60,650 plus on-roads, so it is a bit miserly to have to adjust-em-yourself seat levers.
The Countryman is a tall car at 1544mm meaning the headroom is astounding, even with a tall driver having the seat set up high. It makes a bijou 5 door feel roomier than it actually is. You still sit fairly close to your front seat pal, so the art of flirting is not totally lost.
Starting the engine inside a parking garage makes you realise how rattily, and slightly industrial, the diesel is. The plinkerty-plink isn't unpleasant, but gets more raucous as the 140kw/400Nm power plant is stressed. Fear not, this Mini is not the kind of "corner-at-warp-speed" sports car that is frequently pushed hard. You don't need to, it's a cruiser.
The twin turbo soon gets you moving, and will get you to 100kph in a respectable 7.4 seconds. Your head won't explode if your mate gets there a second sooner, and you'll catch him in traffic anyway. Lag is minimal, but still present if you stomp on the pedal at the lights.
There is a definite pause before the rocketing commences.
At the bowser, you get to feel extra smug at using only 5.2 L/100k while he is burning through last week's pay packet at an Olympic rate.
Lamentably, persist with BMWs runflate tyres which used to be rock hard on the bum. Now, the ride feels much nicer thanks to better suspension tuning. Around town, only the biggest of bumps ruffles frayed nerves. Handling is surprisingly good.
Cornering is flat-ish. I never felt able to push too much especially in very tight turns. Be it imagination or not, there seemed to be a lot of turns of the wheel. Spirited driving tends to make the cabin a very busy place to be.
The steering feels a trifle remote, but since this isn't a sport model, is largely irrelevant. Hipsters don't like pin-sharp steering so I'm told. The JCW models have finer tuned steering increments which feels much tighter on the road.
There are blindspots because the rear pillars are quite thick.
To make matters worse, the rear-view mirror is smallish, and a very long way away from the driver. You find yourself having to lean forward to adjust, then repeating until it is finally right by going back and forth like a demented woodpecker.
If the Countryman is nippy around town, it has nice long legs out on the open road. Let's face it, you can buy much more space for much less money, but owning a Mini is a lifestyle choice. It says a much about the driver.
It says "I like to be different, and I don't care what you think, so there".
You can tackle an airport run, shopping at Coles, and the Boxing Day sales, yet feel equally able to throw a bunch of bags in the back for a weekend away, in comfort. A savvy packer will have a combo of hard and soft cases, with more than enough room for a picnic hamper and gingham cloth.
You should be able to get over 1,200k with a mix of town and highway driving.
That's more than enough to get you to your moody hideaway without having to visit a nasty old roadhouse. The less a hipster is seen with tourists the better. Be careful when filling or you'll smell like a singleted truckie.
There are many drivetrains and many body types. It is no secret that I'm a Mini fanboy. I like them not because I have a OCD-trimmed hipster beard, and like coffee picked only from a dewy mountain slopes in southeastern Brazil at sun rise, but because there are properly good.
Yes, I wear my jeans turned up at the bottom, and I only wear R.M.Williams boots, but it is a necessity, not a need to feel like one crowd over another.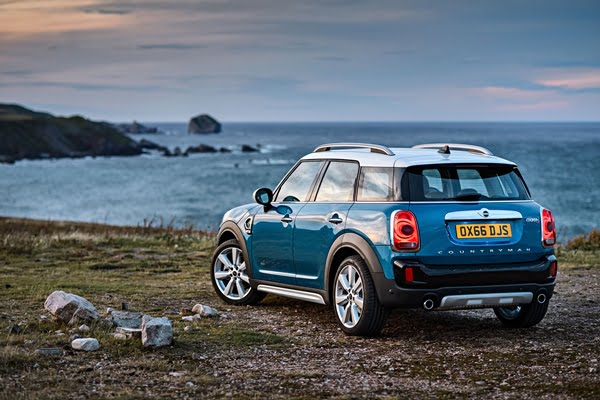 Despite all that, I mostly look like an unmade bed, but the Mini looks as sharp as a pin.
Would I buy one: As always, yes. There is much better value out there, but there is only 1 mini.
Price as tested:                            $60,650
Engine:                            4cyl, twin turbo diesel, 140kw/400Nm
Transmission:                 8 speed automatic
Econ:                                5.2L/100k
CO2:                                 138g/km
0-100:                              7.4seconds