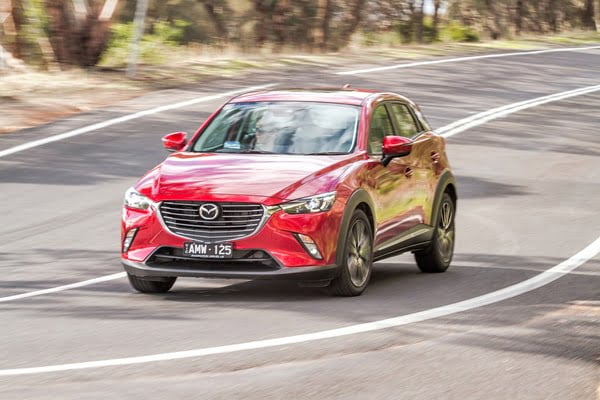 Fresh from the success of the CX5 Mazda launched the CX3 into the highly competitive small SUV market that has boomed in Australia in 2015.  In 2017 it received a make-over with a good range of improvements that are not all visible.
It was the bestselling small SUV in Australia in 2016 and was in second place in 2017 but is now facing stiffer competition especially with the latest Subaru XV and new kids on the bloc, the Toyota CH-R, the Suzuki Vitara and the Hyundai Kona.  We tested to top of the range petrol engine Akari with all-wheel-drive.
The driving force behind the Mazda CX3 design is the 'KODO – Soul of Motion' concept which embodies athletic presence and simplistic elegance. The outward appearance of the CX3 is car-like without being adventurous.
It mimics the Mazda sedans at the front with a slopping bonnet, prominent grille and stylish headlights. The most distinctive feature down the side of the vehicle is the waistline which rises significantly at the back of the car compared to the more station wagon look of Mazda's larger CX-5 and CX-9.
It reduces the size of the rear windows at the back and evokes the Range Rover Evoque.
The Akari features chrome exhaust, automatic LED headlights, a sunroof and The body colour lineup includes showy names such as Ceramic Metallic, Titanium Flash Mica, Jet Black Mica, Snowflake White Pearl Mica, Meteor Grey Mica and Dynamic Blue Mica but only Soul Red Metallic is approaching a flashy style.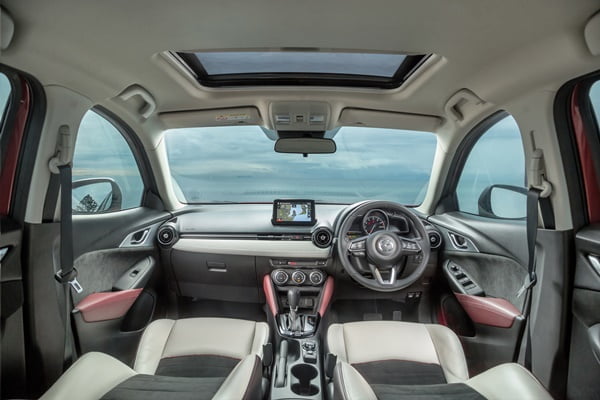 Mazda describes the interior as having a "Spatial design blends snugness with openness" and mirrors the Japanese word Jinba-ittai, a feeling of oneness between car and driver.  The overall feeling when getting into the car for the first time is, however, confined.
The more modern the vehicle the more efficiently it uses its interior space both in a physical reality and a general perception.  In this way the CX3 is showing its age no matter what the measurements say.
TO READ THIS REVIEW AND 298 PAGES WITH 66 OTHER COTY REVIEWS