VW Touareg Launch Edition Overview
VW Touareg was originally launched some 10 years ago and was a little long in the tooth of late lagging the competition. There was also a Sport version the R50 Touareg
The second generation was good, the third third generation is a huge leap forward and on the brief drive I had at the launch, my first impressions were overwhelmingly favourable.
Initially available as one model, the Launch Edition, the Touareg is set to shake up the dwindling yet very competitive Prestige SUV market. Directly competing with the likes of the BMW X5, Jaguar F-Pace, Land Rover Discovery and others, the VW has its work cut out for it.

VW Touareg Launch Edition Exterior
Designing a two tonne SUV to fulfil the competing requirements of space and style requires some clever design. The VW looks much smaller than it is, thanks to such clever design. The grill is slim and sleek, greatly enhanced by the new LED lighting.
There is a slight bonnet bulge that adds a masculine appeal. From the side there is a rising hip line, with a lower scallop in the doors and a sloping rear. The 20 inch wheel tyre combination fills the arches perfectly. Roof rails, a rear spoiler all add to the lengthening of the style.
From the rear it avoids a squared off look with sloping profile and two large integrated exhaust tail pipes.
Appeal is purely subjective but to my mind the Touareg is up there with the Jaguar F-Pace for design.
Launch Edition comes in four colours with the Reef Blue Metallic exclusive to the model and it looks good. That's the one I would be buying.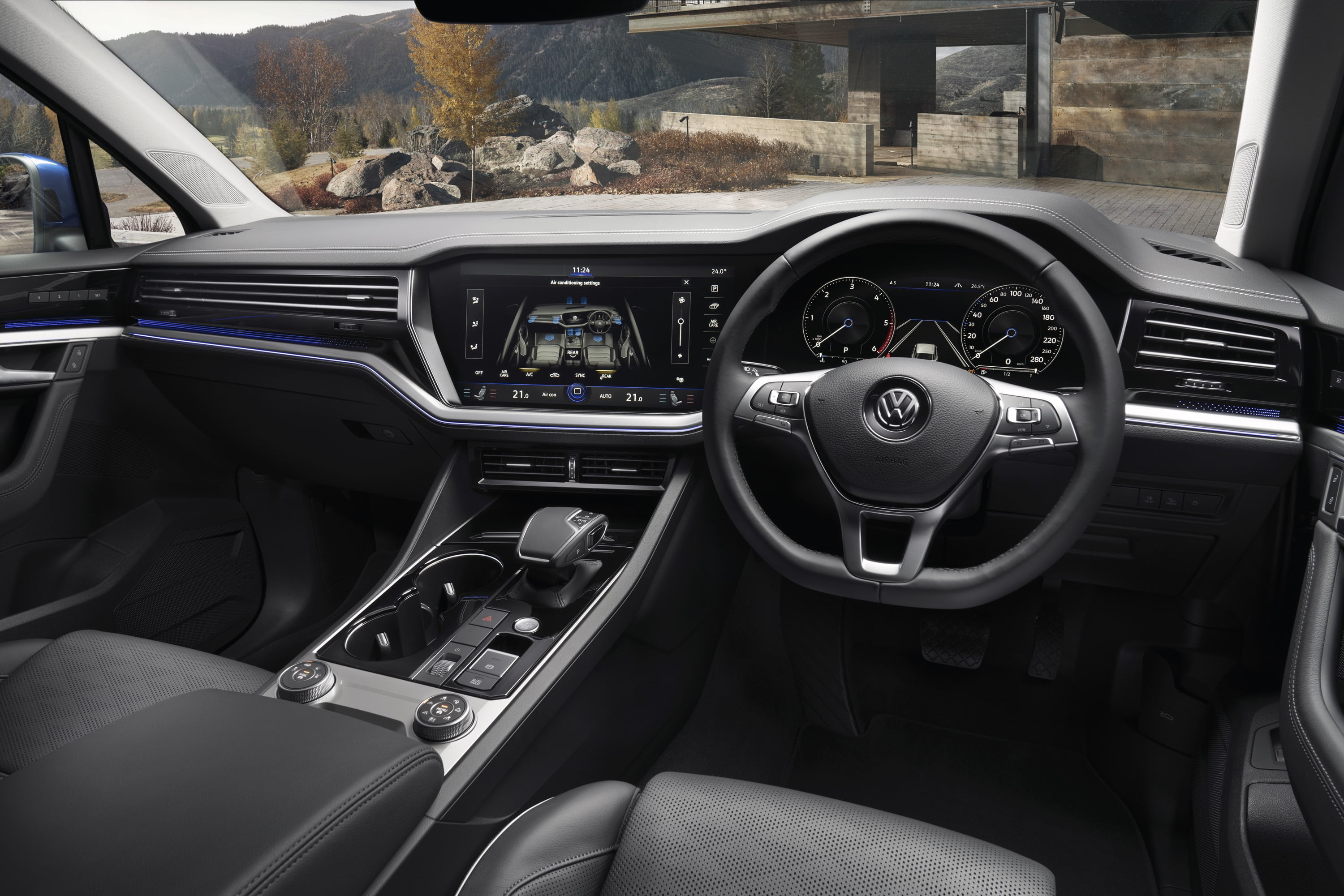 VW Touareg Launch Edition Interior
Wow where do I start. It seems that VW has found everything they could possibly put in the vehicle and said, let's just do it.
The immediate ambience is luxurious yet practical. Some SUV have overdone the buttons simply to bring aesthetics. The Touareg seems to be very much the philosophy of good design enhances the user experience.

Front Savona leather seats are 18 way electronically adjustable including the side bolsters. They are ventilated as well and amongst the most comfortable in class, especially with the massage function. Even with the optional panoramic sunroof I had plenty of headroom. Multi ambient lighting sets the mood.

The vehicles we drove had the Innovision package which has the 12.3 inch dash. The clarity of the white on black instruments are stunning as is the ability to configure the central MFD. Heads up display that can change colour finishes the instrument in front of the driver. There is a definite cockpit design that isn't obvious but practical.
The 15 inch centre screen was a combination of clever design, an intuitive user interface and a little frustrating when you're trying to press something and the screen is too sensitive because of bumps etc.  Again the clarity is stunning. It also looks integrated, not an afterthought like some. Unusually the centre air vents are situated below the screen.
Soft touch leather abounds on door trims, dash and centre console. The centre transmission tunnel is well laid out with cup holders on the other side of the thick transmission lever. In front is a smaller flat area for wireless charging of phones and a USB port that doesn't intrude like many.
Storage is good with a large centre console bin and glove box and the places for bottles in the door trim. Visibility through the dreaded 'A' pillars is better than many, with glass quarter panels and sculptured pillars. Not quite as good as the Jaguar F-Pace, but better than the BMW X5.  

Rear seats are comfortable if a little flat in the seat squab. Good access and head room and if there is a normal sized person in the front (meaning not me) then leg, knee and foot room is not bad.

Rear passengers are well looked after with 4 zone air conditioning, rear vents and individual controls as well as two USB ports and a single 12V plug.

The seats fold flat with a release lever in the rear as well as a push button adjustment for the load height for the boot. There are 4 tie down points and a cargo net that can be positioned in two places behind and in front of the rear seats.

VW Touareg Launch Edition Features
This is where the VW Touareg has it all over similar vehicles. VW has managed to pack the third generation First Edition with standard features that makes the likes of Mercedes Benz GLE look for a corner to hide in.
Pricing and a feature list can be found here.
Let's have a look at some of the key features.
The front seats are superb. Both are ventilated, have a menu driven massage function and can adjust just about everything on the seat, including the side bolsters. They are up there with the best in class.
VW has managed to exceed the segment with their LED Matrix IQ lighting. They comprise well over 100 individual LED's and feature 11 different lighting distribution styles. They look awesome as well.

The Innovision optional package is almost a given. It adds the Active Info Display, high resolution 12.3″ TFT instrument display screen with customisable menus, as well as the stunning Discover Premium audio and satellite navigation system 15" colour touch screen display. There are more features a swell and its best to go to the VW website to get all the details. But I probably wouldn't buy the Touareg without it.
Then there is a plethora of little features such as rear window blinds, electronic steering wheel adjustment, air suspension and multi drive mode capability, wireless phone charging, Savona leather seats and more. Little design features like automatic reverse external kerbside mirror, dynamic rear indicators, electro chromatic rear mirrors and the slight gap under the lid of the centre console storage so that your cords don't get squashed add to the pleasure of owning the VW.

VW Touareg Launch Edition Engine and Drivetrain
Touareg is powered by a 3.0L V6 Twin Turbo Diesel engine, similar to that found in the Amarok 580. It produces power of 190kW @ 4,000 rpm and Torque of 600Nm @ 2,250rpm. This is matched to an 8 Speed ZF Auto with permanent 4MOTION all-wheel drive transmission.

This is one sweet combination!
Other than drivers that crave outright power, no one will feel or be found wanting with the power and torque of the V6 engine. Surprisingly it will do the 0-100km/n sprint in 6.5 seconds, good for a 2 plus tonne SUV and has excellent ADR economy of 7.4l/100k and a 75 litre fuel tank.

4MOTION is a permanent all-wheel drive system that aims to provide the best possible traction at all road speeds, in all weather and road conditions. There is a choice between 7 drive modes that dramatically alter the characteristics of the vehicle.
The Touareg's power is handled by a transfer box bolted directly to the 8 speed automatic gearbox.  The asymmetric/dynamic torque distribution by the centre differential is based on a purely mechanical system.  Locking power is generated in the centre differential in proportion to the drive torque.  Approx. 70% max of the drive torque can thus be directed to the front axle or approx. 80% max to the rear axle depending on the driving situation and road surface.  Furthermore, the mechanical torque distribution by the centre differential works closely with the wheel specific drive torque regulation by the ESC.
The latest Touareg is rated to tow 3500kg with a tow ball rating of 280kg maximum with two occupants in the front seats. Obviously you need to be mindful of the overall payload rating and GCM as well.
The problem is that while there is a factory optional tow bar fitting available, there is no electronic brake available, and so they have to be aftermarket. Owners may fit any of the reputable aftermarket electronic brakes, which by law must be fitted if the total capacity of what is being towed exceeds 750kg, but may void their warranty. Something that needs to be addressed as I can see this vehicle being popular with the retiree towing Grey Nomads otherwise.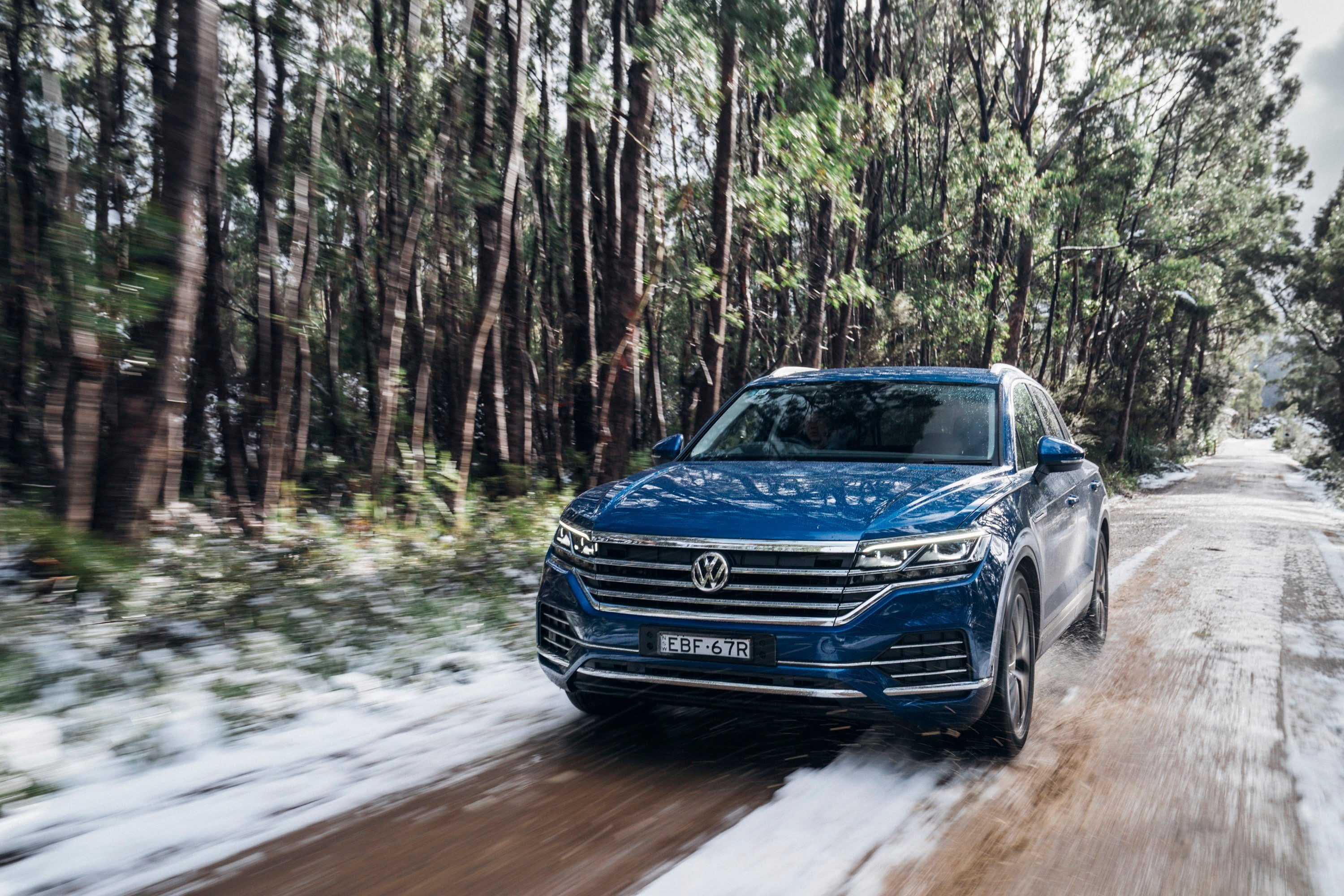 VW Touareg Launch Edition Driving Experience
Firstly the ability find a perfect driving position is paramount and the VW was exceptionally comfortable. Driver ergonomics are first class, especially with the optional 15 inch screen. When you sit in the passenger seat, you realise how oriented to the driver it is. Everywhere your elbows touch is a soft touch point.
We had the opportunity to drive the Touareg in suburban traffic, on the freeway, along winding back roads, on slushy gravel and on snowy roads. That was a good introduction.
On all the road surfaces the VW was smooth and soaked up most of the bumps with disdain. It does feel deep potholes though, but not more than other similar vehicles. On the gravel road, the rain had washed out a series of smaller potholes and I deliberately aimed for them to see if I could unsettle the VW, and nope, it just kept going. Permanent AWD has its benefits.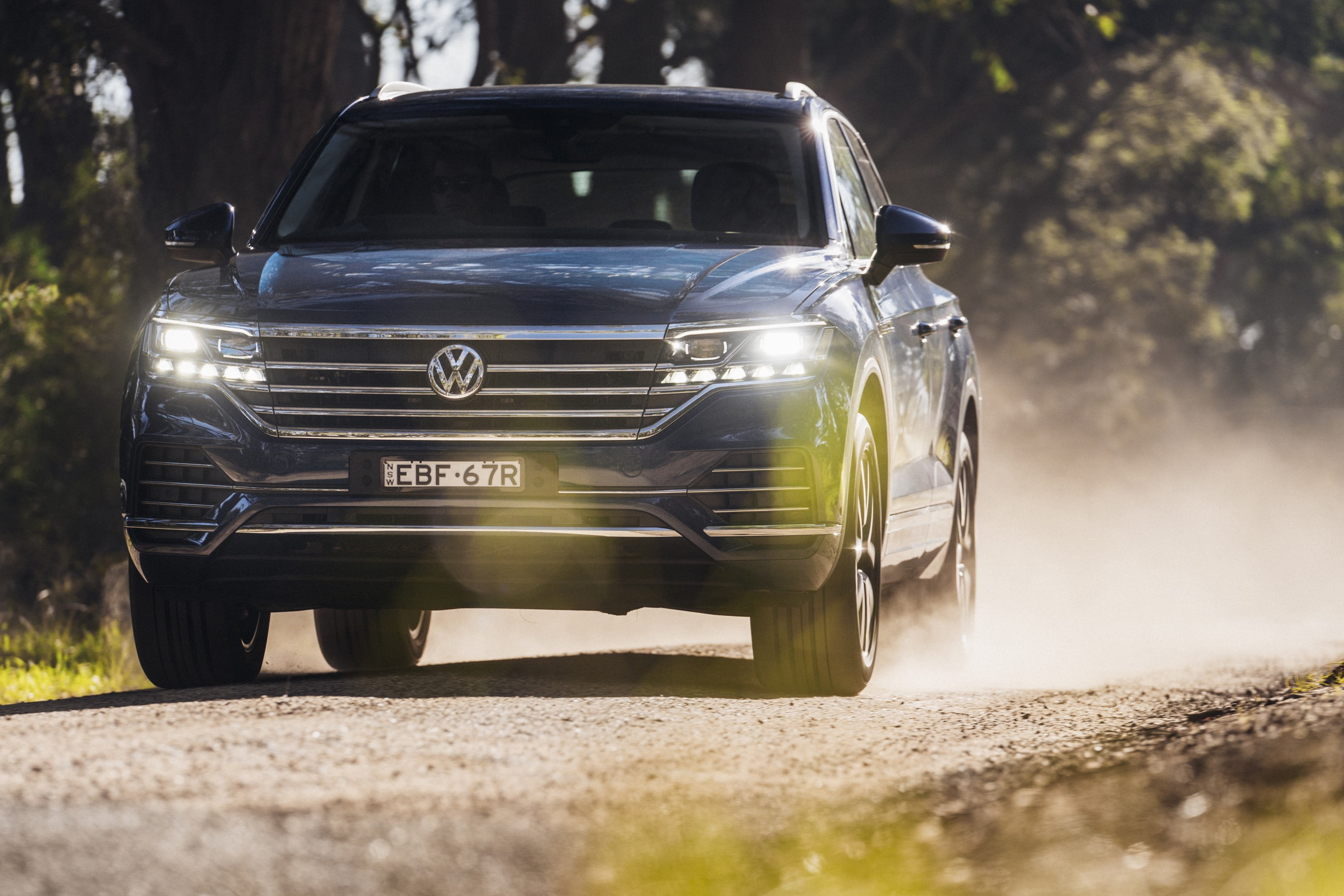 The composure the Touareg has is well received and deceptive. The torque delivery of the diesel engine means that the Touraeg proceeds in an orderly and linear fashion. You lose sight of the fact that you are handling a 2086kg beast, such is the smoothness. It's also very quiet, with only a faint amount of wind noise, and it was very windy on the drive day.
The word that comes to mind to describe the drive engagement is balanced.
Touareg has the 4MOTION all-wheel drive system, yet owners should be thinking this is a driver assist program rather than an off road advantage. The Touareg will be comfortable on dirt roads, lighter forest trails, probably good on the beach, yet any further off road than that and the tyres will be the major limiting feature as will the approach and departure angles.
This is a perfect vehicle for the ski trips

VW Touareg Launch Edition Dimensions
Overall length of 4878mm, wheelbase of 2899mm, width of 1984mm (excl mirrors), Height of 1686mm, Wheels and tyres are 20 inch Alloys with 285/45 R20 tyres. Turning circle is 11m, Tare Weight 2086 kg, GVM of TBC kg, GCM of TBC kg, payload of TBC kg. Unladen ground clearance is 213mm, Wading depth TBC. Approach angle is TBC degrees, rampover is TBC degrees and departure angle is TBC degrees.

Lots of effort went onto reducing the weight of the vehicle with the use of many aluminium components and parts of the frame without compromising the structural integrity or safety.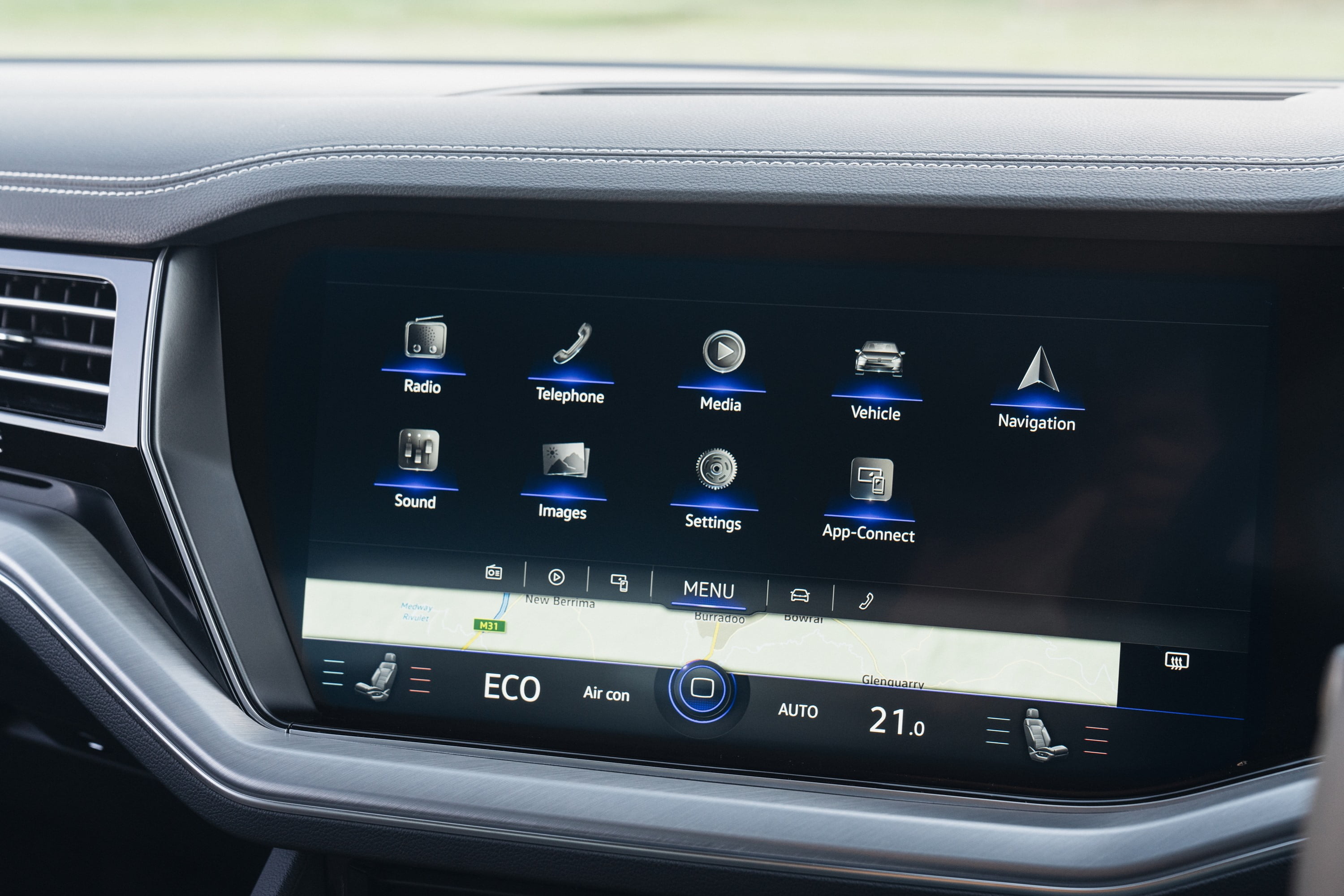 VW Touareg Launch Edition Safety
Even though the Touareg doesn't have an ANCAP safety rating as yet it does have a 5 star NCAP rating.
Driver assist features include: Air suspension with adaptive dampening control, Driver Fatigue Detection system,  Driving profile selection with 4MOTION Active Control, Front Assist with City Emergency Brake (City EB) and Predictive Pedestrian Monitoring functions, Lane Assist with adaptive lane guidance, Manoeuvre braking, front & rear, Park Assist, parking bay and parallel parking assistance, Parking distance sensors, front and rear with acoustic warning and audio volume level reduction when sensor warning is activated, Personalisation function, Adaptive Cruise Control (ACC), Side Assist, lane changing assistant, Front and Rear Cross Traffic Alert, Emergency Assist, Traffic Jam Assist, Proactive occupant protection system 360⁰ detection, Optical Parking System (OPS) in infotainment display, Rear View Camera (RVC Plus) with multi-angle views and dynamic guidance lines
Traction control features include: Anti-Slip Regulation (ASR, Electronic Differential Lock (EDL), Electronic Stabilisation Program (ESP), Extended Electronic Differential Lock (XDL), Hill descent control, 4MOTION Active Control all-wheel drive.
Brake assist systems include: Automatic flashing brake lights activated in emergency braking situation, Anti-lock Braking System (ABS), Brake Assist, Electronic Brake-pressure Distribution (EBD), Electro-mechanical parking brake, Auto hold function and Multi-collision brake.
Airbags include: Driver and front passenger airbags, Driver and front passenger side airbags, Rear side airbags, Curtain airbags, front and rear.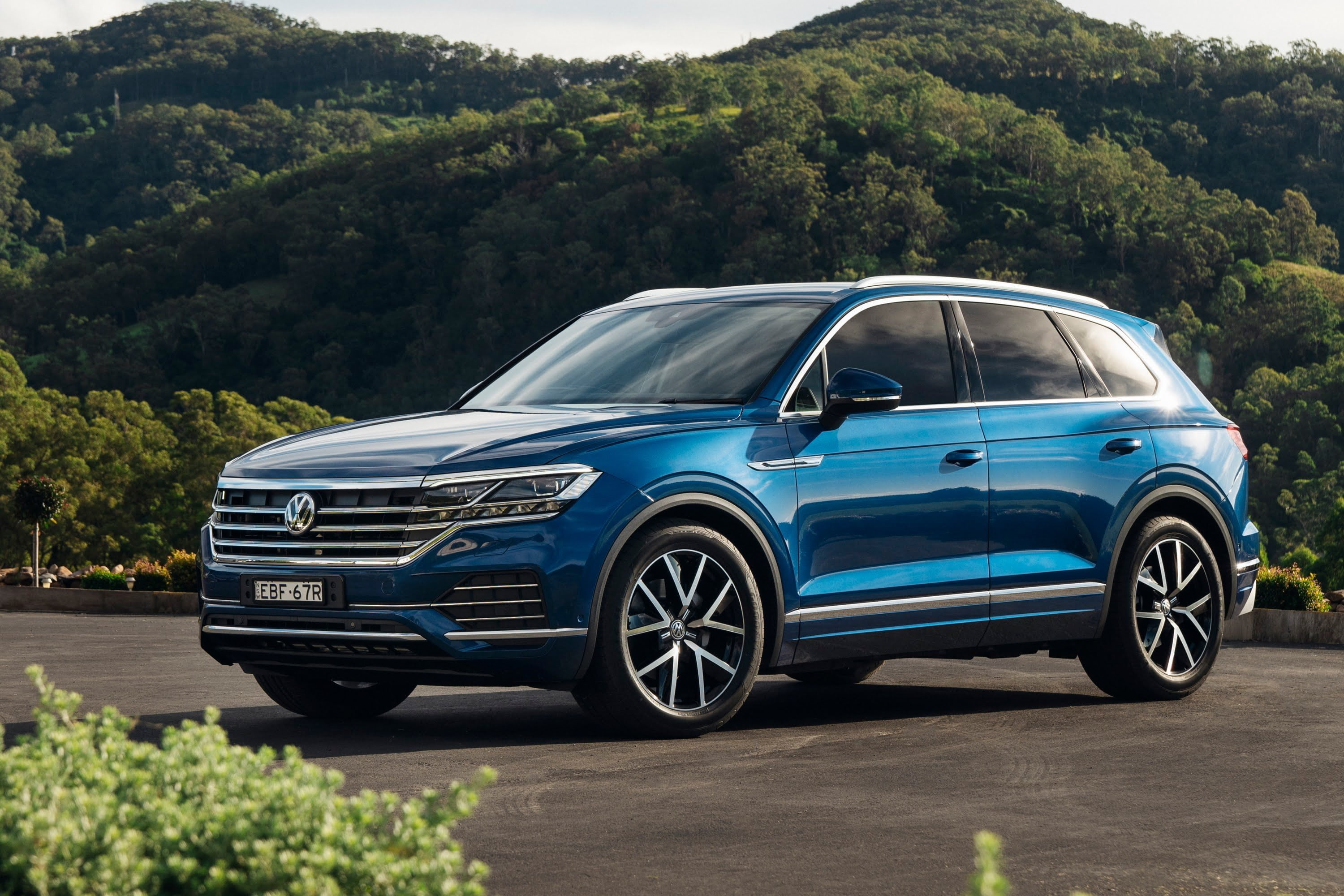 VW Touareg Launch Edition Fit for Purpose
Ideal for transporting a family of five in luxury, comfort and style, equally at home dropping the kids at school as it is going on an extended family touring holiday.
VW Touareg Launch Edition Summary
In short the VW Touareg is excellent. But you would expect that as it shares a number of components and the same platform as the Audi Q7, Porsche Cayenne, Lamborghini Urus and Bentley Bentayga.
It displays a level of sophistication beyond what has been expected from VW previously and is the most technically advanced model so far. It is absolutely packed with comfort, luxury and safety features.
Clever buyers, read those that aren't slaves to Brands and insignia's, will benefit from looking at the VW Touareg, especially in Launch Edition guise. It is outstanding value. Definitely add the Innovision package and possibly the optional metallic paint, but personally I would give the panoramic sunroof a miss.
For a saving of anywhere between $20,000 to over $35,000 buyers will be getting a vehicle of equal sophistication to the more "prestige' brands and the smug self-satisfaction every time you pass one of the more expensive rivals, knowing you saved heaps..

The Good:-
Value proposition
Overall comfort
Ride, handling, performance balance
The Not so good:-
No factory tow bar option
Deflated spare tyre
No V8 SQ7 style engine option
Also look at
Model:   2019 VW Touareg Launch Edition
Model Price From $89,990 MLP* Innovision Package $8000
Engine 3.0L V6 Turbo Diesel Euro 5
Drivetrain 8 Sp AT with 4MOTION AWD
Power 190kW @ 4,000rpm
Torque 600Nm @ 2,250rpm
Safety ANCAP TBA – 5 Star NCAP
CO2 194 g/km
Economy ADR 7.4 L/100 km
Servicing Menu Price VW Service Plan
Tow Rating 3,500 kg
Tow Ball Rating 280 kg**
Warranty 5 Yrs. / Unlimited km with 12 Mth service renewable Roadside Assist
*MLP – Manufacturers List Price includes GST and LCT but excluding statutory charges, dealer costs and dealer delivery. See your dealer for RDAP. Does not include price of any options.
** Towbar Load Limit kg with 2 people in front seats
 Overall Rating: 84/100
Behind the Wheel 9
Comfort 9
Equipment 9
Performance 8
Ride & Handling 8
Practicality 8
Fit for Purpose 9
Towing Ability 8
Off Road Ability 7
Value for Money 9