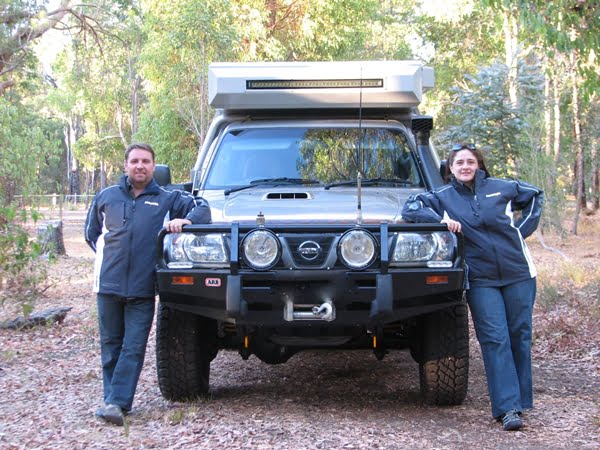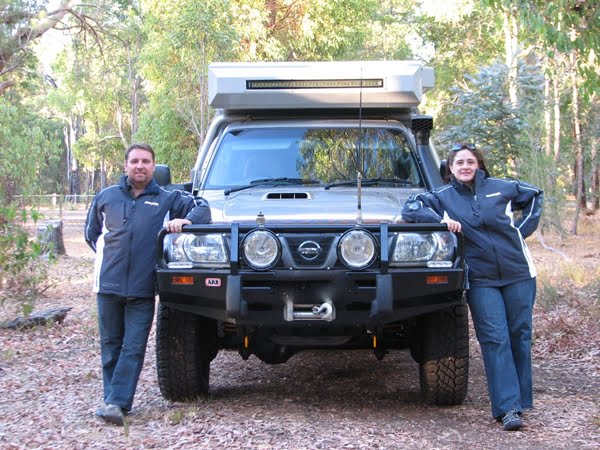 Aussie couple Justin and Jen Lewis are redefining the boundaries of 4WD adventures, undertaking an epic overland trip that starts out in chilly Vladivostok, takes them through the wide-open spaces of Mongolia, before finishing up with a pit-stop in the UK and a marathon final leg from Egypt south to beautiful Capetown.
The couple's home for the next two years is a 2006 TD42TI GU Nissan patrol coil cab ute with custom-built camper body on the tray, that is fitted out with all the necessities for off-road life including a diesel heater, pop-up shower, 60-litre fridge, and a diesel cabin heater and cooktop.
To ensure their on-road experience is as safe as possible the duo are also packing some serious Narva lighting hardware to guarantee optimum visibility in the toughest of conditions.
"Getting Narva lights on board for the trip was something we knew we had to do − you can't make a trip like this with two candles in front of the car. Visibility is a safety factor as well; and with Narva we've now got better front lights, better tail lights, better every type of lighting really," Justin said.
Justin and Jen's Narva 'survival kit' includes the Narva Extreme HID driving lights, Narva L.E.D 40 inch lighting bar, Narva + 50% headlight upgrade kit, and Narva L.E.D combination tail lights.
"Each of the Narva lights we're using has its own benefit, and having the combination gets us the best possible result for the different conditions and environments we might face.
"The Narva + 50% upgrade, made a massive difference straight away, and when you add to that the NARVA Extreme HID driving lights you've got the perfect combination.
"I'm expecting Narva's 40 inch L.E.D light bar to be most useful for track work, in particular for the Mongolia type of environment. If you get caught out and find you're camping after dark, I can't imagine a better light for being in unfamiliar surroundings and needing that crisp, spread of light," Justin said.
In order to get a better outcome than standard factory tail lights – which often suffer from poor durability due to the permeation of outside elements – the pair also opted for Narva's L.E.D combination tail lights.
"Most factory tail lights aren't externally sealed, which means anytime you're doing anything four-wheel drive you run the risk of dust getting into the light and settling on the back of the lenses − which eventually makes the lights duller and duller.
"That's not a problem with the L.E.Ds because they're fully sealed, they're fully submersible in water, and they offer a really low current draw and are just much brighter overall. The reversing component of the combination tail light also provides that extra illumination if you're backing up," Justin said.
The Aussie duo, both avid travelers, have been planning their trip in earnest for close to two years and say the main issues in preparing for a mammoth 4WD trip on the other side of the world is organising visas and planning a route that avoids the worst climate and conditions.
"We're trying to start when it's cold so we can move into the summer. It will be around 0 or – 5 in Vladivostok when we arrive which means we've missed the really cold temperatures – it can get down to the minus 30 mark over there but we've dodged that thankfully!"
Despite travelling with many of the rudimentary comforts of home, Justin says they couple have still had to plan well and pack light for the range of climates they'll encounter along the way.
"It's almost like backpacking but with a bigger backpack. We don't want to take too much gear with us because space in the car is very limited and we don't want the extra weight," Justin said.
While their trip will take them through countless vistas across Northern Asia, Europe and Africa, the location they're most looking forward to driving through is the one likely to remind them of the conditions back home in Australia.
"At the moment the place we're looking forward to the most is Mongolia. I've heard and read a lot about it and I think that type of remote driving in any direction really suits the Australian psyche as we like that back-country, desert-type feeling. I think we'll probably be right in our comfort zone with that and I think that's going to be very rewarding travel."
For more information on Jen and Justin's 4WD trip visit www.globatrol.com