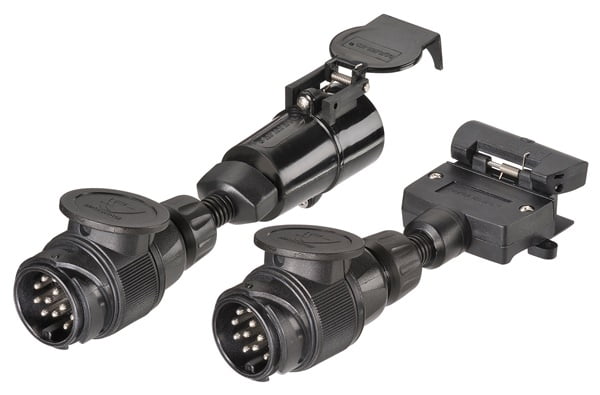 Owners of new European  vehicles can now easily and cost effectively ensure their trailer sockets are compatible  with Australian caravans, trailers and the like, following the introduction of  Narva's new 13-pin European trailer adaptors. Until recently, European  car models were largely retrofitted with Australian-compatible sockets by the selling  dealership or importer.
Increasingly though, many sellers are no longer doing  this, providing owners with a source of frustration the first time they want to  tow a trailer or caravan.
Available in two variants,  '13-pin Euro round on car to 7-pin flat plug' and '13-pin Euro round on car to  7-pin large round plug', the units are built tough using ABS material for  longevity combined with nickel plated brass terminals which provide superior  conductivity.
Fitment of the adaptor is  fast and simple via an intelligent double connection system.  Once inserted into the vehicle's socket, a  simple twist and lock function secures the connection. For added peace of mind,  a flat disc receiver on the adaptor also accepts the vehicle's socket dust cap,  further securing the connection and ensuring it won't work itself loose even  over rough road conditions.
A further benefit of the  adaptors is the intelligent internal wiring which utilises a diode that  prevents any warning buzzers or alarms from sounding within the tow vehicle.
Available from leading  automotive, transport and four wheel drive outlets nation-wide, Narva's 13-pin  European trailer adaptors are suitable for a wide range of European vehicles  including but not limited to: Land Rover Discovery, Mercedes ML Series, VW's  Golf, Amarok and Caddy, the Audi Q Series and BMW X3, X5 and X6.