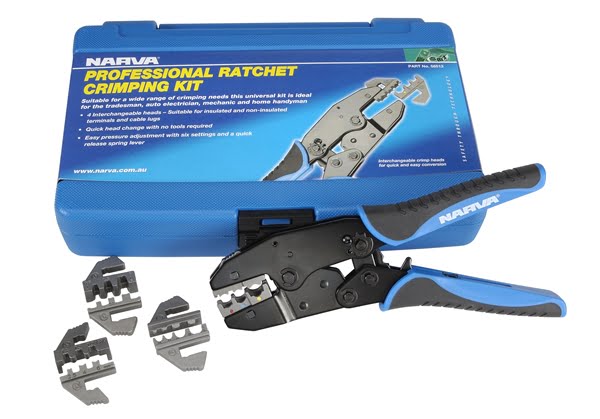 Narva's new professional ratchet crimping kit provides tradesmen, auto electricians, motor mechanics and the home handyman with one universal tool for all of their crimping requirements.
The professional ratchet crimping kit features four interchangeable crimping heads to service a range of the most common terminals, from insulated and non-insulated terminals through to cable lugs.
The crimp heads are interchanged quickly and easily, allowing a seamless conversion between heads depending on the requirements i.e. Head A, suitable for blue, red and yellow insulated terminals; Head B, suitable for cable lugs in lugs in 2.5mm2 to 16mm2 sizes; Head C, a double crimp suitable for non-insulated terminals and Head I2, a single crimp suitable for non-insulated terminals.
The crimping tool applies controlled pressure with heavy duty ratchet action. This combined with the easy-to-use spring release, allows the professional ratchet crimping kit to provide a high quality crimp.
Designed with quality and comfort in mind, the tool's sturdy construction provides excellent function and service in the workshop or on site, while the handle is comfortable in the hand and easy to grip even after extended use.
The kit comes in a convenient carry case which can be used to store the tool and heads or for easy transportation between jobs.
Narva's professional ratchet crimping kit (P/No. 56513) is available from leading automotive, four wheel drive and transport retailers throughout Australia at a recommended retail price of approximately $125.