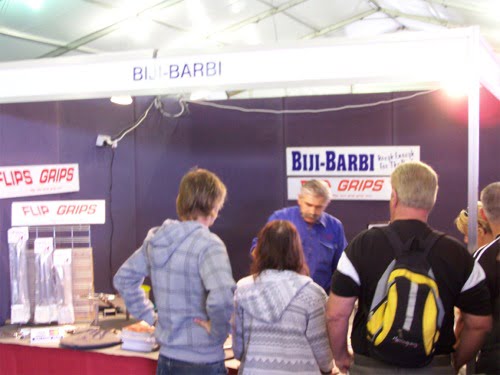 The Biji Barbi is a throwback to the simple days of using a disc plough plate for a barbi. When I was a kid we had just such a BBQ plate and it was probably one of the best Barbies I ever had.
So when I saw the Biji Barbi all those years ago I just knew it would be good so I bought one and it has been excellent. I write this because at the recent 4WD Adventure Show the old faithful Biji Barbi was there yet again.
There is a plethora of cooking choices facing the camper when they are looking to buy something to cook the steak on. Many years, actually about 7 years ago I bought a Biji Barbie for a round Australia trip I took the family on. It reminded me of a Barbi plate we had as kids. Way back in the 60's one of dad's friends from a local farm had a number of plough discs lying around and he made a number of Barbi plates from them. I have to say that the disc plough Barbi lasted years and was probably one of the best plates we ever had.
The Biji Barbi has improved its design over the years, especially with locking legs (these would have been handy to stop a couple of disasters) and it's a little more streamlined now but the basic design remains.
Like most excellent products it is simple in its design and use. It is basically a round steel plate with three fold out legs and a long fold out handle that allows you to place the Barbi over a fire pit, an open fire or over a gas cooker.
It's fantastic for snags, steak, eggs, tomatoes, toad in the holes etc. In fact anything you can cook on the home hotplate you can cook, probably better, on the Biji Barbi.
If you're heading bush do yourself a favour and have a look at the Biji Barbi, get the large version, don't skimp, get the canvas cover (it lasts forever) and look forward to simple bush barbeques. There's nothing better.