Let's talk tyres. Outback travel is hard on tyres and the trip we undertook for Project Pajero through the Flinders Ranges, Birdsville track, Strzelecki Track, Cameron Corner etc required a lot of thought about the choice we made for tyres.
Having travelled many thousands of kilometres, probably up to 100,000km, in outback travel I realise just how important tyres are to a fuss free trip. If you think about it unless you travel in only one type of driving all tyres are a compromise of some sort. For example mud tyres while awesome in the sloppy stuff are diabolical on tar.
Road going tyres are quiet on tar and handle well but are next to useless off road, especially in the wet. The most popular and practical tyres for outback travel, as opposed to constant 4WDing, are all terrain tyres.
By their very nature All Terrains are the definition of compromise. The qualities you are looking for are
• acceptable handling and quietness on tar roads. All Terrains 'sing' on the tar roads, not as much as mud terrain tyres but enough to be noticeable
• An open enough tread pattern and large enough side lugs for grip in the rough stuff
• Minimal cutting or chipping on the tread in the rocky sections and
• Resistance to puncturing everywhere and long wearing.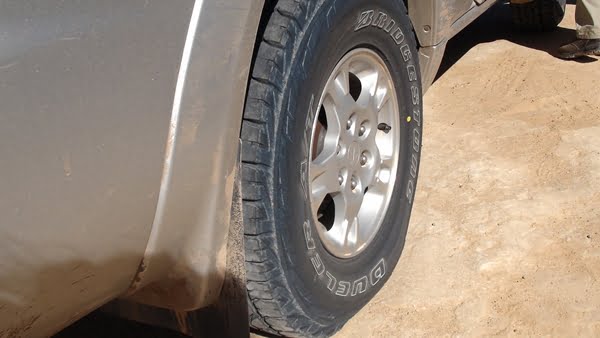 Not much to ask for really is it? There are a plethora of choices available, not only between manufacturers but also within manufacturers. Each has their own qualities and lie somewhere on the continuum between mud terrains and road tyres.
All terrain tyres aren't cheap and often you will take a second spare. So choose the wrong ones and you will live their shortcomings for a while. Let's talk about the type of pressures (no pun intended) that our tyres faced on our recent trip.
The Project Pajero trip was about 6000km of a mix of roads and surfaces. There was plenty of highway driving to get to the fun stuff. In the Flinders Ranges there was a mix of dirt roads, farm tracks, muddy patches and very rocky tracks though some of the gorges.
The road to Marree was a mix of tar and dirt. The infamous Birdsville Track was in parts a graded dirt highway and in parts heavily corrugated dirt. The Inside Track ranged from the harsh Gibber Plains with the sharp and intrusive ironstone rocks, corrugated sandy sections, clay pans, river bed and dirt tracks.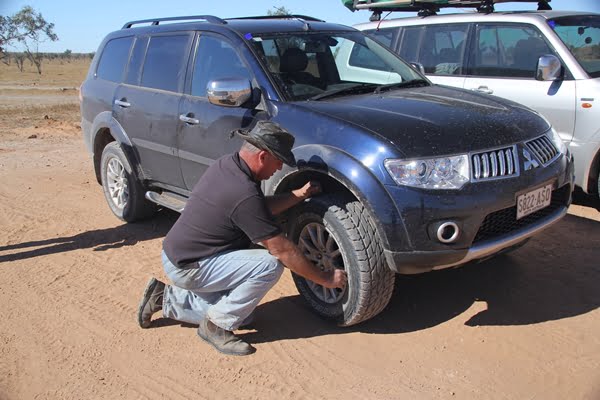 The Simpson Desert and Big Red required letting the tyres down to 10psi to successfully climb the dunes and play in the sand. We spent 4-5 hours playing in the hot conditions with the tyres belly up. As soon as we came off the sand we had a chance to admire the beauty of the surrounding area as we pumped the tyres up to road pressures before we returned to the track leading in.
The Birdsville Development road was a graded super highway where we sat on 120kmh on the dirt. Turn off to Cordillo Downs track and while the grader had been through and the road was in reasonable condition, there were heavily corrugated rocky sections that punished the tyres. The rocks on the Cordillo Downs track need to be seen to be believed, they are big, lose and sharp.
The road into the Dig Tree site and the last 16km or so from the SA border to Innamincka were some of the worst roads I have ever driven on. The condition of these was horrible. Corrugated, potholes, rutted, sharp stones buried ready to slice tyres and lose stones ready to cut them up. It was here where I smashed my back windscreen on the Pajero. Having travelled about 100,000km in outback travel I have never lost a piece of glass before.
It's amazing what you can do with gaffer tape. the repaired rear windscreen lasted until we got back to Sydney.
The Strzelecki Track and Old Strzelecki tracks were a mix of graded roads for the gas fields, corrugated sandy wheel ruts with loose sand hiding sharp sticks and some reasonable wide roads. From there through Cameron Corner there was red sandy loam and from Broken Hill back on the tar roads.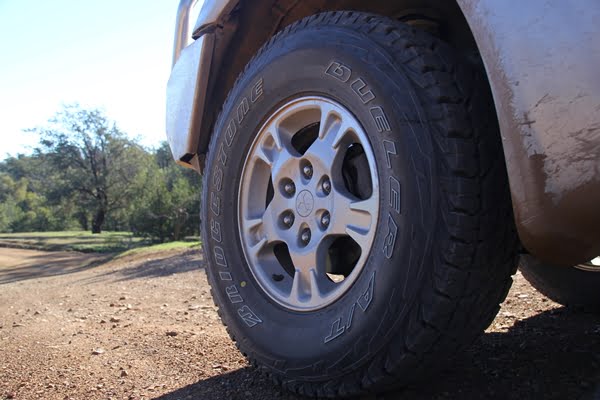 So given that mix of road conditions the choice of tyres is pretty important. Our choice of tyres. Bridgestone Dueler A/T D697 LT. Overall we had 2 vehicles and 2 camper trailers. So there was 12 tyres on the road carrying hefty weight and a number of spares. All up there were 18 tyres.
The verdict. The tyres performed faultlessly over the entire trip. They were quieter on the tar roads than previous all terrains we have used. They had enough of an open tread to provide grip in the rough tracks especially through the Flinders Ranges , the gorges and in the wet river beds and while they don't have as much side lugs as others they were more than adequate.
On the stony sections they survived without any chipping or punctures that we could see and easily performed their duties in the sand for hours without overheating.
We inspected the tyres on return and there was minimal wear, almost no evidence of gouging or chipping off the tread and in general terms you would be hard pressed to imagine they had just returned from 6000 km of outback touring.
To say we are exceptionally happy with our choice of Bridgestone Dueler A/T D697 LT is an understatement. I have to say we were expecting more damage or wear after the trip. The tyres are now seeing mainly tar road use with weekend excursions to the farm. The Bridgestone Dueler A/T D697 LT tyres have done everything we have asked of them without fault or problem. They are one tough tyre!