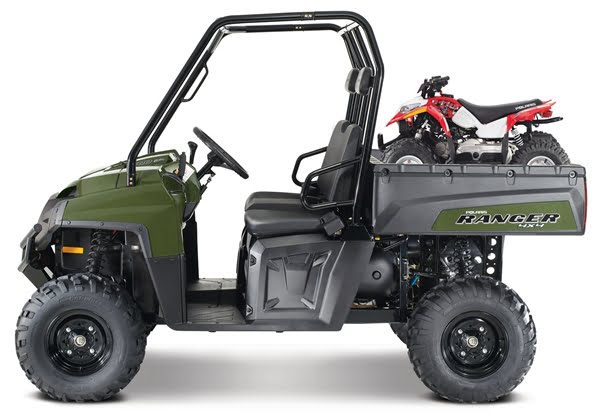 Polaris has deals on ATV and Rangers this christmas.
With Christmas just around the corner, Premium American brand, Polaris, is offering unmatched deals on several ATV and Side by Side (SxS) models until December 31st.
Perfectly timed for X'mas, Polaris is offering a FREE Outlaw 50 with any new ATV above 548cc or Ranger above 497cc. This gives customers an unbelievable opportunity to upgrade their vehicles and take care of Christmas at the same time. The promotion has even been extended to include buyers of the Ranger Electric Vehicle and the high performance RZR S.
But wait, the deal is even better on Ranger 500. Buy a Ranger 500 and you'll get $1000 off, plus $1000 free accessories, plus all the benefits of this Buy One, Get One Free promotion.
Should you not have a child of a suitable age for the Outlaw 50, take a $2395 discount on any additional new Polaris ATV or Ranger. For example, buy a Sportsman XP 550 and you can get a Hawkeye 300 ATV for only $3600 inc GST. But that's only one of the promotions just announced.
Reduced to $5995 and designed specifically for the Australian and NZ farms, Polaris Hawkeye 300 is the world's best riding, best value farm 2×4. For those that need 4×4 traction, Polaris has taken $1,000 off three of its most popular 4×4 models; the Sportsman 300 ($6995), the powerful midsize Sportsman 400 H.O. ($7995), and the full size Sportsman 500 H.O. ($9695).
If you need to tow more, carry more or seat more, then upgrade to the Polaris Ranger lineup of Side by Side (SXS) utility vehicles. Polaris Ranger 400 is a steal for $13,995, that's less than many competitors' big bore ATVs.
These offers end 31/12/2010 or while stocks last. Additional freight charges may be payable in rural QLD, NT and WA. For more info call your Polaris dealer today on 1300 654 142 or visit www.polarisindustries.com.au