There are various types of camping and fishing boats currently in the market. Camping allows you to escape the usual hustle and bustle of the city; and what better way to escape this stressful life than going for boat camping. Here are various types of boats available for use to heighten your camping experience.
Canoe
This is the most popular type of non-motorized camping boat. It is the best choice for most of the summer campers and those who enjoy to venture into the wilderness using rowing a boat. Canoes come in various sizes and shapes and campers select a particular type of a canoe depending on their preference.
For instance, a hardcore fishermen camper would prefer a big canoe where he will pull the boat from behind, and may use its large seating area to haul all is camping equipment. On the other hand, some people would prefer a small, light, easy-to-carry canoe which will enhance their camping experience.
Canoes are not limited to muscle-powered paddling only, several canoes such as the square-stern canoe, can be easily fitted with a small, engine which will allow you to go further in your boat camping trip.
Folding Canoes and Kayaks
Their shape is similar to the rigged-hulled boats and is generally made of synthetic skin cover which is stretched over a form-fitting framework. As the name folding suggest, they can be folded or rather packed and can be carried by public transport means.
They are, mainly suited for use for shorts periods of time in the protected/inland waters rather than for use in the rough waters for long excursions. The major advantage of these boats is their portability as they can be literary folded up and fitted in a limited space.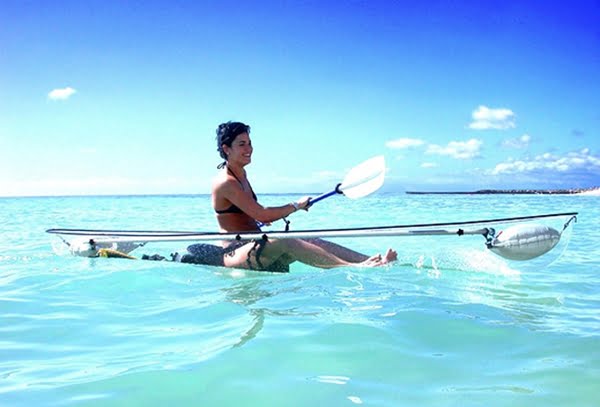 See through kayaks
This is a great development for boat campers who want to experience first-hand marine life experience by rowing using the see-through kayak. This boat is made of a glass bottom to allow you to see the marine life while paddling on the open seas. Molokini is an example of such a boat where you can see as far as 75 feet on a calm, clear day.
Inflatable Boats
Inflatable boats require one to pump air into the bladders attached to their tough skin and then there you have a boat! Inflatable boats can be either in the shape of either a kayak or a canoe. Their advantage is in their shipping compactness, storage, and the ease of functionality.
This is because, when collapsed, they can fit in a large bag and you can easily put it in your cars' boot. Moreover these boats can be fitted with a motor engine for easier and faster navigation and are more stable than an aluminum boat of the same size. Their only down turn is that they can be tricky to maneuver in medium to string winds.
Panel/Folding Boats
These boats are made of solid material which can be folded to fit in limited space to allow easier portability. When you first take a look at these boats (especially when folded) you may doubt whether they can actually perform. Once unfolded, they get very solid and cut through the water just like a normal boat. Moreover, you can add a motor engine to the boat.
Benefits of all of this boats is that they are easy to transport, they can all be found as inflatable model and on some of them you can place outboard motor if you feel tired to paddle.