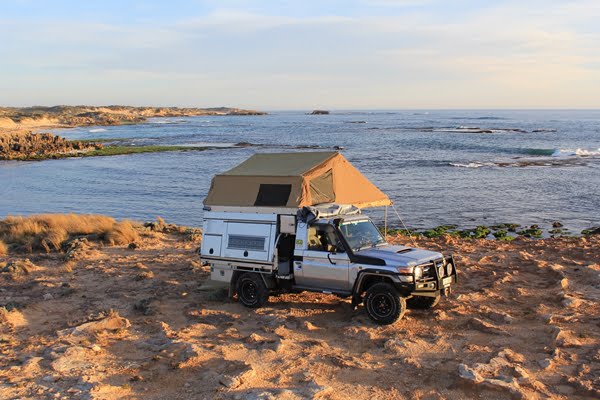 The Carry Me Camper Slide on Camper from Candy Canvas in Tintinara SA, has been around a while now (since 1996) and like most good designs was developed out of necessity and genuine country ingenuity and simplicity. The owners Phil and Sandy Candy were originally farmers but many years ago started their canvas business. Now they are one of the stalwarts of the industry and a more genuine couple would be hard to find.
While many slide on campers are heavily laden with unnecessary attachments the Candy Canvas Carry Me Camper has what you need without the fluff you don't. This reflects not only a design philosophy but also the down to earth personalities of the manufacturers.
Essentially designed from a slide on box the single cab walk in model we are looking at here has its roots in the dual cab model with the benefit of a walk in section added to the end. This provides both convenience and extra storage for jacks etc that can be accessed from the external camper.
The core box is made from 1.2 – 1.6 mm zinc annealed steel and weighs about 520kg. This is pretty good considering the size of the unit and the amount of storage area inside and internal living area. The water tank, battery and fridge slide are all mounted to the front of the camper to provide a better balance to the vehicle."
Construction is first class with an overall length of 2.67m, however as this is a cab over style the tray length needed is only 2.17m. Width is 1.83m. There are 4 wind up legs and tie downs, that can be stored beneath the walk in area.
Access to the main storage is by 4 lockable gas strut assisted doors. This area allows storage of a fridge and kitchen, shelf area. Speaking of kitchens Phil and Sandy as part of their ongoing development of the important things have developed a slide out pantry and bench area.
One key feature is the way everything fits neatly and there is a spot for everything. It shows attention to detail and functionality. Other features include an 80L water tank, electrical system with deep cycle battery.
The living area is a fold out canvas tent that is made from the best Australian canvas of 12oz for the roof and 8 oz for the walls. The comfortable double bed has a 4inch innerspring mattress and there is plenty of height and an airy feel with midge proof screen ventilation. The fold out section provides an awning and cover for access. It also provides cover for cooking and a comfortable outdoor seating area, which is after all what camping is all about.
The beauty of the Walk in Model is that access is provided by a set of steps at the end of the bed top tray height and then up to the bed after that. There is two drawers in the walk in section for clothing etc. Very handy and clever. This extra length and weight is more than compensated for by the convenience and comfort provided for us 'older' campers.
With the side awning there is a draught skirt and a complete set of walls as well as a ground sheet and bed cover provided as standard. The optional rear awning can also come with a complete set of walls. As is usual with this type of touring slide on camper, the walls would rarely be used and often a waste of space if you take them.
While Candy Canvas will paint your Carry Me Camper in any colour you want the coolest (heat) and most practical colour by far is white.
Overall the Candy Canvas Carry Me Camper is an immensely practical, quality Slide on Camper that suits both dual cab and single cab utes. The Walk in Model we looked at here retails from $18,625 and a high roof line model for Patrols and Landcruisers from $19,125. For that money you buy quality, innovation, simple and practical design without superfluous bells and whistles.
But more importantly you buy into a family of owners that get together each year for a travel Corroboree to various parts of Australia. That's what you want a manufacturer that is willing to go on trips with clients year in year out. That shows confidence in their product. They have after sales service amongst the best in the industry!