I remember the first time I took notice of a Trayon Camper was at Cape Leveque in the Northern Western tip of Australia back about 10 years ago. As you do I stopped for a chat about the rig and was impressed at just how happy this bloke was with his purchase. Now we all justify our buying decisions but this chap was positively beaming.
Trayon have transferred that quality of construction and customer satisfaction to their latest innovation, the TMO Camper. TMO stands for Trailer Mount Option. Yes the doyen of Slide on Campers has finally made a camper trailer. But as you would expect there is a difference. The Trayon TMO Gen 3 is two trailers in one. It allows buyers who don't have a Ute to take advantage of the Trayon Slide on Camper system and provides a very handy flat deck trailer as well.
The TMO has a separate shower and toilet up front and a flat aluminium tray at the rear that has a 1 tonne load capacity. This can be used for anything from taking rubbish to the tip, helping a mate move and taking your quad bike to your favourite 4WD camping spot and still have the luxury of a shower and toilet.
Up front there is a huge storage area for all your needs followed by a popup shower and toilet. This is an ingenious idea however taller campers will feel a little cramped but you have the facility there and it works well. In addition there are 4 very handy under-body lockers and a pull out drawer at rear.
The chassis is made from sturdy 150x50x3mm hot-dip galvanized steel with a single piece thru rail for extra strength. The hitch is a 4×4 articulating 2T Hyland including handbrake. Honestly that is the best off road hitch there is. It allows all the articulation you would possibly need and is easy to connect in any circumstance.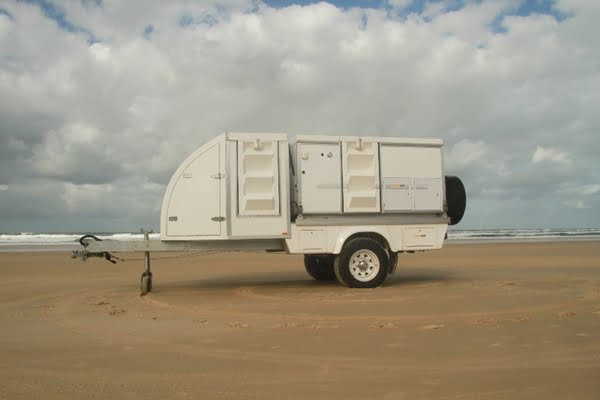 To keep the rig stable there is independent off-road coil suspension with twin shocks and the option to upgrade to independent airbag suspension if you wish. To complete the specification there are 12 inch electric drum brakes, 265/75/16 steel wheel and tyre combination that can be matched to a number of vehicles track, two swing away spare tyres mounted at the rear, two jockey wheels up front and two rear mounted stabiliser legs.
The overall length is 5.5m, width of 1.98m and an overall height of 2.18m. Tray length is 2.2m to accommodate the longest camper unit. The weight unladen is 900kg so it's not a light weight but robustness comes at the expense of weight. The interesting thing to note is that even with the Trayon Slide on Camper unit on the rear there is still a hefty 600kg payload.
Tow ball weight is estimated at 81kg unladen and 170 kg fully loaded. Now that all depends on how you load etc, but you can be confident that these figures are genuine, not under estimated as is often the case from less scrupulous manufacturers.
So what we have here is Aussie made ingenuity working at its best. The Trayon campers are a quality piece of gear and the TMO is built to the same level of construction tolerance. That is obvious with a warranty of 12 months on trailer, 10 years structural on slide-on module (all other components carry individual manufacturer warranties).
Going back to my mate from Cape Leveque, that Camper would just now be running out of warranty. Just think what happens over a 10 year period.
Pricing obviously depends on what slide on camper you pair with the TMO and what options you chose. So give Vernon and the guys at Trayon a call and get a quote from them. Also stay tuned for a full review in the near future of the Trayon TMO Gen 3.