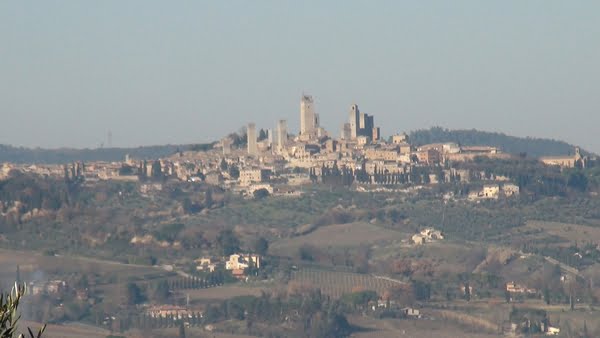 We visited San Gimignano as part of a day trip to the Tuscan countryside from Florence. San Gimignano rises on a hill (334m high) dominating the Elsa Valley with its towers. It is a UNESCO heritage listed Tuscan village that adds to the charm of the Tuscany region.
The trip was part of a day tour of The Tuscan contryside including Siena and the Chianti region.
Having seen our fair share of old villages over the last few weeks, with cobblestone streets and Duomos we were a little sceptical about visiting San Gimignano, however its charm immediately embraced us. Far from the tourist haunt we were expecting, we found a quiet hamlet where the residents happily went on their way with their daily living, almost oblivious to the beauty that surrounded them.
This was evident with the fruit and vegetable vendor that set up his truck in one of the squares. High quality produce sold straight from the farm off the back of the truck to the residents.
The narrow streets wound around the remaining towers that dominate the cityscape with shops housed within.
Once the seat of a small Etruscan village of the Hellenistic period (200-300 BC) it began its life as a town in the 10th century taking its name from the Holy Bishop of Modena, St. Gimignano, who is said to have saved the village from the barbarian hordes.
In 1348 San Gimignano's population was drastically reduced by the Black Death Plague throwing the city into a serious crisis which eventually led to its submission to Florence in 1353. In the following centuries San Gimignano overcame its decline and isolation when its beauty and cultural importance together with its agricultural heritage were rediscovered. The construction of the towers dates back to the 11th and 13th centuries. The architecture of the city was influenced by Pisa, Siena and Florence.
The People's Palace or new Podesta's Palace, which is today the home of the Town Council is situated on the left hand side of the Duomo square. It is one of the most important monuments of San Gimignano, being both the home of the Civic Museum and rich in paintings by the Florentine and Sienese schools (dating from the 13th century). On the right hand side of the Palace rises the high "Great Tower" erected in 1300.
Once the city housed 40 plus towers but time and decay has seen the number drop dramatically. Overall the visit was worth it but in reality an hour wandering the streets with a coffee and biscotti overlooking the valley below should just about do it for most people.